Sanjay Leela Bhansali calls off Padmavati shoot; Shahid Kapoor condemns attack
Sanjay Leela Bhansali is on his way to Mumbai after the violent protests at his film Padmavati's shoot in Jaipur. His crew is all travelling with him after the shoot got cancelled.
Here is team Bhansali's official statement on the matter, after the Rajput Karni Sena alleged that they have been in touch with the makers of the film for six months, stopping them from coming to Jaipur to shoot. They also claimed that Bhansali's security team fired first.
"Sanjay Leela Bhansali has shot two films in Jaipur and despite his love for Rajasthan, for the safety of his crew, we have decided to stop the shoot and leave the city post the shocking incident where miscreants damaged property and misbehaved with the crew on the shoot of Padmavati. SLB had directed the opera Padmavati to packed houses in Paris and earned worldwide praise for it.
He was inspired by the beautiful and courageous queen and is making a feature film on the story. We clarify that there is no dream sequence or any objectionable scene between Rani Padmavati and Allauddin Khilji. We have been carefully researching and making the film. In spite of this, the attack on the shoot and crew was uncalled for and was extremely damaging to the image of the beautiful city of Jaipur.
We are grateful to the authorities at Jaipur who responded promptly and limited the damage on shoot. We are confident that Mewar will be proud of the film made on their revered queen. We do not want to hurt any sentiments and would appreciate if the local people support us in making this film and making their queen revered by the world."
Meanwhile, here's a letter sent by the Sena to Bhansali in September last year, asking for a clarification on whether facts about Rani Padmavati have been distorted to suit the feature film.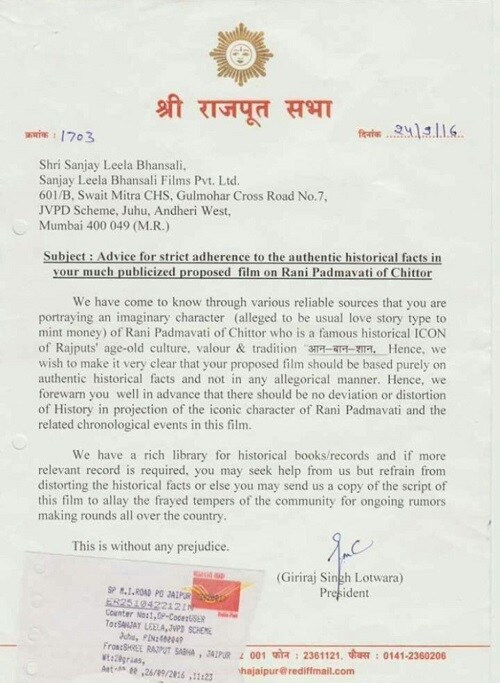 Here's what Shahid Kapoor, one of the lead characters in the film, had to say about the matter:
Very very sad. Words do fall short and feel too little to express feelings. Violence is unacceptable. This incident has shocked me.

— Shahid Kapoor (@shahidkapoor) January 28, 2017
We need to look deep within as a society, as a country, as a people. Where are we headed. — Shahid Kapoor (@shahidkapoor) January 28, 2017
We need to look deep within as a society, as a country, as a people. Where are we headed.

— Shahid Kapoor (@shahidkapoor) January 28, 2017
Sanjay bhansali is a film maker who the country should be proud of. You will know when u see #padmavati the dignity he brings to it. — Shahid Kapoor (@shahidkapoor) January 28, 2017
And my only regret is that I wasn't by his side when this happened.

— Shahid Kapoor (@shahidkapoor) January 28, 2017
Updated Date: Jan 28, 2017 21:26:16 IST