Sanjay Dutt's guards beat up journalists in Agra during shoot of his upcoming film Bhoomi
Sanjay Dutt is currently in Agra, shooting for his upcoming film, Omung Kumar's Bhoomi. TV reports have now claimed that violence has erupted on the set of the film, near Taj Mahal.
A complaint has been filed against Dutt'a guards in Taj Ganj Police Station in Agra, for manhandling journalists who were present to cover the shoot. TV reports are claiming that atleast 5 journalists have been severely injured.
Sanjay Dutt's guards beat up journalists, 5 severely injured pic.twitter.com/TPhi46TOVl

— NewsX (@NewsX) March 3, 2017
According to sources from Firstpost Hindi, the row began due to the massive turnout on the sets of Bhoomi. The film was being shot in the VVIP lane of Taj Mahal, and a massive crowd had appeared. When journalists went to cover the chaos of the sets, reportedly Sanjay Dutt's guards and bouncers attacked them. Sources from the location have claimed that it was Dutt himself that signaled his guards to take charge, but this has not been documented yet.
A couple of days ago, Times of India reported that the shoot of the film had to be stalled due to massive, unruly crowds that had gathered on location.
It is being reported that the journalists who have been attacked have now filed an FIR against Dutt and his guards. Here is a copy of the letter: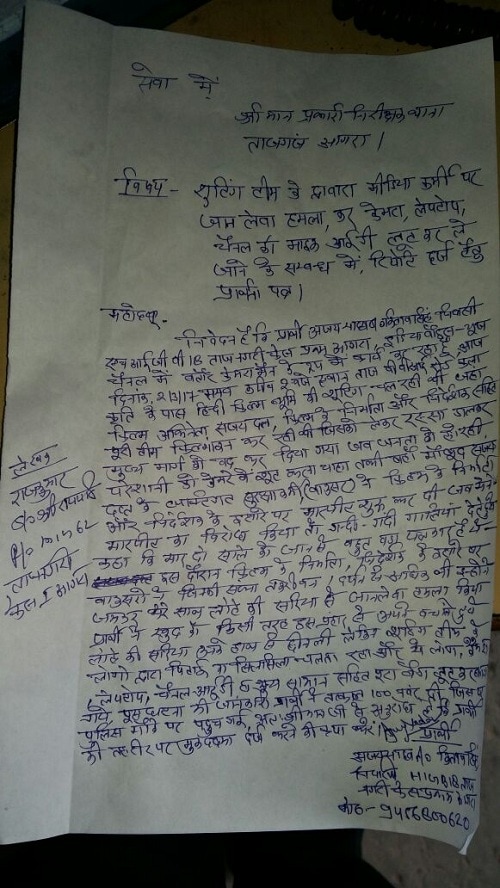 A few videos have emerged from the location, where chaos broke out between Sanjay Dutt's guards, and the crowd gathered. In the video, Dutt is seen trying to take stock of the situation.
While the release date of Bhoomi has not been officially confirmed yet, it will be Sanjay Dutt's first film in years as his last outing was Rajkumar Hirani's science fiction satire PK, in which he played the supporting role of a traditional Rajasthani band member.
Indian Express reports that Bhoomi will be a revenge drama, and it costars Aditi Rao Hydari, who plays Dutt's daughter in the film.
Updated Date: Mar 03, 2017 13:08 PM