Sammohanam trailer: Aditi Rao Hydari, Sudheer Babu star in this part-breezy, part-intense love story
In the trailer for Sammohanam, we get a closer look into the crux of this upcoming romantic comedy, which also happens to be Aditi Rao Hydari's debut in Tollywood.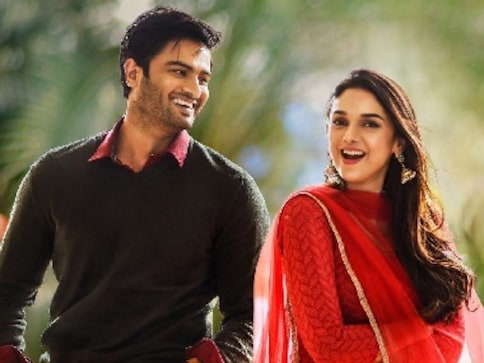 In the latest glimpse of Sammohanam starring Sudheer Babu and Aditi Rao Hydari, we get a closer look into the crux of this upcoming romantic comedy, which also happens to be the actress's debut in Tollywood.
While the teaser introduced us to Aditi as an actor named Sameera and Sudheer as a cartoonist, the trailer further shows us how their worlds collide and the main plot of this part-breezy, part-intense love story. And looks like Aditi is almost playing her real self for this one!
Sudheer's many dialogues through the two-minute trailer establish the fact that the man does not believe in the world of cinema and especially the people of the industry. For him, it's a farce and as an outsider, he fails to understand the logic behind Sameera trying to fit in to the Telugu industry.
However, the latest trailer showcases how his life takes a turn when he meets and falls in love with Sameera aka Aditi.
The trailer ends on a bitter note as the relationship between Sudheer and Aditi almost falls apart and both hurt each other's sentiments.
With few humorous scenes here and there, Sammohanam seems to be a drama of how two people — with opposite ideals and contrasting professions — fall in love and deal with the pain that comes along with it. Now what is causing the two to be at logger heads and if and how they'll get along, has got many curious.
Sudheer and Aditi seem to share an interesting chemistry as we witness flashes of their romance amidst beautiful locales. The upcoming Telugu film also has many supporting characters played by Naresh, Tanikella Bharani, Rahul Ramakrishna and others.
Directed by Mohanakrishna Indraganti and with compositions by Vidyasagar, Sammohanam is all set to release on 15 June.
Watch the trailer below:
Entertainment
The Andhra Pradesh government said it was 'only studying' the proposal right now and would take a final call only after deliberating it with the stakeholders.
Entertainment
Over 10 Tollywood personalities have been summoned for investigation in a high-end drugs racket that was busted in Hyderabad in 2017
Entertainment
I always look forward to a Sekhar Kammula film because he builds a better world than the one we are living in. But with Love Story, he is in no mood to dream.