Samantha talks about her films U Turn, Seema Raja, and why she is in no mood to take it easy
It's because of actresses like Anushka and Nayanthara that someone like me has an opportunity to be part of a film like U Turn, says Samantha.
With three huge hits to her credit this year already, it might seem like Samantha's dream run at the box-office would give her plenty of bandwidth to trust her instincts; however, the actress confesses that she's almost always anxious about what she does: "I get into a panic mode as if my career is going to end, every single time. I can't explain what is it that I might lose, but the fear of failure - that maybe I wasn't good enough to take certain decisions - haunts me. In a way, this fear and anxiety drive me to do better."
To illustrate the extent to which she gets anxious, Samantha recalls freaking out the day the theme song was unveiled as part of her upcoming film U Turn's promotional campaign. "It was my idea to shoot this song. The trailer had piqued people's curiosity, but we wanted something that would excite them to watch the film too. The producers were quite supportive and the onus was on me to prove that they were right to trust me. But the day the song released, there were barely any views on Youtube. I panicked so much that I must have refreshed the page more than 100 times to see if the views increase. After a point, I even sent texts to the producers apologising to them for taking a bad call. Thank God, the song caught on in a big way and crossed 10 million views in a short span of time," Samantha laughs, adding, "I knew right from the beginning that I have to soak in a lot of responsibility and pressure when it came to U Turn. Right now, I'm just keeping my fingers crossed."
Her latest film, U Turn, directed by Pawan Kumar, is the official remake of an acclaimed Kannada film of the same name.
While Samantha will be playing a journalist, who sets on a wild goose chase to crack an unusual case, the cast also includes Bhumika Chawla, Aadhi Pinisetty, and Rahul Ravindran. And all eyes are on Samantha, considering that U Turn is the first film in her career where the entire film's burden rests on her shoulders.
In the past few years, a select few actresses like Anushka, Nayanthara and Jyothika have carried the baton forward to pave the way for more female-centric movies and narratives, and Samantha quickly acknowledges their contribution to make room for more actresses to break free from formulaic films.
"It's because of actresses like Anushka and Nayanthara that someone like me has an opportunity to be part of a film like U Turn. I've always said that when one heroine grows in this industry, all of us grow as well. They have paved the way for rest of us. I'm a team player and I want everyone in the team to be happy. I hope the producers of the film make good money. That's the only pressure that's on my shoulders," Samantha confesses.
By her own admission, Samantha was keen to be part of the film's remake(s) ever since she saw the trailer of U Turn in Kannada. The remake, which will release simultaneously in Telugu and Tamil, is quite faithful to the original, and the actress says that it's quite engrossing, even if someone has seen the original.
"I love watching thrillers and I enjoyed playing the lead in this film. It's an interesting time to be part of Telugu cinema, especially with some great new content being made these days. A year ago, I wouldn't have imagined that the industry would undergo a drastic change, and I hope that U Turn will also impress the audiences. It's very liberating to work with Pawan. Both of us are brutally frank with each other and we are quite open to criticism, if something doesn't feel right. I have never had this equation with anyone else. In this industry, you've to be very careful and cautious about what you say, but on the sets of U Turn, we are quite blunt," she says.
Also read: U-Turn movie review: Samantha Akkineni owns a paranormal thriller that thrives on an interesting premise
In Tamil, Samantha also has Seema Raja releasing on the same day (13 September), and she admits that it was her faith in the combination of Ponram, Sivakarthikeyan, and Soori which made her sign the film in first place. "They are quite funny, which is why I'm very confident about the film. I haven't played the role of a village girl in any of my Tamil films so far. Besides, my character has a Madurai slang. It's all new for me."
2018 has already been a remarkable year for Samantha, with Rangasthalam, Irumbu Thirai, and Mahanati turning out to be huge hits; however, the actress knows that there's no space for complacency, especially for actresses.
"I know this game now. The rules are different for men and women. This industry is a man's world. Actors can have hits and misses, but they are still branded as bankable stars, but when it comes to actresses, you have to ace it every single time, for a good number of years, and only then, you are taken seriously," Samantha says, adding, "The myth that married actresses can't work in this industry hasn't broken yet, at least in my case. I have a feeling that people are still thinking about it. I know for a fact that I need to deliver hits consecutively. I still have a long way to go," she says.
Arts & Culture
For March, the club read Samantha Schweblin's 2014 novel, Fever Dream, translated from the Spanish into English by Megan McDowell.
Entertainment
Shefali Shah, Manav Kaul, Fatima Sana Shaikh and Shashank Khaitan open up about an equally heart-warming and heartbreaking film.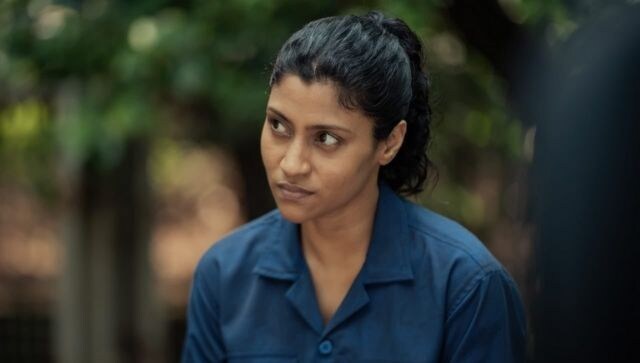 Entertainment
"There's something very contemporary about his outlook. I love his politics and aesthetics," Konkona Sensharma says about working with director Neeraj Ghaywan in Geeli Pucchi, where she plays a Dalit woman.