Samantha Ruth on her fairytale wedding to Naga Chaitanya: 'In our heads, we were already married'
In an exclusive interview with Firstpost, Samantha Ruth also speaks about her contemporaries, upcoming films like Mersal and working for handloom weavers.
Naga Chaitanya and Samantha's fairytale wedding has been the talk of the town throughout the last weekend and quite rightfully so.
With close friends and family members descending at W Goa, Vagator Beach on 5 October, the festivities continued all the way till 7 October night when the couple walked down the aisle for a picture perfect wedding that reminded many of a similar scene from their first film Ye Maya Chesave.
While Samantha just could not stop gushing that she's getting married to her longtime boyfriend Naga Chaitanya, her family members, including Nagarjuna and Chay's uncles - Venkatesh and Suresh Babu - shook a leg much to the delight of all the guests at the venue.
A few days before her wedding, when we spoke to Samantha about her wedding, films, and everything in between, she said, "I have always wanted my wedding to be a private affair with only close friends and family members attending it. It was important for both Chay and me to see people smile, laugh, and have a good time. And what's the point in having a lavish wedding where you don't even know how each one of the guests felt at that moment (smiles). Besides, our wedding is just a formality because in our heads, we are already married to each other (laughs)."
Earlier this year, when the duo got engaged, the actress made heads turn when she wore a gold-embroidered beautiful off-white sari, designed by Kresha Bajaj. For the wedding, she had other plans. "There was nothing more from my love story left to be told through my outfit for the wedding," Samantha quipped, adding, "Besides, I was shooting and dubbing for my films all the way till 2 October. It was almost like going to Goa on an extended weekend to get married (laughs)."
2017 has been a mighty busy year for Samantha. While she did not have a film release in the first eight months of the year, she has been juggling between the sets of her Telugu & Tamil films, including Raju Gari Gadhi 2, Mersal, Rangasthalam, a film each with Siva Karthikeyan and Vishal, apart from handling her NGO - Pratyusha - and working closely with the Telangana government to create an ecosystem to revive handlooms sector in the state. Subsequently, in August, Samantha announced that she'll be launching her flagship store Tweave, where everything will be sourced directly from the handloom weavers from Telangana.
So, how exactly is she managing all this? Samantha puts it in perspective saying, "I kept hoping that as years go by, I would become less ambitious. But that hasn't happened at all (laughs). Coming from a humble beginning, this is more than what I can ever dream of, and I've often thought about calling it a day. But that isn't happening. I think it's never been about the bank balance. I just feel I can do more and better. I am not able to satiate that feeling and that's what keeps pushing me every single day. Also, the level of talent around me inspires me. I'm very realistic in that sense and I can appreciate the talent around me. I was bowled over by Sai Pallavi's performance in Fidaa and after watching the film, I even stated that I would watch any film if it has her name in it.  Since I know how well others are doing, I try to be better in terms of my own performance. Moreover, there's plenty of time in between shots on a movie set, so I try to dedicate all that time to doing something that I'm good at - whether it's sustainable fashion, Tweave, apart from focusing on Pratyusha."
It's been more than eight years since she made her debut in Telugu cinema and starting from Yem Maya Chesave to her recent films like A...Aa and Janatha Garage, Samantha has seen staggering highs in her career. And in recent times, she has managed to make a difference to society in real life as well through a series of social activities.
All this and a lot more makes us wonder if she has opted out of the rat race in the industry and focus on more important issues. Samantha nods in agreement with this perspective and says, "Now, I wonder why I didn't do these things earlier. Why did I focus just on films? Because there's so much more that I could do and explore. Now, I'm in a race with myself, honestly. There's only so much that I can do in 24 hours and my friends keep making fun of me that I don't really know how to have fun. For me, having fun is akin to working more and harder. That's my high. Last year, after Janatha Garage's release, I had a gap of one month and it was around that time that I put all my business plans into action. Since then, I have been working on films and all those plans side by side."
From being an actress in films to leading a company, it has been a big learning curve for Samantha, and by her own admission, she is still learning to lead by example. "I work on everything, everyday (laughs). There are days where I doubt my own plans and wonder if it'll work or not because I'm literally starting over all over again. First it was the movies, and now, after eight years of not being new to anything, I find myself in the midst of all these new stuff in my life. To being the head of a company, to be a leader, to organise things... it's all very new to me. This year has been a complete new learning experience. Besides, until now, I've been hands on involved with each and every aspect of Tweave, right from the gift box which we sent out for the launch in August to talking to the weavers. I find it very difficult to delegate work. With films, you are the only one who's in-charge of your life; so you decide what you want to do and get on with it. But with all these other companies, you've to be able to delegate…I find it very difficult to trust anyone else with decisions. I'm slowly changing my ways (laughs). It's been very challenging because I have been shooting and also organising the launch of Tweave, working with weavers, designers, understanding the government's rules, planning & marketing. On top of all this, I had to plan for my wedding. It's been a mad year," Samantha confesses.
Although she had announced that she's going to team up with renowned designers and work closely with handloom weavers for Tweave, it is going to take more time before the store opens its doors for the public. Currently, the team is spending a lot of time in research and sampling to understand what works and what needs to be changed. Moreover, she says, the team is placing a lot of emphasis on keeping the handloom weaves at an affordable price. "When it comes to handloom products, the weavers have been doing the same thing for the last 20-25 years. Previously, they were very stubborn but now they are changing a lot and are open to trying out new designs. I think it's a big leap of faith and I'll always be grateful for their trust in me. Since it's all handmade, it takes a long time to get the product done. We haven't really launched yet. We need more weavers to collaborate with us so that we can make it more affordable. It'll take time, but I'm confident that it'll fetch us good results."
Meanwhile, her latest film Raju Gari Gadhi 2 is slated for release on 13 October and Samantha has made a special appearance in the horror comedy. Interestingly, she confesses that, like Naga Chaitanya, she is not a big fan of horror films either. "I've played a small but important role and when you watch the film, you'll understand why any girl would connect with it. I had no qualms about playing a small role. Sometimes, you could be there throughout the film and not know what you are doing, and at times, you can leave a huge impact with just a cameo. Although it is a small role in Raju Gari Gadhi 2, the impact will be huge. I'm very happy with what has been shot and how it's going to translate on screen."
And then, there's the big-budget entertainer Mersal in which she is paired opposite Vijay. It is her third film with the Tamil star after Kaththi and Theri, and the film is almost like a reunion for her, considering that she has worked with director Atlee (Theri), Kajal Aggarwal and Nithya Menen in the past.
Talking about Mersal, Samantha says, "They are like family. Atlee is a dear friend and I don't think anyone can say no to him. For someone of his age, he has great maturity and understanding of cinema, people, and how to translate his vision on screen. He has a great command over his craft, and it's very endearing to see that kind of positivity and confidence. I believe that's also a reason why someone as experienced as Vijay, who has worked with the biggest of names in the industry, came back to Atlee for a second time (after Theri) because there's some magic in this man. I think he's going to strike gold again in his own style. Mersal is like a complete showreel for Vijay. He is what he is (laughs). I've worked with Nithya and Kajal in the past and they are wonderful people. They are getting better and better with each film. Mersal is going to be a humongous film. Who doesn't want to be part of such a film."
Earlier this year, when Samantha won multiple awards for her performance in A...Aa, she urged filmmakers to write better roles for women and give them a chance to make a difference. She is quite pleased with the way things are going on in the film industry this year. "We have had some wonderful characters for actresses and performances by the likes of Anushka Shetty (Baahubali 2: The Conclusion ), Nivetha Thomas (Ninnu Kori), Sai Pallavi (Fidaa), Rakul Preet Singh (Rarandoi Veduka Choodham). It doesn't necessarily have to be me. I am happy that the actresses are getting their due. I once again urge the directors to writer better roles and give us a chance to do more. The results are already there to be seen," Samantha signs off.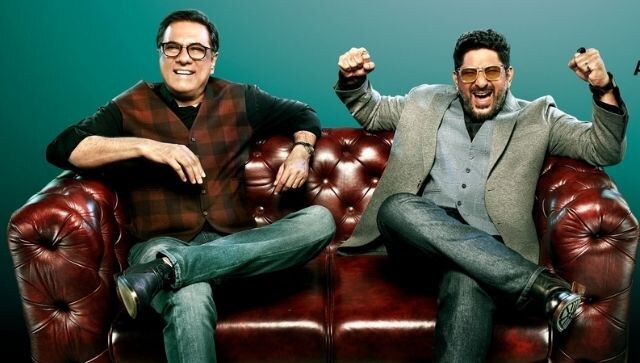 Entertainment
Hosts Arshad Warsi, Boman Irani, and comedians Sunil Grover, Aditi Mittal, Cyrus Broacha and Suresh Menon weigh in on being a part of LOL - Hasse toh Phasse and competing with old friends and co-workers.
Entertainment
Without Remorse star Michael B Jordan opens up about fostering inclusivity in Hollywood, and striking comfortable balance between entertainment and activism.
Entertainment
"Shot the movie before the pandemic. We had no idea that there would be the use of temperature guns and quarantine," Zack Snyder on film's eerie similarity to the pandemic-afflicted world.