Salman Khan's Sultan to release in China on 31 August, will clash with Mission: Impossible - Fallout
Chinese distributors are now expecting Salman Khan to promote Sultan in China, which will clash Mission: Impossible - Fallout on 31 August.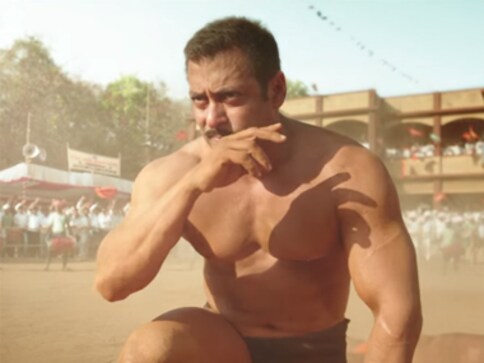 As the official blackout period for import films is nearing completion in China, Salman Khan-starrer wrestling drama Sultan has been confirmed to release in the mainland market on 31 August. Sultan becomes the sixth Indian movie to release in China this year after Secret Superstar, Bajrangi Bhaijaan, Hindi Medium, Baahubali 2: The Conclusion and Toilet: Ek Prem Katha, which winded up its theatrical run at a decent $14.2 million (Rs 97.8 crore) final gross last month.
Directed by Ali Abbas Zafar and produced by Yash Raj Films, Sultan stars Anushka Sharma as the lead heroine. The film marks Salman's sophomore entry into the world's second largest movie market after the Kabir Khan-directed Bajrangi Bhaijaan, which concluded its month-long run in April with an excellent $45.3 million (Rs 294 Cr) cumulative box office haul in the Middle Kingdom. Sultan won the Best Action Movie award at the Shanghai International Film Festival last year and was the first Indian film to earn this honor.
Of all the Indian movies released in China this year, Secret Superstar is the highest grossing film with a peachy cumulative total of ($118 million; Rs 760 crore). In fact, Salman's Bajrangi Bhaijaan is the second highest grossing Indian film ($45.4 million; Rs 294 crore) in China this year, followed by Hindi Medium ($31 million; Rs 221 crore), Toilet: Ek Prema Katha ($14.2 million; Rs 97.8 Cr) and Baahubali 2: The Conclusion ($11.9 million (Rs 80 crore).
Sultan will have a tough contender in Tom Cruise's action thriller Mission: Impossible - Fallout, the sixth instalment in the Mission: Impossible franchise, which is also releasing on 31 August. The 2015 blockbuster Mission Impossible: Rogue Nation grossed nearly $135 million in the Middle Kingdom and China ended up as the top grossing overseas territory for the film, which amassed a massive $682 million worldwide revenue.
Dwayne Johnson-starrer Skyscraper was the only import film to release in China during the blackout period for foreign movies this year. The film has pulled in a whopping revenue of $92 million in China although it was panned by critics everywhere. This scenario once again substantiates that Johnson's star power in the PRC is unparalleled.
Meanwhile, the Chinese box office has recorded a historic high for July with 6.96 billion yuan ($1.02 billion). The industry record for July is more significant since the market was flooded entirely with local films, barring the exception of Skyscraper. The milestone was majorly powered by the mega hit Chinese comedy Dying To Survive, which garnered a mindblowing total of 3.05 billion yuan ($446 million).
Dying To Survive has already broken into the list of all time highest grossing films in China at the fifth place, dethroning action thriller The Fate of the Furious, which took home earnings of $392 million last year (unadjusted for inflation) in the PRC. It was during the blackout period in 2017 that Wolf Warrior 2 shattered all the records to emerge as the highest grossing film of all time in China with a mammoth total of 5.67 billion yuan ($854 million), unadjusted for inflation. This year, the blackout period is truncated by the regulators to ease the entry of import films, which will cash in on the fag end of China's summer season.
The release line-up for Middle Kingdom movie goers is quite packed for the next few weeks as crucial Hollywood imports gear up to hit screens. While Sony's animation comedy Hotel Transylvania 3: Summer Vacation is slated to release on 17 August, Disney/Marvel's Ant-Man and the Wasp is scheduled to see the light of day on 24 August, followed by Paramount's Mission: Impossible - Fallout on 31 August.
While Salman missed visiting the Middle Kingdom during the release of Bajrangi Bhaijaan in March this year, Chinese distributors are now expecting the actor to promote Sultan, which will take Mission: Impossible - Fallout head-on at the ticket window on 31 Augst. It must be noted that Aamir Khan's whirlwind pre-release promotional tours in China are one of the key reasons for the success of his films and his rapidly increasing stardom in the world's fastest growing movie market.
Entertainment
Rust armourer sued the film's ammunition supplier, accusing him of leaving real bullets among the dummy cartridges, resulting in the fatal shooting of a cinematographer.
Entertainment
Netflix aims to start production on the sequels in 2023, with Dwayne Johnson, Gal Gadot and Ryan Reynolds to return.
Entertainment
Tanushree Dutta, who initiated India's #MeToo movement, supports the survivor of the Malayalam actor assault case