Salman Khan's Bajrangi Bhaijaan to release across 8000 screens in China: Move over Dangal, Secret Superstar
Bajrangi Bhaijaan will be dubbed in Chinese and release on 2 March 2018 during the Chinese Lantern Festival.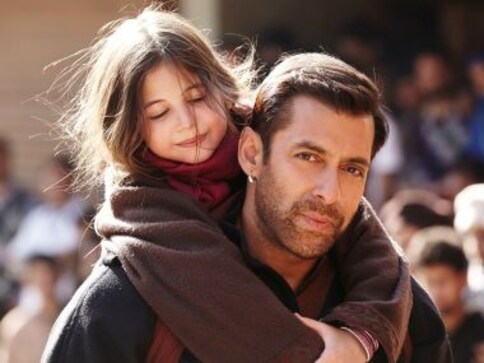 Now that Aamir Khan has became a household name in China after the success of Dangal and Secret Superstar in the country, Salman Khan hopes to get in on the action as Bajrangi Bhaijaan is the next big release set to hit theatres in the world's second largest movie market.
Eros International announced on Monday that the Kabir Khan directed film will be released in China, in association with China's E Stars Films Ltd and Salman Khan Ventures. The film will be dubbed in Chinese and release in more than 8000 cinemas on 2 March 2018 during the Chinese Lantern Festival.
"China has emerged as an important market and major box office earner for Indian films in recent years, what with the recent success of Dangal and we are delighted to partner with E Stars to showcase our film to China. Our Indo-China co-productions are still in the making which we are extremely excited about, meanwhile what better film than Bajrangi Bhaijaan starring one of India's most loved superstars that weaves the universal story of cross border friendship to release in a growing market like China," said Jyoti Deshpande, group CEO of Eros International, in a press release.
Allen Liu, CEO, E Stars Films Ltd, was equally confident and expressed the "high expectation and curiosity for the film post the success of recent Indian releases in China."
Bajrangi Bhaijaan stars Salman as a simple, determined Hanuman devotee who undertakes the difficult task of getting a young, mute Pakistani girl back to her motherland and uniting her with her family.
Secret Superstar opened in first place on Friday with an estimated 41 million yuan ($6.4 million), easily besting Dangal's 15 million yuan opening day to score the biggest debut ever for an Indian film in China. The cumulative gross of the film (Friday and Saturday) at $17.35 million (₹ 110.7 cr) had already eclipsed its lifetime revenue in India which stands at $12.5 million (Rs 80 cr approx). Dangal was regarded as a black horse in Chinese box offices in 2017, raking in nearly 1.3 billion yuan ($190 million), which surpassed any other Indian films' overseas earning.
Entertainment
Besides Tamil and Telugu films like Master, Krack, Uppena, Jathi Ratnalu, RED, Naandhi, and Zombie Reddy, Hollywood juggernaut Godzilla vs King emerged as a hit in the South Indian states before COVID-19 curbs were reinforced.
Entertainment
#DemonSlayer earned $6.4 million, while #MortalKombat made $6.2 million over the weekend
Entertainment
In a now-viral video, Salman Khan was seen supervising the process of delivery at the Mumbai restaurant.