Salim Khan deletes tweets defending Salman Khan's acquittal in black buck case
On Monday, 25 July, Salman Khan was acquitted by the Rajasthan High Court in the black buck and chinkara poaching cases, nearly 18 years after the case was registered, reportedly during the shooting of Sooraj Barjatya's Hum Saath Saath Hai.
While Salman fans (popularly known as 'Bhaitards' and 'Salmaniacs') rejoiced with the verdict (#WeLoveSalmanKhan was trending for over two days on Twitter), there were many who also showed their disappointment.
Read: 'No one killed the deer': Salman Khan acquittal in black buck case doesn't sit well with Twitter
Salman's (doting) father Salim Khan tweeted about the verdict merely hours after, but then deleted his tweets for reasons unknown.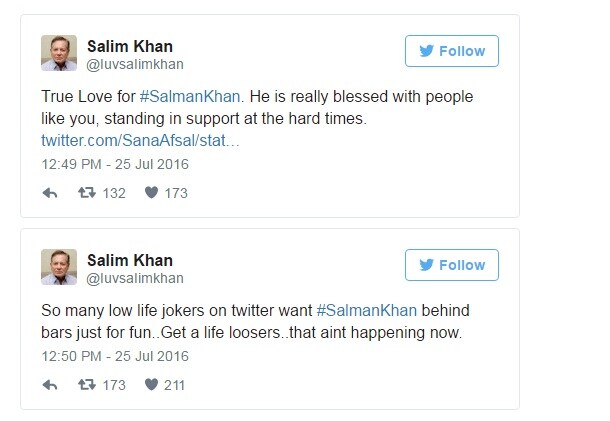 However, he has spoken to Times of India about his views on the acquittal. "It's a huge relief for the family. We had total faith in the judiciary and the right verdict has come out. I was sure that my son would get a clean chit," said Salim.
While his support and views on the acquittal is hardly a surprise, we are wondering why he felt the need to delete his own tweets about the matter.
Maybe the Khans' lawyer (clearly their lifeline) advised him against being overconfident on social media ("that ain't happening now"). We're sure the family does know the ramifications of saying something and it being blown out of proportion.
Or maybe the driver deleted it.
Updated Date: Jul 26, 2016 14:17:32 IST