Saif Ali Khan, Kevin Spacey, Winona Ryder and other movie stars who jumped from films to web series
Other than Saif Ali Khan, here are some actors who made the jump from the big screen to your computer screens.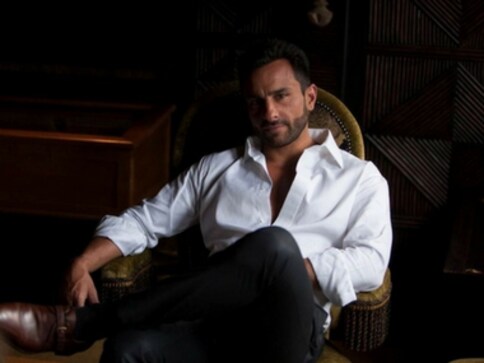 Saif Ali Khan will be seen in an upcoming Netflix show titled Sacred Games alongside Nawazuddin Siddiqui and Radhika Apte. The show, based on the thriller novel Sacred Games by Vikram Chandra, will consist of eight hour long episodes. The episodes will be directed by Anurag Kashyap and Vikramaditya Motwane, and produced by Netflix in collaboration with Phatom Films.
Speaking to PTI about his role in Scared Games, the 47-year-old Sail Ali Khan said, "it (web series) is not any way the come down, it is a step in new direction. It is very liberating as an actor to have a platform like Netflix to act in".
Saif Ali Khan won't be the first actor to do a web-series after a long career in the mainstream movie industry. Many actors in Hollywood have starred in their own Netflix/Amazon/Hulu shows. Online streaming services have given us some of the best shows in recent times, and actors are desperate to have their own groundbreaking Netflix shows.
Here are some actors who made the jump from the big screen to your computer screens with an amazing result.
Kevin Spacey (House of Cards)
Long before Kevin Spacey was accused of sexual assault by actor Anthony Rapp, he was playing Frank Underwood — a deeply disturbing, power hungry Democrat politician devoid of all human emotions and feelings, in House of Cards. Underwood would go to any lengths to get what he desired. He killed people, manipulated them, and propped them up only to destroy them with time.
Spacey, who won an Academy Award for Best Actor in 2000 for his role in American Beauty, made the role of Frank Underwood his own. Spacey played Underwood for five seasons before being booted off the show after details of more sexual assault victims came forward.
Robin Wright (House of Cards)
The better half of Frank Underwood, his wife Claire, is played by actress Robin Wright. Claire, just like Frank, is a divisive, cold-hearted, and depraved individual. The show starts off with Claire running a non-profit, and slowly moves to her becoming the first female President of the United States. She kills the man she loves (not Frank Underwood), sticks with her husband throughout his dirty deeds, and ascends the ranks of power with the help of her own brand of hatred and apathy.
Wright has starred in movies like Forrest Gump, The Princess Bride, Wonder Woman, and The Girl with the Dragon Tattoo. The role of Claire Underwood has earned Wright multiple Emmy nominations and a Golden Globe Award for the Best Actress in a Drama Series.
Alison Brie (GLOW)
Alison Brie plays Ruth "Zoya the Destroya" Wilder in the Netflix comedy series GLOW. The show revolves around Brie's character — an unemployed actress in 1980's Los Angeles — who finds an unexpected chance at stardom within the world of women's professional wrestling.
GLOW is a highly acclaimed show that has brought Alison Brie a fair amount of recognition. Brie, who has starred in the TV show Community and had a recurring role in Mad Men, clinched her first Golden Globe nomination for GLOW in 2018. She has also starred in movies like The Five-Year Engagement, Sleeping with Other People, Get Hard, The Disaster Artist and The Post.
Winona Ryder (Stranger Things)
Winona Ryder has had a tumultuous career. From starring alongside Johnny Depp in Tim Burton's Edward Scissorhands to taking a hiatus from her career after being caught on camera shoplifting, Winona Ryder has found second life as Joyce Byers; the distressed and strong mother of Will Byers. Stranger Things has been the biggest thing to come out of Netflix in the last two years. Ryder, who has starred in movies like The Age of Innocence, Little Women, Girl, Interrupted and Star Trek, is a prime example of the resurrection of a star's career with a move to web series.
Kevin Bacon (I Love Dick)
Kevin Bacon has starred in movies like Footloose, JFK, A Few Good Men, Apollo 13, Sleepers and Mystic River, but today audiences know him as Dick from the Amazon series I Love Dick. Set in an academic community in Texas, the show follows the life of an irritated filmmaker Chris who is in a troubled marriage with her husband Sylvere. The couple are fascinated with a charismatic professor named Dick who infuriates Chris but also unleashes her artistic awakening. Kevin Bacon, too, has found recognition for his acting in the web series.
Drew Barrymore (Santa Clarita Diet)
Drew Barrymore found success as a child actor in E.T. the Extra-Terrestrial and went on to star in movies such as Poison Ivy, Scream, Ever After, The Wedding Singer, 50 First Dates, Charlie's Angels, and Blended. However, her career has found reinvigorated strength after being cast as Sheila in Netflix's Santa Clarita Diet.
Sheila and her husband live a quiet life with their teenage daughter in Santa Clarita, California. Their lives take an unexpected turn when Sheila goes through a dramatic transformation that sends her down a road of death and destruction. Barrymore will star in the second season of the show that will premiere this year.
Jeff Daniels (Godless)
Jeff Daniels has starred in movies such as Terms of Endearment, Arachnophobia, Gettysburg, Speed, Fly Away Home, The Hours, The Lookout, Infamous, Steve Jobs, and The Martian. The actor, who has won a both an Emmy and a Golden Globe, is also remembered for starring in the lead role in HBO's The Newsroom. The veteran actor made his shift to the world of web series with the Netflix show Godless. He plays Frank Griffin, a notorious criminal who is out on a mission to get revenge on Roy Goode — a former protege who betrayed the brotherhood.
Entertainment
As was the case with Miss Americana and Framing Britney Spears, Halftime joins the canon of documentaries that seeks to re-examine the inherent viciousness of the paparazzi culture that profited off turning female celebrities into tabloid fodder.
Entertainment
Trees of Peace looks like a small film but aspires to big things, some of which it achieves by the sheer quality of its pithiness with words.
World
In a statement, Kevin Spacey said that he will voluntarily appear in the UK as soon as can be arranged and defend himself against the charges