Rock band The Script expresses interest in collaboration with Rihanna
'It would be amazing to work with Rihanna. Wouldn't that be so awesome?' said drummer Glen Power of The Script
Los Angeles: Rock band The Script would love to get to know singer Rihanna and collaborate with her.
Drummer Glen Power said it would be "awesome" to team up with Rihanna on a track, but only if it was "organic", reports femalefirst.co.uk.
"It would be amazing to work with Rihanna. Wouldn't that be so awesome? We are always open to working with anybody. We always feel that it has to be organic. Usually for us, it's usually because we bumped into somebody at an airport and we just got talking," he told told Bang Showbiz.
"It's never put together clinically, it's always in an organic way, whether that is hanging out with someone at a festival or going for drinks with them and getting on as people, that is usually where a collaboration begins. We've been off the map for a little while, so maybe when we are back out and we are moving around we might start bumping into some cool people again."
Defending the band's departure from straight-up pop rock and discussing their fans' response to their fresh sound, Power said: "We felt maybe we would try and dip our toe... with our single 'Rain' that is our first of a kind song that you can really dance to.
"It's interesting when we play that and they do dance, it's like wow to see that response. We just tried something different. At the end of the day, it's still The Script, the content is similar and the themes are of love, loss and heartache. It's all the same of what we are, it's still a band, they are drums and guitars. We have leaned a little bit different and that initially shocked a lot of people. We are still The Script, we are just putting on a different coat that is all," he said.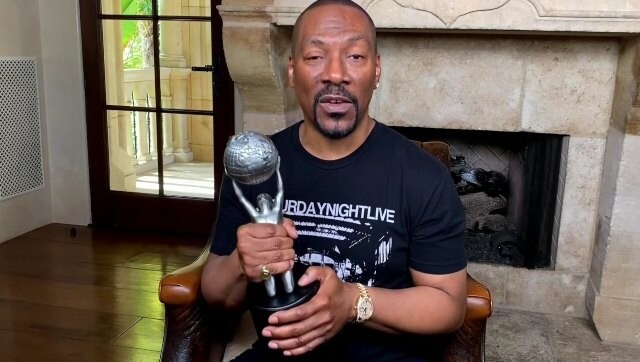 Entertainment
Eddie Murphy accepted his induction award on Saturday night and said he was "very moved" by the honour.
Entertainment
Firstpost presents CiNEmatters, a podcast examining cinema from the North East of India. In episode 3, we discuss 'Bokul' (2015), an Assamese film by Reema Borah.
Entertainment
T-Series will add over 15,000 hours of music, including 2,00,000 titles and over 50,000 music videos in over 15 Indian languages to the Indian Performing Rights Society catalogue