Rising India Summit: Ranveer, Kangana's responses to Padmaavat row, nepotism were insipid — must actors take strong stands?
A platform such as the Rising India Summit would have been ideal for Ranveer, Kangana to express what they couldn't share when emotions were running high. But neither chose to discuss prevalent issues like freedom of expression and nepotism.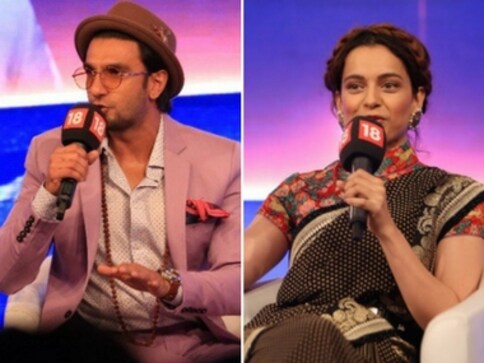 At the News 18 Rising India Summit, two immensely successful and popular contemporary actors, Kangana Ranaut and Ranveer Singh, were asked about specific issues that in the recent past had impacted them both professionally as well as personally.
Ranveer Singh felt that he didn't want to rake up issues around Padmaavat because he's moved on to his next film and Kangana Ranaut mused that she never felt that the nepotism debate would become a national one.
Both the issues are severely important — freedom of expression and nepotism/opportunities for outsiders — to any film industry. The manner in which the two actors revisited the debates seems to suggest that perhaps an actor's views are relevant only as long as they surround a film's release.
In a country where actors and sportspersons are among those whose views have the power to influence millions of people, should actors be held responsible to take stands more regularly?
Ranveer Singh stoically chose to let the past be the past, and Kangana Ranaut, in a way, did try to contextualise the issue of nepotism into a larger perspective. At the time when the controversy surrounding Padmaavat had reached a crescendo, Ranveer Singh was apparently asked by the film's producers to refrain from media interactions. In a newspaper report, a source from the film's team was quoted as saying – "Ranveer loves to talk. But right now, he needs to keep quiet. We've asked him to stay away from public events." The actor, who was otherwise famous for his "flamboyant self-declarations", was conspicuously silent during the lead-up to the film's release. A platform such as the Rising India Summit would have been ideal for the actor to express what he couldn't share when emotions were running high.
In contrast, Kangana's decision to air her views on how her neptotism comment blew out of proportion, seems unlike her unabashedly honest self.
Actors have a tendency to rarely say anything even when they are talking at length about a specific issue. This style of talking and not saying anything is unique when it comes to the big stars of Hindi films. In fact, the bigger the star, greater the chances of him or her never giving a single hint of where they stand on current affairs and issues.
In the early 1990s, the then up and coming Shah Rukh Khan transformed into a 'star' thanks to his wit and observations on a whole array of things that went beyond the usual film star interview. But even back then most felt that despite long interviews, Khan barely said anything!
Things are different now. Today, every opinion is mandated to be viewed and debated in a clear-cut stance, and at the same time needs to be social media friendly. Actors also feel that the lead-up to a film's release is a high-pressure period where things tend to be at a perpetual flashpoint, but once the dust settles shouldn't the same actor use the opportunity to clarify or further their stand on issues that are important?
What separated Ranveer and Kangana was the manner in which the two addressed 'the elephant in the room.'
Unlike Ranveer, who opted to not talk Padmaavat perhaps for the fear of hurting sentiments or raking up any fresh controversy, Kangana preferred to share what she felt and continues to feel about her decision to talk about her comments on Karan Johar's talk show. For this writer, Kangana's comment was more of an observation that was shared after much thought and deliberation; she seems well-aware of the backlash that it would invite. It was Kangana's success that allowed her a certain degree of freedom to say what was on her mind. Even after the tsunami of criticism that it resulted in, she doesn't 'shy' away from talking about it still. This is the kind of stance that one needs to see in actors.
While both Ranveer and Kangana might have treated the occasion as an opportunity to increase their 'brand' equity, Ranveer somewhere appeared to be still acting — what else would one call not sharing a single comment on an issue that practically dominated the nation for weeks?
Entertainment
The caricaturish portrayal of not just Gujarati culture, but any other culture is daft and uninspiring. If Bollywood truly wishes to make an impact, that it knows it can, then it must do it by making people of all cultures, and backgrounds visible, not as mere motifs, but as humans.
Opinion
Ranveer Singh's Jayeshbhai Jordaar is set to release on 13 May. The film marks the Bollywood debut of Shalini Pandey.
Entertainment
Films that show female desire as a punishable offense don't elicit raised eyebrows or the deep urge to change the status quo, just a wan smile from a select few who know what it's like. Because it's men making them in a man's world.