With Reema Lagoo passing away, it's the end of an era for iconic onscreen mothers
The year when Reema Lagoo became 'Salman ki mummy' in Maine Pyar Kiya (1989) was truly a transitional phase for not only the leading man or the narrative in commercial Hindi films but also the supporting actors, specifically onscreen mothers.
In his acceptance speech after winning the Oscar for Best Original Score for Slumdog Millionaire (2009), A.R. Rahman thanked his mother in the best way anyone connected with Hindi films would. He said, "Mere pass Maa hai…" — the classic Salim-Javed scripted line from Deewar (1975) forever created a special place for the character of the mother in Hindi films.
For the longest time, the onscreen 'Maa' was always meant to be Nirupa Roy, or Sulochana before her, until 1989 when the baton was passed on to Reema Lagoo.
The veteran Marathi and Hindi film actor, who was also active on Marathi stage for almost forty years, Reema Lagoo, 59, passed away following a cardiac arrest earlier today and with her death, the era of iconic onscreen mothers has come to an end.
Popular Hindi films would perhaps be the only cinema in the world where typecasting of an actor happens at some other level. Here, an actor is not only associated for a better part of their career with a specific role that they portray — such as Jagdish Raaj, who was always the police inspector or Iftekhar, who was so convincing as a police commissioner that many a time he would waltz through customs at Indian airports — but also get attached to another actor thanks to the relationship their characters shared.
This is the reason that after the success of Deewar Nirupa Roy was fondly referred to as 'Amitabh ki maa' or Nazir Hussain was the jagat daidee.
The year when Reema Lagoo became 'Salman ki mummy' in Maine Pyar Kiya (1989) was truly a transitional phase for not only the leading man or the narrative in commercial Hindi films but also the supporting actors, specifically onscreen mothers.
The foundation of the change across these parameters was laid by Mansoor Khan's Qayamat Se Qayamat Tak (1988) where the hero was a departure from the Angry Young Man template popularised by Amitabh Bachchan and even the roles frequented by the then young stars Anil Kapoor (Meri Jung, Mashaal, Karma), Jackie Shroff (Hero, Mera Jawaab), Sunny Deol (Arjun, Dacait) or Sanjay Dutt (Jeeva, Naam).
Even the character actors portraying the elders in the film were different where a father (Dalip Tahil) was not too far off in age or temperament from his college going son (Aamir Khan). The 'new' kind of classic Hindi film narrative (songs, dances, drama et al.) that was attempted by Qayamat Se Qayamat Takm came into its own with Sooraj Barjatya's Maine Pyar Kiya and in it, Reema Lagoo as the hero's mother ushered in the new phase of the reel mother.
While Reema Lagoo was seen as a 'star' mother for the first time in Qayamat Se Qayamat Tak where she played the mother of the leading lady (Juhi Chawla), in Maine Pyar Kiya that she introduced the new-age mum for Hindi films. Reema Lagoo's mother character, Kaushalya Choudhary, was a departure from the Nirupa Roys and Sulochanas for she could perfectly balance the old and the new.
She not only knew her son, Prem (Salman Khan) well enough but also knew what was good for him and for a change both mother and son were on the same page. In fact, she even orchestrates the way the son professes his love for Suman (Bhagyashree) and empowers him to go stand up in front of her husband and Prem's authoritarian father (Rajeev Verma) without 'abandoning' her pati.
At some level contrarians would argue that Maine Pyar Kiya's Kaushalya only updated the hero being tied to maa ka pallu facet of popular Hindi cinema, but what the role achieved within the realm of popular Hindi cinema was nothing short of remarkable, and it was all thanks to the actor that Reema Lagoo was. Ironically enough the same year, 1989, also had Nirupa Roy in one of her final outings as Bachchan's mother in Toofan (1989) where almost everything about the film and the kind it represented right from the narrative, the tropes, the plot points as well as Roy's character were beginning to looking dated.
The 1990s were truly the golden phase for Reema Lagoo not just in films but also television.
Even when she played the 'mother' to most top stars in standard Hindi films her roles were not cut from the same fabric as a Nirupa Roy. She got to portray characters with a few more shades of grey than the blacks and whites that onscreen mothers before her were doomed to deal with. Her single mother in Aashiqui (1990) had more nuances than both the protagonists Rahul Roy and Anu Agarwal, and her calculative class obsessed matriarch in Yeh Dillagi (1994) remains a treat to watch for she transformed the one-dimensional role a Lalita Pawar or a Bindu would have been given in the 1960s or 1980s into something of a socio-political statement.
She also featured in the Barjatya's follow-up to Maine Pyar Kiya, Hum Aapke Hai Koun …! (1994), where she played Salman Khan's mother in law and later Kuch Kuch Hota Hai (1998) where she reprised the same character. This was also the phase where Lagoo forayed into television and two of her shows Srimaan Srimati (1994) and Tu Tu Main Main (1994) became immensely popular.
Beginning in the mid-1990s the subjects and themes that were considered the mainstay of popular Hindi for the longest time began to undergo a sea of change. This was a phase where the maa, baap and bhai, bhen characters were being re-looked at and as the audience was getting younger by the year these characters, too, couldn't remain the same. At the same time, stars such as Amitabh Bachchan were re-modelling themselves as characters actors that led to an entire generation of actors who excelled at these roles being pushed off the radar. It was around this time that Reema Lagoo got to play one of the best-written characters in popular Hindi cinema and perhaps the one that would come to be seen as her greatest role.
Mahesh Manjrekar's Vaastav (1999) was the story of Raghu (Sanjay Dutt), who goes from an easy-going guy to rule the Mumbai underworld, and his relationship with his mother Shanta (Reema Lagoo) is the moral compass that tells him just how much he had strayed.
The film had many characters and situations that might appear stereotypical to Hindi cinema but it was the climax of the film where a broken Raghu on the run from the cops and rival gang members begs his mother to free him. In a chilling moment of clarity where Shanta realises that the hallucinating, crazy man in front is not her son she takes the gun from Raghu's hands and pulls the trigger.
One could safely say that Vaastav's Shanta could be the 1990s' Radha from Mother India (1957) and while Radha might be seen as a greater role Shanta nonetheless in a way surpassed the other great onscreen Maa from Deewar.
RIP Reema Lagoo: From Hum Aapke Hain...Koun! to Kuch Kuch Hota Hai, the perfect screen mom
Find latest and upcoming tech gadgets online on Tech2 Gadgets. Get technology news, gadgets reviews & ratings. Popular gadgets including laptop, tablet and mobile specifications, features, prices, comparison.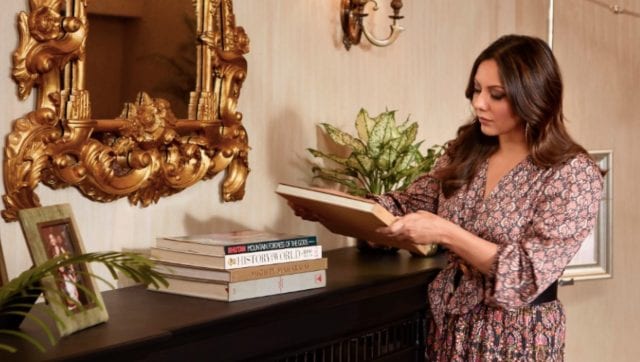 Entertainment
The winner of Shah Rukh and Gauri Khan's contest with Airbnb will get a chance to spend a day in the actor's New Delhi home.
Entertainment
Ram Setu will be directed by Abhishek Sharma and co-produced by Akshay Kumar along with Vikram Malhotra.
Entertainment
Om is slated to release in the second half of 2021.