Ricky Kej on winning a Grammy, performing at the Vidhana Soudha and meeting Hans Zimmer
After his Grammy trophy, Ricky Kej's most prized possession is the computer he makes music on
Editor's note: In a new series called 'Brain Freeze', our contributor R Prashanth Vidyasagar puts musicians in the spotlight, seeking quick answers to an eclectic set of questions.
Grammy winner Ricky Kej's journey from playing guitars in a supermarket to being one of the most admired and respected musicians in the country has been a mind-boggling one. His life story is part of an English textbook, and that is nothing short of impressive.
Though he studied dentistry, he decided to pursue a career in music, more specifically soulful and cause-driven music. Outside of the world of music, this man's passion for environmental conservation is extremely infectious. We decided to pick this creatively restless soul's brain for Brain Freeze, and his witty, thoughtful answers didn't fail to surprise us.
What was the last thing you did before you slept last night?
I watched two episodes of Stranger Things.
What is the one question you hate answering?
"How did your musical career start?" Because it's a long story. [Laughs]
Your worst nightmare?
Being forced to do something that I don't like.
What was the last song you listened to?
A cover of Leonard Cohen's 'Everybody Knows' by Sigrid, which was part of the Justice League OST.
The last movie you watched?
Justice League.
What was the first thing you did when you received your Grammy trophy?
I met Hans Zimmer backstage. They take you backstage for media interactions, and I met him there. He congratulated me, we chatted for a bit and took a selfie.
How often do you take your Grammy trophy out?
The last time I took it out was when I went to meet Narendra Modi.
What was the last lie you told?
It's difficult to say, because there are different degrees of lies. I think the last time I lied was when somebody wanted to meet me yesterday and I told them I wasn't home. [Laughs]
The most important thing one has to do to become a successful music producer?
Hard work and passion — these two things can compensate for anything. It is extremely important to have both these things in equal amounts.
How much did you get paid for your first ever gig?
For my first ever jingle, I was paid Rs 4000. The payment for my first gig was Rs 500; this was in 1997 when I was 17 years old. I was playing the guitar for a Christmas celebration in a supermarket.
What was the last dream you had?
I still have nightmares. In the last nightmare, I was still in college and had to finish taking my exams before I could pursue music full time.
Your favourite moment of 2017?
Performing at the Vidhana Soudha. A close second is performing at the United Nations. Since childhood, I've been visiting that building and I remember eating peanuts on its steps. I admire that building, it's a temple of our democracy, so it was a huge honour to perform there and quite an emotional moment as well.
If you could form a band with Bengaluru-based artists, who would you choose as your band mates and why?
I would chose three singers — MD Pallavi, Chaitra and Charan Raj. My bandmates would be Arun on the drums, Manoj George on the violin, and Ronnie on the bass guitar. These are the people I also regularly work with.
Which acts do you follow from the Bengaluru music scene?
I'm a fan of Alexis D'Souza's band. The Raghu Dixit Project is pretty cool. I'm a big fan of Suma Sudhindra and Manoj George's band as well.
What do you do during your off days?
It may sound very clichéd, but I don't have such a thing as a day off. If I were to go on a holiday, let's say to an island, I wouldn't know what to do. I need to be at my studio, being constantly creative and creating things. If I were to take a day off, I'd be really stressed because I wouldn't know what to do when I am supposed to do nothing.
Inception or Interstellar — which OST do you prefer and why?
Interstellar, because I loved the religiosity in it. It is about time and space and mildly spiritual, and the soundtrack was reflective of that. What I like about Hans Zimmer is that he is not too high on the melodic quotient; he is on the atmospheric quotient and moves the story forward with his music. This OST lent spirituality and depth to the movie.
If you were a metal band, what would your stage name be?
Apocalypse.
Do you know what the first few predictive searches are when you google Ricky Kej?
Someone told me it is 'Ricky Kej wife'. [Laughs]
What are the three things that a person has to do have great looking teeth?
From a dentist's point of view, it is brushing your teeth twice a day and undergoing orthodontic treatment when you're a young child, not an adult. More importantly, from what I've seen during my internship (I never practised after I got my degree), I've always felt that for people who smile from the heart, it doesn't matter what their teeth looks like. My teeth are the most uneven in the world but nobody notices them. [Laughs]
What was the one factor that made you want to take up music?
I would say it is a multitude of factors. I've always been a musician and an appreciator of music since childhood, but the one factor that motivated me was about bringing different cultures together. Listening to musicians like Nusrat Fateh Ali Khan, Pandit Ravi Shankar and Junoon and watching how they were able to seamlessly bring together different cultures and blur genres and boundaries appealed to me. I wanted to show that we can come together through the common language of music.
Peace, love and tolerance is what Winds of Samsara is based on. How can we collectively work towards achieving this?
What is required is consciousness right from childhood. For our generation it is nearly impossible, because it requires a massive behavioral change. Changing the education system is one of the best ways to do this.
What are the three things you need to have with you in the studio?
Fresh fruit juice, my phone and my dog.
If you could compose a soundtrack for Hutchie (his dog), what would you call it?
It would definitely be a waltz and I would call it 'Little Man.'
Your favorite song/OST from a Kannada movie?
Pushpaka Vimana (2017).
If you could get a tattoo, what would it be?
It would be the musical notes of one of my compositions.
When was the last time you travelled in an auto?
Quite recently I was in Nagpur and I travelled everywhere in autos. Even in Bengaluru when I don't get a cab, I hail an auto.
If a movie about you were to be made, who would like to play the lead and why?
I would say Joseph Gordon Levitt, I think he is a fantastic actor and loved him in every movie that he has been a part of.
What was the name of the progressive rock band that your were part of during your college days?
Angeldust.
If you could compose music for a video game, which one would it be?
Mad Max.
If you could take music lessons from one person, who would it be?
John Williams.
What is your most prized possession at home apart from your Grammy trophy?
The computer system I make music on.
Which song do you know by heart?
All the songs of Savage Garden and Metallica (all the albums released before Reload).
What is the one song that can calm you down no matter how worked up you are?
'Street Spirit' by Radiohead.
What is the most important thing to you?
The planet actually, though it might sound very out there. But honestly that is my single largest concern; it's about the extinction of the human race.
Politics
People of Assam have voted for the BJP for the second consecutive term as they have realised that there is no place for 'aatankwad' (insurgency) and 'andolan' (agitation) in the state, Shah asserted
India
Modi noted that on the coming 15 August, India will enter its 75th year of Independence and highlighted that Amrit Mahotsav is being celebrated throughout the country to mark that year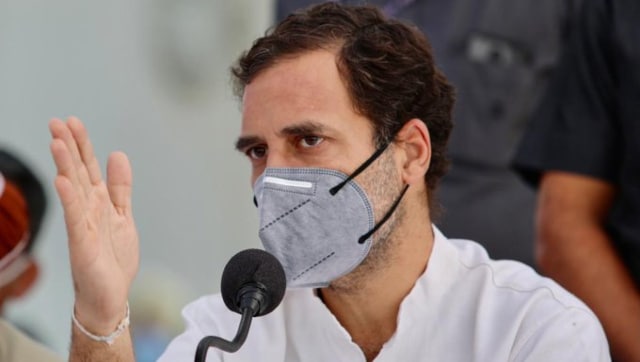 India
The former Congress president also shared a video on Twitter highlighting the alleged slow vaccination rate and media reports where people were not getting vaccines