Richa Chadha on Jia Aur Jia: 'It has taken Bollywood so many years to make a girl-bonding film'
When Richa Chadda was offered Jia Aur Jia – a road trip film on female friendship and healthy bonding between two women — she was thrilled.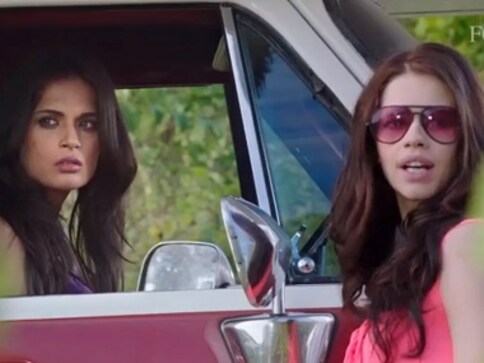 When Richa Chadha was offered Jia Aur  Jia – a road trip film on female friendship and healthy bonding between two women — she was thrilled.
Not only because she is a traveller, and someone who loves to explore and discover, but also because the film could break her image of a serious actress. Richa has been critically appreciated for her performances in films like Masaan, Gangs of Wasseypur...to name few.
"When I was told that Kalki was also on board, I got really excited. I knew her, I knew she was a traveller and that she had a wild character. She is a hippie. I really loved working with her. My character is kind of depressed and sad but it got balanced with Kalki's part," says Richa excitedly.
Speaking about the film, she adds, "It was a breeze. I like having fun while working, which is quite rare. It was amazing shooting in Sweden, it's a beautiful country though lonely and cold. We lived there for 40-45 days. It's very evolved and also unexplored as a location for film shooting."
She further says, "I wanted to play an introvert and break my image because as soon as people see me on screen, they feel I will start abusing. I may have done a soft part in Masaan, or a very resilient person in Sarbjit, and even in Inside Edge, my character is quite vulnerable. But that image of 'Bholi Punjaban' from Fukrey is stuck in people's head. They associate me with that. So it was nice to play a reserved character."
It looks like the fiesty actress is quite exasperated with Bollywood's way of reinforcing stereotypes.
"If a girl is sweet then she is virginal and if she is a badass, then she's completely bad. I may be the bindaas kind but when I go to a filmy party, I might be socially awkward. We need some kind of a balance. So when my character in Jia Aur Jia says, 'No no, I can't do drugs. No, no, I will not touch boys' that is also a fun character to play without making her stereotyped. Also, it was easy to play that part because we all have that side living in India. We have to be somewhat conservative in public."
Though Jia aur Jia isn't the first time Bollywood has dabbled with human bond and travel, it is probably the first female friendship film which left Richa quite surprised.
"The other day Kalki and I were travelling for an interview and we thought of finding other films so that we could copy paste our faces on other girls on the poster.  But it's strange that we couldn't find any female friendship film! We came across two films, one was (Shabana Azmi - Nandita Das- starrer) Fire and then there was Utsav, which had one scene between Rekha and Anuradha Patel. But these bordered on lesbianism. Jia Aur Jia is just a friendship film and it has taken Bollywood so many years to make a simple friendship, girl bonding travel film. Whereas there are so many films with male bonding, betrayal of male bonding and even songs dedicated to this theme," said Richa.
"Maybe because people feel that girls don't make enough money and can't spend it. There might be another notion that girls can't travel alone and people may think that it's wrong for girls to take a trip together. But the fact is that women these days do go out on vacations alone or with friends all the time. I often take off on a solo vacation and it's a beautiful experience," she adds.
Richa feels that sharing screen space with a friend has made Jia aur Jia look more lively, real and interesting.
"I see Kalki often, I knew her from before and we try and meet as often as possible. It is because of our friendship that the film is looking real. If we didn't have friendship, the film wouldn't have looked as lively as it does now. I love her because she has so much strength and character, poise and grace. I admire her discipline and hard work. Her mother tongue is French and yet she has done the whole film in Hindi, no one has dubbed her," she says.
Richa claims she feels confident about the film.
"I expect it to do well. When I recently tweeted the poster, I saw girls tagging their friends and saying, 'Let's watch this...' So it may open well. Following the trend this year, smaller films with good content have been working. And as a lay person, I feel, Kalki and my pairing is good. Both of us have done such diverse parts, it will be fun to see this side of ours," signs off Richa on a positive note.
Entertainment
Sidharth Malhotra-Kiara Advani will reportedly get married in the first week of February
Entertainment
After taking a long break from his career, Honey Singh is back to his work
Entertainment
In 2022, the actor delivered some impeccable performances with A Thursday, Dasvi, and Lost which also grabbed her national and international recognition