Revisiting The Seventh Seal (Det Sjunde Inseglet) — Ingmar Bergman's 1957 masterpiece about God's eternal silence
On the 100th birth anniversary of legendary Swedish filmmaker Ingmar Bergman, we revisit his 1957 masterpiece, The Seventh Seal.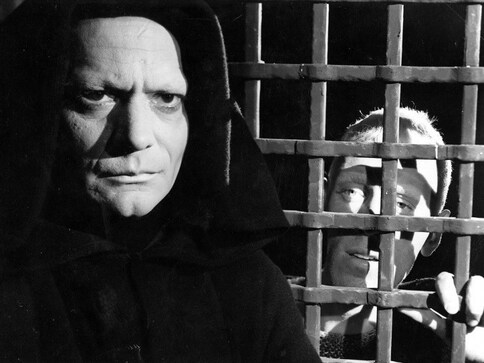 As part of the global celebrations of the 100th birth anniversary of legendary filmmaker Ingmar Bergman, the Swedish Consulate will be hosting special screenings of some of his most iconic films at the 20th Jio MAMI Mumbai Film Festival. In an effort to reinvigorate public discourse of his work, Firstpost will be revisiting few of these films — starting with The Seventh Seal.
There's a scene in Woody Allen's 1979 classic, Manhattan, where his character Isaac Davis is forced to listen to his friend Yale (Michael Murphy) and his pseudo-intellectual mistress Mary Wilke (Diane Keaton) bad-mouth everyone from Gustav Mahler to Norman Mailer to Vincent van Gogh. But, when she namedrops Ingmar Bergman as a candidate for their "Academy of the Overrated", Woody's Isaac is visibly indignant, defending the eminent Swedish filmmaker by claiming him to be "the only genius in cinema" at the time.
It is an understandable reaction considering Bergman's influence permeates the films of some of the most talented filmmakers of our times and he thus remains a subject of numerous eulogies among film writers. Sure, bringing up his name in the multiplex age might end up turning into an Abbott and Costello routine. But MAMI 2018 offers the perfect opportunity for a crash course in the works of arguably the greatest filmmaker.
And a film, which could serve as the perfect gateway to understanding his genius is his 1957 masterpiece, The Seventh Seal (Det Sjunde Inseglet), which contains some of 20th century cinema's most enduring and seminal images — many of which have been immortalised through various pop culture parodies and homages from the likes of Woody Allen to Monty Python to even Bill and Ted. While some, like the aforementioned Mary, may dismiss his Scandinavian gloom-and-doom film about "God's silence" as "fashionable pessimism," The Seventh Seal remains a relevant and strangely life-affirming film despite its bleak subject matter.
The film's title is a reference to the Book of Revelation 8:1: "And when the Lamb had opened the seventh seal, there was silence in heaven about the space of half an hour." Bergman's film wonders if God's silence perhaps has lasted longer.
Returning from the Crusades in 14th century Sweden during the Black Plague, a weary medieval knight named Antonius Block (Max von Sydow) is haunted by some of the same questions about God, death and the hereafter as we all are. He is tormented by an emptiness that we have all experienced in the face of meaningless suffering, misery and destruction. Literally pursued by Death (Bengt Ekerot), he embarks on a journey hoping to accomplish one meaningful act that could earn him personal salvation.
Troubled by the events of the Second World War and the looming threat of a nuclear arms race, Bergman looked to capture the atmosphere of fear and nihilism prevalent around the world. He uses the film as a vehicle of philosophical enquiry to contemplate his own relationship with God, purge his personal demons and come to terms with his mortality. Meanwhile, he also shows off his unparalleled filmmaking chops with a meta-narrative ripe in symbolic imagery.
Many of the film's iconic moments have entered mainstream consciousness, from the scene of Death and Block playing chess in the prologue or the closing silhouette of Death leading the knight and the rest of the party holding hands and dancing towards oblivion. In one of the most memorable scenes, Block enters a small chapel and gives confession revealing his deepest doubts about God and what he considers to be a lack of intrinsic meaning to life in His absence. Unbeknownst to Block, however, the priest listening in at the confessional booth is in fact Death, who coaxes him into revealing his tactics to win their ongoing game of chess.
Block, in his journey, comes across various characters whose beliefs and thoughts contradict his own and this helps him self-reflect. While he refuses to give in to his squire's cynical outlook, he appreciates the virtuous, content way of life led by a family of actors: Jof (Nils Poppe), his wife Mia (Bibi Andersson) and their infant son Mikael. They help him realise that spiritual redemption doesn't lie in trying to escape Death or discerning God's existence but in simple, meaningful acts of love, kindness and humanity.
With The Seventh Seal, Bergman tried to provide historical context to our ever relevant existential struggle. Of course, he never stopped questioning God's seeming desertion himself and explored his crisis of faith further in a trilogy of equally profound films — Through a Glass Darkly, Winter Light, and The Silence — about the ultimate hopelessness of the human condition. Through them, he concludes that God's silence does not discredit his existence, but it merely showcases his indifference.
And he makes us realise that life is still worth living despite the certainty of death — and God's eternal silence.
Entertainment
World cinema isn't just an intimidating thing meant for critics scurrying between films at Cannes and Venice, and they need to be liberated from the echo chamber that they're so often trapped in.
Entertainment
At a time we are surrounded by mortal fear (and we've just lost two of our most beloved actors), it's perhaps natural that the mind drifts towards death, which has inspired some of the most inventive cinematic narratives.
Entertainment
We must bring an end to any conversation that tries to talk of Woody Allen's artistic legacy without examining his history of alleged sexual abuse.