Review: Rishi, Neetu together can't save Ranbir's Besharam
Even by Bollywood standards, Besharam is terribly unoriginal.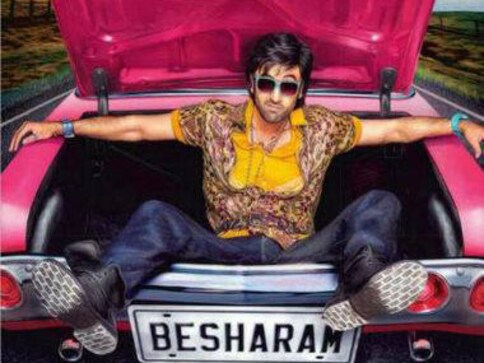 Editor's note: This review has a detailed description of the plot of the film, but contains NO spoilers. 
Rarely does Bollywood come out with a film that has pretty much nothing for the heterosexual male viewer, but that's just the kind of film that Besharam is.
Ladies, here's the good news. Within the first 45 minutes, someone rips the buttons off Ranbir Kapoor's shirt, which means he has no option but to stand around, flaunting his rather furry torso. Not just that, there's also a shower scene in which you see -- you better sit down, if you're a Ranbir fan -- the actor's butt crack... thrice.
Now for the bad news. Within the first 45 minutes, you not only see a constipated Rishi Kapoor on the toilet, with his pants pooled at his ankles, you also hear him fart and then defecate. Stereotypes suggest men like toilet humour and for the men who buy tickets to Besharam, I hope it's true because gentlemen, that's all you've got to look forward to. The fights are few, the cars -- despite being Mercs -- aren't worth drooling over, and the hottest actress in the film is in her 50s.
Directed by Abhinav Kashyap and starring the Kapoor family (Ranbir, Rishi and Neetu Singh), Besharam is the only Bollywood release this week and unless something truly miraculous happens, it's almost inevitable that it will be a hit.
It is also an outstandingly boring film that makes 142 minutes feel like 142 hours. Kashyap created a sensation with his debut film Dabangg, which was one helluva entertainer, but with Besharam, he comes across as a lazy director who is attempting to cash in on a trend that he himself started. Even by Bollywood standards, Besharam is terribly unoriginal. It's a patchwork of references from older Bollywood releases mixed with lots of vintage Bollywood sensibility from the '80s.
Babli (Ranbir Kapoor) is a car thief with the reputation of being one of the swiftest in the business. This seems a rather tall claim since the first time we see him steal a car, everyone from the residents of a nearby building, the compound's security guards and the Delhi police start chasing him. Not just that, in an attempt to dodge the police, Babli scratches the car, drives through a hoarding, and lands on the car's bonnet.
Babli's reputation brings him to the notice of Bheem Singh (Jaaved Jaaferi), the villainous hawala king of Chandigarh. For some reason, this gentleman only wears colonial jackets and jodhpurs as though he is a rejected extra from a David Lean film. He also speaks in a very deep and gravelly voice, just in case you didn't pick up on him being a bad guy. Bheem Singh hires Babli to steal cars for him. These cars are used to carry hawala money out of Chandigarh, which Bheem Singh does personally. In case they're stopped by the police, as they are in Besharam's opening sequence, Bheem Singh has a ferocious doberman sitting in the car's boot and a man with a missile launcher in the front seat. And you thought America needs to do something about gun ownership among civilians.
Babli's car-thieving ways leads him to cross paths cross with Delhi police's Chulbul and Bulbul Chautala (Rishi Kapoor and Neetu Singh, respectively), a squabbling couple who work together and are on the verge of retirement. The two older actors are the only reason that Besharam is occasionally bearable, even though they haven't been given particularly well-written roles. Singh has fun as the bossy, pistol-wielding, sari-clad policewoman and you have to giggle at Rishi Kapoor doing 'Badtameez Dil' in one scene and unleashing his inner Sunny Deol in the final sequence.
When Babli unknowingly steals his lady love Tara's (Pallavi Sharda) car for Bheem Singh, he decides that the best way to get into Tara's good books is by stealing the car back. Except stealing from Bheem Singh isn't a piece of cake, especially when there's hawala money in the car's trunk and the villain can hold all the kids of an orphanage hostage. No prizes for guessing who ends up on the wrong end of a flying kick.
It's not much of a plot and in fact, until interval, there's not even a glimpse of a story in Besharam. In the second half, events are choreographed to ensure the Kapoor family keeps interacting with one another because that's all the film has by way of entertainment for its audience. The only relationship that goes anywhere in the film is Chulbul and Bulbul's. Given it consists of Bulbul taunting Chulbul for not being man enough to impregnate her and culminates in Chulbul pulling his gun on her (literally. This is not a euphemism, although the symbolism is worth noticing), this relationship isn't actually heartening. As for Babli and Tara's romance, here's what happens at its climax: Babli presses a kiss on Tara's forehead. That's what passes for passion and chemistry in a film that has promised audiences shamelessness. If there is a love story in Besharam, it's probably between Tara and her little, red Mercedes Benz. But that, like the rest of the film, goes nowhere.
Besharam isn't really a film. It's Ranbir Kapoor lip syncing and dancing to an inordinate number of terrible, forgettable songs. Kapoor is one of the more versatile actors of his generation, but Besharam is proof that he can't do crass, no matter how little he shaves his jaw and chest. He thrusts his pelvis, pulls socks out of his crotch, overacts and in the process churns out an appallingly dull performance.
Thank heavens Rishi Kapoor and Neetu Singh accepted this film because they've bailed their son out this time. If Besharam had to woo audiences by relying upon its appalling script, dull dialogues, forgettable supporting cast, terrible soundtrack and Ranbir Kapoor, the film would be unwatchable.
Entertainment
Quite happy with the performance of Uunchai, Anupam Kher recently shared a video from a movie hall.
Entertainment
Having his arms around Drew, Ranbir flashed a thumbs-up sign as he posed inside the gym, with his coach. Drew can be seen having his arms around Ranbir's waist.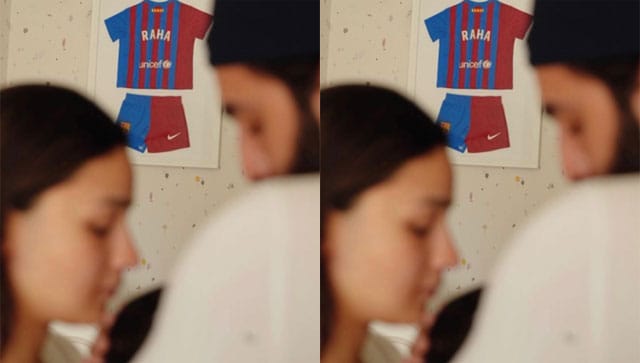 Entertainment
The actress shared a blurred picture of herself and Ranbir Kapoor with their daughter and added in the caption- "Thank you Raha, for bringing our family to life, it feels as though our lives have only just begun."