Reservoir Dogs turns 25: How Quentin Tarantino inspired a generation of indie filmmakers
After debuting to mixed reviews at the Sundance Film Festival, Quentin Tarantino's first film, Reservoir Dogs, released on October 23, 1992. 25 years since its release, the film is widely regarded as a touchstone in indie cinema.
Ah, the '90s! It was a time where your most reliable, undemanding and charitable friend was the little idiot box in your living room. Be it through sitcoms from Seinfeld to Frasier, teen dramas from Buffy to My So-Called Life, cartoons from Swat Cats to Dexter's Laboratory or the more adolescent variety from Daria to The Simpsons, TV was our teacher educating, stimulating and disseminating infotainment in easily digestible episodes.
True, we tend to romanticise all of the decades gone by, some more than others. However, there's one thing the 90s did better than each of the previous decades. That's independent cinema.
How Tarantino and Reservoir Dogs started an ultra-violent indie revolution
After a lacklustre cinematic output in the 80s, a host of young indie filmmakers resurrected the American movie industry with pioneering and economically viable productions. Thriving on budgetary constraints rather than bemoaning them, they pushed the boundaries of cinematic storytelling by re-orienting the way we think about cinematography, narrative structure and even the use of music in films.
Richard Linklater, Gus Van Sant, Wes Anderson and Paul Thomas Anderson may be considered cinematic luminaries today but they all got their first big break in the 90s. Some of these filmmakers couldn't afford film school tuition but were film geeks with an admirable messianic zeal. They thronged to video stores to absorb classics to make up for their lack of formal film training.
One such video store thronger-cum-clerk was Quentin Tarantino, who announced himself to the world in a crimson wave of gore, rapid-fire dialogue and slim-fitting black suits.
After debuting to mixed reviews at the Sundance Film Festival, the Tennessee-born writer-director's first film, Reservoir Dogs, released on October 23, 1992. 25 years since its release, the film is widely regarded as a touchstone in indie cinema. Empire Magazine even called it "the greatest American independent movie."
Having disrupted the movie business in its wake, the film expanded Hollywood's scope with the right mix of artistic and commercial appeal. Today, each Tarantino cinematic venture has become a much anticipated cultural phenomenon.
Just a band of outsiders
One of Tarantino's biggest influences was French filmmaker Jean-Luc Godard, who along with his Cahiers du cinema pals fuelled a film revolution called La Nouvelle Vague (French New Wave). The movement was a consequence of necessity as Godard and co were curbed by similar budgetary constraints amid social and political upheavals in the country. The worldwide accessibility and positive reception earned by the French New Wave films helped create conditions in which young cinephiles could produce films out of shoestring budgets.
Similarly, Tarantino's transgressive filmmaking changed the landscape of American cinema inspiring film lovers to pick up a camera rather than merely geeking out. Many up and coming filmmakers tried to add their own twist to the QT formula of stylistic violence + pitch-perfect dialogue + overtly derivate filmmaking: Guy Ritchie (Lock, Stock and Two Smoking Barrels, Snatch, RocknRolla), Matthew Vaughn (Layer Cake, Kick-Ass, Kingsman), Robert Rodriguez (Sin City, Planet Terror, Machete), Joe Carnahan (Smokin' Aces, Stretch) and the list goes on. You can even see Tarantino's influence on the setting and the masterfully executed story structure of films like Bryan Singer's The Usual Suspects, Christopher Nolan's Memento, Jonathan Glazer's Sexy Beast and Doug Liman's Go.
When a bunch of Crayolas bungled a heist job
In Reservoir Dogs, Tarantino upends genre conventions in a 'heist-gone-wrong' crime caper where you never actually see the heist. Its viewing never feels essential. Yet, it is a viscerally engaging tour de force of suspense and mayhem. How does Tarantino achieve this? By blending graphic violence with snappy dialogue fried in pop culture and profanity.
The film depicts a colourful cast of chatty criminals who endeavour to find the undercover cop in their group after a botched robbery. The cast: Harvey Keitel as Mr. White, Tim Roth as Mr. Orange, Michael Madsen as Mr. Blonde, Steve Buscemi as Mr. Pink, Edward Bunker as Mr. Blue, Chris Penn as "Nice Guy" Eddie Cabot and Tarantino himself as Mr. Brown.
It opens with the group sitting around a table at a diner as they discuss the music of Madonna and the ethics of tipping. Their dialogue is marked by an unaffected frivolity but we are still drawn to the screen. Though they are criminals, they're still relatable. Tarantino uses a circling shot that pans around the participants at the table to emphasise camraderie among the group. Rather than depicting them formulate a heist plan, he draws our attention to the group dynamics. This is followed by the uniformly-dressed gang of urban outlaws walking in slow motion, which has since inspired numerous imitations and parodies.
And as you're left open-mouthed with George Baker's Little Green Bag still fresh in your ears, Tarantino cuts right to a white-faced Mr. Orange writhing in bloody agony as his guts bleed out all over the back seat of a car being driven by Mr. White.
You're left awestruck and horrified at the same time.
Talk about transition!
The back story is then revealed in a non-linear fashion through flash-backs that recount the necessary details from various perspectives.
"In movies, violence is f**king fun"
The aestheticisation of violence represents a principal element of Tarantino's cinematic style. In Reservoir Dogs, Mr. Blonde chops off a captive police officer's ear with a switchblade in an abandoned warehouse and talks into the severed ear in a moment of morbid improvisation. Then, in a spine-tingling long take, he walks out to his car, retrieves a gallon of gasoline and douses it all over the cop to burn him alive until...let's not ruin the movie for those who haven't watched it with spoilers.
Tarantino challenged the norms for rendering violence in film with comic strip carnage to unburden it from serious social consequences while explicitly implicating the audience in voyeuristic gaze. He once raved about the transgressive impact of Stanley Kubrick's ultra-violent A Clockwork Orange.
"That first twenty minutes is pretty f**king perfect," he said. The whole non-stop parade of Alex and the druids or whatever they were called: they beat up a bum, they have a gang fight, they go to the milk bar, they rape a girl, they break into the house, and they're driving and playing the Beethoven, and Malcolm McDowell's fantastic narration is going on, and it's about as poppy and visceral and perfect a piece of cinematic moviemaking as I think had ever been done up until that time."
While there has been persistent criticism of Tarantino's depiction of 'excessive violence', it is important to take an amoralistic stance which distances graphic representation in movies from real life.
What makes a movie Tarantino-esque
Having learnt the craft by merely watching and studying numerous films, Tarantino's exercise in cinematic style involved blending shots and scenes from his beloved films into his own work. In Reservoir Dogs, he combines the suspense of a Jean-Pierre Melville movie and the retributive anger of a John Woo flick with the aesthetic of Godard's Bande à part.
Tarantino's debut feature includes many of the staples that we've so gotten used to seeing from the master filmmaker: the corpse POV shot from the car trunk, the self-reflective mirror shot, the tension building tracking shot and the environment establishing 360 shot. But no foot shots. QT hadn't developed that particular fetish yet.
And the shots always transitioned seamlessly thanks to Tarantino's fitting choice of music.
The Weinstein connection
All of Tarantino's films were distributed through Harvey Weinstein's film ventures (Miramax, Dimension Films or The Weinstein Company) with the serial harasser serving as executive producer. His working relationship with the modern-day Marquis de Sade is as old as Reservoir Dogs.
(I can't help but bring out the irony in writing this piece — we wouldn't be lauding Reservoir Dogs' contribution to indie cinema if it weren't for Weinstein. Sigh!)
QT's second film, the black-comedy-cum-neo-noir Pulp Fiction was perhaps his best film and not just for its quote-ability and intertextuality. Jackie Brown, easily his more underrated film, is an alluring character study. Tarantino pays a memorable homage to Japanese martial arts films with Kill Bill in a glorious explosion of colour as the Bride seeks retributive justice. Death Proof offers an interesting twist to the slasher flick but that is all it is. Inglourious Basterds makes for an intense, fun-filled, Nazi-scalping, alternate history lesson. Django Unchained is an epic slave-revenge fantasy and spaghetti western mash-up. The Hateful Eight finds a Civil War vet turned bounty hunter trapped in a snowbound cabin along with seven murderous strangers.
Last year, Tarantino firmly confirmed that he only has two more films left in him and will retire with a well-rounded 10-film cinematic canon.
Pity!
But Tarantino's body of work will continue to be studied fervently and he will forever be remembered as a master storyteller who constantly pushed the limits of cinematic visualization. And it was Reservoir Dogs that propelled him into the spotlight 25 years ago.
So, if you share a similar love for the nuances of pop culture, a reverence for good, substantive cinema and are yet to watch QT's glorious debut, get your popcorn ready and jump into Netflix right away.
Oh, and if you're an individual with a more sensitive constitution, keep a barf bag ready too.
also read
Entertainment
Saw X is a treat to the franchise fans but a strict warning to others as this gorefest can make your stomach churn and might haunt you for a long time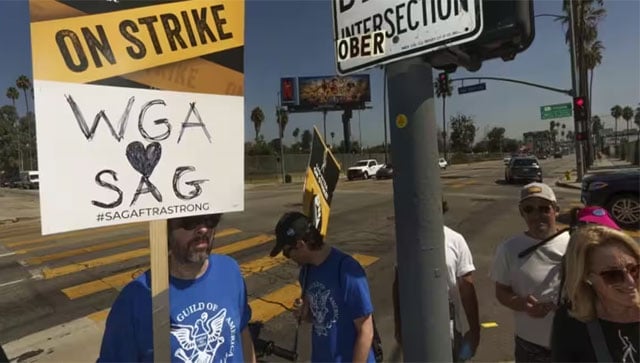 Entertainment
In the coming weeks, WGA members will vote on whether to ratify a tentative agreement, which requires studios and production companies to disclose to writers if any material given to them has been generated by AI partially or in full
Entertainment
The writers still have to vote to ratify the contract themselves in early October, but lifting the strike will allow them to work during that process, the guild told members in an email