Renée Zellweger looks eerily similar to Judy Garland in first photo from upcoming biopic
Renée Zellweger is all set to return to the big screen as the legendary Judy Garland.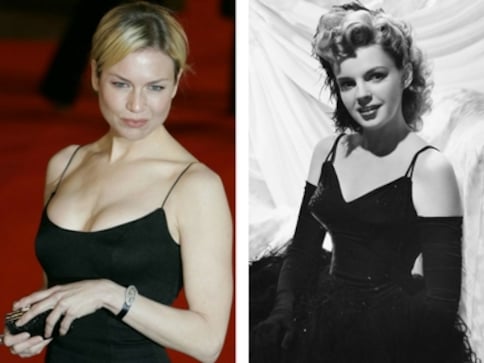 Renée Zellweger has been out of the limelight for quite some time now, but she's all set to return to the big screen as the legendary Judy Garland.
Zellweger, known for her role in movies such as Bridget Jones's Diary, Jerry Maguire, and Chicago, will be seen portraying the role of singer and actress Judy Garland in upcoming biopic simply titled Judy. Renée Zellweger's first look from the biopic has been released online, and she bears a striking resemblance to the late legendary singer.
#JUDY starts principal photography in London today, starring Academy Award winner, Renée Zellweger as Judy Garland!#judygarland#reneezellweger#london#thetalkofthetown#jessiebuckley#finnwittrock#michaelgambon#rupertgoold#pathe#calamityfilms#bbcfilms#ingeniouspic.twitter.com/VJAnMRuzKV

— Judy (@JudyGarlandFilm) March 19, 2018
Here's your first look at Renée Zellweger as showbiz legend Judy Garland - follow @JudyGarlandFilm for updates on Judy, now in production! https://t.co/zXBnLjThaA

— BBC Films (@BBCFilms) March 19, 2018
The film is set in the late 1960s, as Garland arrives in London for a series of concerts. By this point, Garland is well into her forties, and her memorable role in The Wizard of Oz is nearly thirty years behind her. As she prepares to face crowds of adoring fans, Garland is still fighting the demons left behind by her troubled childhood in Hollywood. The movie will follow the last year of Garland's life right up to the point when she passed away from an overdose after a long battle with alcohol and drugs.
The first look of the movie suggests that Zellweger will not only star as Garland but will also be seen singing. Zellweger has earlier lent her vocals to the 2002 musical Chicago, which earned her an Oscar nomination for Best Actress. Judy will also feature Finn Wittrock as Mickey Deans, Garland's fifth and final husband; Bella Ramsey as her daughter Lorna Luft; and Gemma-Leah Devereux as her daughter Liza Minelli.
Find latest and upcoming tech gadgets online on Tech2 Gadgets. Get technology news, gadgets reviews & ratings. Popular gadgets including laptop, tablet and mobile specifications, features, prices, comparison.
Entertainment
Matthew McConaughey describes the memoir as "an album, a record, a story of my life so far."
Entertainment
Disney plans to release Mulan in theatres in areas only where Disney+ is not available.
Entertainment
Meanwhile, Disney holdover Onward has grossed a total of $7.4 million since it opened on 6 March