Remembering Chris Cornell: A voice that drove bands, heralded change, and stayed forever
Chris Cornell's sonorous vocals and resonant songwriting, were ably complemented by his lean physique, ruffled locks and piercingly honest eyes that didn't once conceal a past of addiction and struggles with sobriety
Up until Chris Cornell, my celebrity crushes were largely restricted to me obsessing over a musician's swagger, drop-dead gorgeous looks, luscious hair or even his sense of style in a band. It was always the visual that seduced the hormones. The world of crushes, as it goes, is largely fleeting and superficial, making the criteria for crush-material rather perfunctory.
Chris Cornell changed that.
At an age when I could just about discern the purely peripheral from the profound, came Cornell with a voice so distinct that even a teenager's myopic sense of love didn't come in the way of recognising it. You could recognise Chris Cornell every time you heard him. Like Eddie Vedder. Or Bruce Springsteen. Or Freddie Mercury. Or Leonard Cohen. Voices that drove bands, voices that heralded change, voices that stayed forever.
Cornell is one of the pioneers of the grunge movement that took much of the '90s by storm. He founded Soundgarden, a band that shaped the grunge sound through his searing vocals, and the mighty guitar-playing of Kim Thayil. With Soundgarden, Cornell developed grunge as a form of alternative rock from the early 80s, only to achieve commercial success when more players like Nirvana and Pearl Jam got into the fray in the 90s.
Cornell in fact started out as a drummer and vocalist with The Shemps, a predecessor to Soundgarden featuring Hiro Yamamato on bass. When Hiro left, the band brought in Thayil for bass duties while Yamamato went on to co-found Sub Pop, an independent record label that later signed the band. Soundgarden was formed with Cornell, Yamamato and Thayil, with Scott Sundquist joining in later on the drums to free Cornell to focus on the vocals. Initially, their sound was a confluence of Black Sabbath, Led Zeppelin and even the Stooges, partially distinctive but largely lacking in character. That they went on to create the grunge sound and pioneer a movement along with other musical luminaries is a wholly different matter. But that cult status was achieved on the backbone of a great deal of musical soul-searching. Grunge, like Rome, was not built in a day.
From opening for Guns n' Roses to hiring Nirvana's bassist, to having their third album Badmotorfinger overshadowed by the stupendous success of Nirvana's Nevermind, Soundgarden was pushed and shoved in many directions of music before it found commercial acclaim. Nevermind brought the spotlight to the Seattle grunge scene and within a couple of years of that came Superunknown, Soundgarden's seminal album. Most people even today know of Chris Cornell as the guy from the band Soundgarden whose hit song 'Black Hole Sun' made the most under the MTV sun in India, as the video played continuously to an audience that was just introduced to all-day music videos.
Superunknown though introduced me to perhaps the most uniquely rich vocals at a time when musicality didn't always sell air time on MTV; showmanship, guitar riffs and attitude did. It made me a Chris Cornell fan more than a Soundgarden fan. My rock music idols had always been people with powerful pipes. That Chris Cornell was quite the visual treat only added to his appeal. In fact, Cornell's vocal magnificence only reiterated to me that love isn't always at first sight, but like in his case, at first listen. Take Spoonman's acapella version where the first two odd minutes only feature Cornell's vocals and the spoonman Artis' percussion. Widely considered the song that heralded Soundgarden to commercial success, the original 'Spoonman' song with its overarching riffs and unusual time signature, found space to let Cornell's voice reign.
The Chris Cornell playlist: The Soundgarden, Audioslave rocker's best songs
While he was still a member of Soundgarden, Cornell collaborated with musicians who would later go on to form the band Pearl Jam. In fact, an astoundingly rare example of superlative vocals can be found in the Temple of the Dog song 'Hunger Strike' featuring singing geniuses Chris Cornell and Eddie Vedder, the latter's first public recording before Pearl Jam hit grunge gold with the album Ten.
Cornell went on to collaborate with the remaining members of Rage Against The Machine after frontman Zack de la Rocha quit, in a hugely successful band called Audioslave. Even as his sonic trajectory during his commercial superstardom, remained in the largely loud, metal hemisphere, Cornell's vocals ranged from soulful to gritty, powerful to melancholic. He was seducer, an angst-ridden protestor, a growler and a pacifier. How did a voice that shrieked become one that caressed? How did Cornell do this, every single time?
With a voice that spanned almost four octaves; one that is naturally baritone but also comfortably tenor, Cornell transcended scales and genres with equal ease. Here's a voice that vociferously paid tribute to Jeff Buckley in 'Can't Change Me', while richly covering other classics. He poignantly sang 'Ave Maria' and brought a tear to most eyes with his cover of Whitney Houston's version of 'I Will Always Love You'. His cover of 'Billie Jean' remains among his best musical odes even as he brought his own depth of talent to Prince's composition 'Nothing Compares 2 U'. His solo work did most justice to his range in songs such as 'Promise' (Slash feat. Chris Cornell) and the Bond theme song 'You Know My Name' for Casino Royale.
Cornell's sonorous vocals and resonant songwriting, were ably complemented by his lean physique, ruffled locks and piercingly honest eyes that didn't once conceal a past of addiction and struggles with sobriety. As far as possible from a squeaky clean image, Cornell embodied everything about young emotional torment before growing into a man who in his own words had "sobered up". He was the quintessential bad boy who managed to change his ways, making him the beacon of hope and inflated oestrogen for young girls looking for the complete package.
We don't know yet what killed him, but he did say goodbye hours before through a riveting setlist at Detroit that ended with a mashup of Soundgarden's 'Slaves & Bulldozers' and Led Zeppelin's version of 'In My Time of Dying'. "In my time of dying, I want nobody to mourn / All I want for you to do is take my body home," went Cornell, to an audience that had no idea that this was to be his last song.
Say hello 2 heaven, Chris. The grunge supergroup up there welcomes you with open arms, even as I see a part of me disappear.
The author runs a content consultancy firm, after ending a decade-long stint with The Asian Age as senior editor. In her free time, she's learning to play the bass.
Find latest and upcoming tech gadgets online on Tech2 Gadgets. Get technology news, gadgets reviews & ratings. Popular gadgets including laptop, tablet and mobile specifications, features, prices, comparison.
Arts & Culture
Though it does have its positives, the guru-shishya tradition unfortunately stops us from moving towards a more progressive and open community, where constructive discussions can take place without fearing consequences.
Entertainment
Throughout US President Joe Biden's inauguration, music sent every possible signal of unabashed earnestness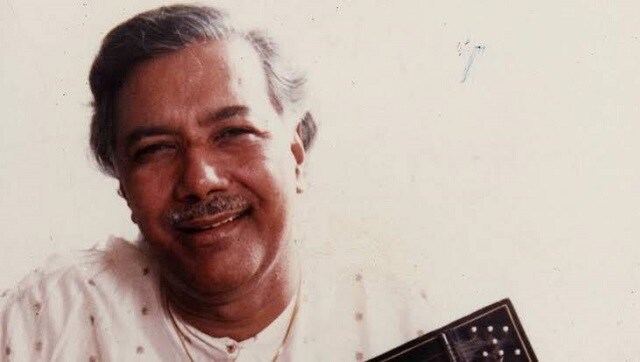 Arts & Culture
Ustad Ghulam Mustafa Khan was awarded the Padma Shri in 1991, followed by Padma Bhushan in 2006 and Padma Vibhushan in 2018. In 2003, he was honoured with the Sangeet Natak Akademi Award, the highest Indian recognition given to practising artistes.