Remembering Cho Ramaswamy: From theatre to films, a lodestar of lampoon
A tsar of satire, Cho Ramaswamy will be forever remembered in his trademark olive green safari suit paired with large gold-rimmed glasses and ash smeared over his forehead. But most of all, he will truly be remembered as the lodestar of lampoon.
It's hard not to find a pattern now, between December and debacles for Chennai. The city has been put through rigorous tests — in 2004, when the tsunami struck, in 2015, when rains flooded the city or back in 1987, when MGR's death turned the city violent. And now in 2016, when Chief Minister Jayalalithaa passed away on Monday, 5 December. And after every test, the city has spectacularly bounced back; everyone talks about the famed "Mumbai spirit", but Chennai in its own quiet way shows Mumbai how it's done sometimes.
The coincidence however does not end with Jayalalithaa's passing — her close friend and sharp critic Cho Ramaswamy breathed his last on Wednesday, 7 December, also at Apollo Hospital. If Deepak Chopra were observing the events, he'd call it signs from the universe that can perhaps guide us. Of course, it is tempting to think that these events are hinting at hidden truths that foreshadow something significant, but look at it statistically and objectively: random improbable events happen all the time. Attaching a meaning to them is something we humans tend to do, but only at times like these, it comforts us by being poetic.
Who is Cho Ramaswamy? Journalist, skilled orator, political commentator and analyst, veteran theatre artiste, actor, satirist, playwright, editor, lawyer... the list is endless but it can only give us a glimpse of the man's greatness. By now, you would've seen the Prime Minister's tribute to Cho (Cho is his moniker he got after playing a character with the same name in the play Thenmozhiyal), which no doubt speaks about their closeness. The video shared by Modi doesn't even begin to do justice to Cho's fiery speeches or his passion for political satire.
The above clip is from his play Mohammad bin Thuglak, a seminal socio-political satire that he first staged in 1968, taking a dig at then Prime Minister Indira Gandhi and her totalitarian regime. It has been staged almost 2,000 times since then. Its success gave rise to his Tamil weekly, christened Thuglak — the magazine became a regular fixture in most middle-class households. I still remember my late grandfather eagerly awaiting that week's issue, to consume a healthy dose of intelligent political satire — this is no attempt to mollify his passing away, but Thuglak was one of the first publications that initiated me into the workings of Indian politics.
Thuglak was nothing like the other Tamil magazines you read; there were no recipes listed, perhaps one movie review and no pointless gossip. During the Emergency, Thuglak was one of the few publications that wasn't threatened by it, and although Cho stopped its publications after two issues, the first issue to come out after was bold: the magazine had a black cover, something he would employ again after the demolition of the Babri Masjid. Cho didn't stop there though, he reviewed a movie called Sarvadhikari (Dictator), made in the '50s, during the Emergency to condemn the going ons. He always loved a good challenge.
Thuglak's annual functions were none of your regular meetings with boring speeches that usually sap the energy of the room. No, they reflected the Thuglak's founder's fondness and skill for acerbic wit and humour. Moreover, these events were all about self-criticism, even as Narendra Modi observed,
"This is a unique programme he has always been organising, this Reader's Conference, when he invites his Readers he is ready to listen to their criticism, any reader can ask him why you have written so, what are your views on the issue. It requires courage to face self- criticism and only a true democrat can do this and I always feel Mr Cho is a true Democrat…"
Though a fearless journalist, his true passion did lie in theatre. Theatre then gave rise to films, where a 29-year-old Cho made his debut in Paar Magale Paar as a comedian. Although Jayalalithaa and Cho starred together in 19 films (where Cho usually played a comedian and Jaya, the heroine), his pairing with Manorama brought out his best. (Of course, this pairing is only second to the legendary combination of Nagesh and Manorama who roared through the '60s.) Here is where the 1968 movie Bommalattam is a classic: Apart from the famous 'Vaa Vaathyaare Voottaande' song rendered to perfection by Manorama in typical Madras Tamil bashai, it also stands testimony to the lovable chemistry between the two. Cho didn't need a 'Vaa Vaathyaare Voottaande'; he was fluent in Madras bashai, using it to full effect in movies.
Neither did he contain himself to that cockney — there was naturally an overflow of political satire in the movies he acted in. Be it the 1971 Muhammad bin Thughlaq, the film version of his play which provides an allegory to political happenings in the present day (here, in the 1970s but some say it still holds good today). Or this scene from the Rajinikanth-Prabhu comedy Guru Sishyan (1988) where he deliberates over his friend's predicament on why their inspector friend lied to them about a crook. Watch from 1.34 and note his hand gestures in particular — he goes on to make party symbols of AIADMK, DMK and Congress:
The provocative sharp critic that he was, almost every scene contained a reference to politics: In Adhisaya Piravi starring Rajinikanth, Cho mentions, "Idhu aatchiaalargal sabathirkkulaagum kaalam, sahithu kolla dhaan vendum (this is the age where people in power get abused; they have to endure it)" or in Puthiya Theerpu where as a rickshaw driver he is asked for a ride till Fort St. George, which houses the Legislative Assembly, to which a sarcastic Cho's character replies, "Kottaya? Angellam naan pogardhilla saar, thagaraaru varum nammakkanga (Fort? I don't go that side, I will get into fights)."
His plays too were no different: In Sambhavaami Yuge Yuge, a play where Lord Krishna visits Earth to put a stop to corruption but is instead bribed by politicians. The play was a bold commentary on politics at that time (1964) with the TN police calling for its ban and a removal of some lines. Forever ready for a good fight, Cho refused and filed a petition only to see the play run to full houses two months later.
A tsar of satire, Cho will be forever remembered in his trademark olive green safari suit paired with large gold-rimmed glasses and ash smeared over his forehead. But most of all, he will truly be remembered as the lodestar of lampoon.
Find latest and upcoming tech gadgets online on Tech2 Gadgets. Get technology news, gadgets reviews & ratings. Popular gadgets including laptop, tablet and mobile specifications, features, prices, comparison.
India
Rahul Gandhi wished Narendra Modi on his birthday today. The Congress leader's almost daily tweets have mostly targeted the prime minister over the coronavirus crisis, the economy and the dispute with China.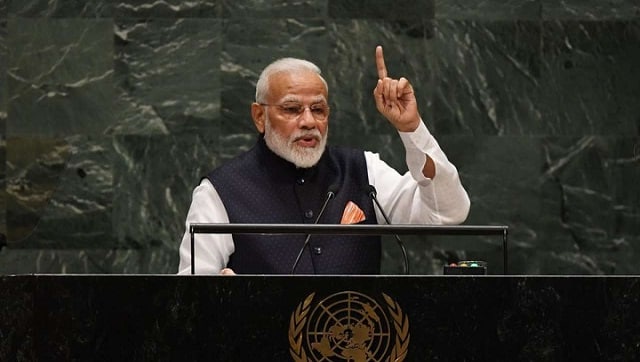 India
The prime minister also asserted that as one of world's largest vaccine manufacturer, India is ready to use its capacity for the betterment of all of humanity during the coronavirus pandemic
India
Congress leader Rahul Gandhi on Sunday questioned the government on its strategy for making the COVID-19 vaccine available to the public