Remembering Carrie Fisher: Can we look beyond Princess Leia's hair buns and gold bikini?
There are no two ways about this — Carrie Fisher's legacy is and was Princess Leia Organa in Star Wars. To be honest, I had no idea about Leia's last name and I must confess, I haven't seen Star Wars. I have, however, seen parodies and representations of Leia on television shows, including 'The One With the Princess Leia Fantasy' on Friends and the more than 200 references made on The Simpsons.
But let's look beyond the hair buns, shall we? Even as the patriarchy (and the Ross Gellers of the world) tried to reduce her to just a pretty face in a gold bikini, she made sure you knew she really hated it. She told Daisy Ridley (who was cast in the Star Wars sequel, The Force Awakens) to "fight for your outfit": "Listen! I am not a sex symbol, so that's an opinion of someone. I don't share that... Don't be a slave like I was".
Fisher struggled to break against the mould that nerd boys had carved of her for ages. Nevertheless, she also defended the costume and fought against banning it.
The father who flipped out about it, "What am I going to tell my kid about why she's in that outfit?" Tell them that a giant slug captured me and forced me to wear that stupid outfit, and then I killed him because I didn't like it. And then I took it off, backstage.
She might have been Princess Leia on film, but off it she was a real queen.
Unlike many others, I didn't get my introduction to Carrie Fisher through Star Wars; it was rather through the Star Wars of rom-coms, When Harry Met Sally. Fisher played Sally's single, acerbic, heavy Rolodex-carrying friend Marie, a role that no one really talks about. Fisher, an established superstar in her own right, plays second fiddle to Meg Ryan, which is not easy. Needless to say, she stole all the scenes, quote after quote, with this one proving to be the icing on the cake.
Fisher's Marie paved the way for the single woman I wanted to be — confident on double dates, powering through one date after another and finally, being comfortable enough to discuss even divorce with the person I end up with.
The Carrie Fisher I remember and admired was all about empowering feminism and witty one-liners. Like this, "Screw beauty, it's superficial anyway, and my other attributes matter way more than my appearance," or the very inspiring, "Stay afraid, but do it anyway. What's important is the action. You don't have to wait to be confident. Just do it and eventually the confidence will follow."
The impossibly high standards that Hollywood and society set, the one-directional reducing of Fisher to a "sex symbol" and a collective wet dream of adults and teenagers alike, was something she fought against constantly. Yet, it was back to haunt us on the day she died. While NYT's obit featured a reclining Princess Leia in her slave outfit, which angered a LOT of feminists, actor Steve Martin's now-deleted tweet was just the sort of characterisation that Fisher fought against.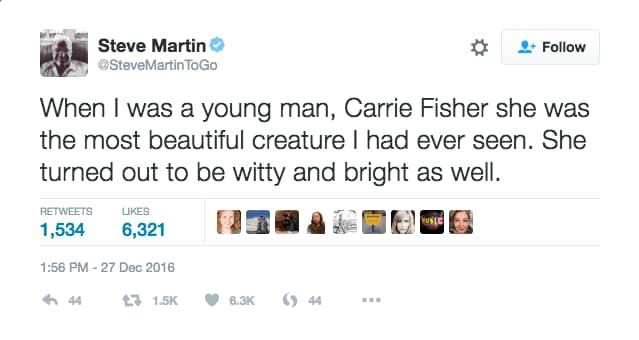 It's important to remember that there was so much more to Fisher than Leia: she was an excellent script doctor, an outspoken mascot for better mental health, a kickass feminist and, more importantly, a writer of her own obituary: Leia might have lived in a galaxy far, far away, but Fisher ended up being strangled by her own bra on Earth.
... So I tell my younger friends that no matter how I go, I want it reported that I drowned in moonlight, strangled by my own bra.
The one representation of Leia that I did love was Liz Lemon portraying her in 30 Rock: once, to escape jury duty, and again, dressing up as a "princess" to her wedding to Criss Chros. For Lemon, and I suspect Tina Fey, their version of princess was Leia.
I know enough people will pay tribute to Fisher as Leia, and having successfully sidestepped that temptation, I must say I'll always remember her as the ageing feminist comedy writer Rosemary Howard in an episode of 30 Rock, giving rise to one of the series' best episodes. Like every 30 Rock episode that aims to make fun of everything and also delivers on its promise, S02E04 (Rosemary's Baby) is perhaps the best tribute to Fisher.
Liz Lemon, the head writer for TGS, invites her comedy heroine Howard as a guest writer for the show. Howard's ideas that push the boundaries too much on television and her devil-may-care-attitude attract Lemon initially and the latter quits her job and follows Howard to her apartment. Which she ultimately realises is a mistake and soon runs away to TGS, giving rise to a classic Jack Donaghy zinger, "Never go with a hippie to a second location."
The episode is delightfully meta! In fact, when Lemon meets Howard she opens with, "I don't want to sound like a weirdo fan, but I am obsessed with everything you've ever done" — a reference to Fisher's crazy fans. Fisher's Howard also carries a bit of baggage like Fisher does in real life: In a different sense, it's like Alan Rickman and Snape — a generation of us grew up on him and to mourn Rickman is to mourn Snape, as I wrote earlier for The Hindu here. Similarly, Fisher and Leia are inseparable for a lot of fans.
This particular dialogue of Lemon, "Rosemary says that women become obsolete in this business when there's no one left that wants to see them naked," is brilliantly veiled reference to how Hollywood treated Fisher, making fun of her age, her weight and eventually body shaming her. Fisher then shut trolls down with a comeback: "Blow us". Donaghy then gives her the answer that applies to all women, in showbiz or out of it: "You make enough money, you can pay people to look at you naked." True. Accumulate enough power and money, you don't have to live up to society's standards, and Carrie Fisher did that.
The force was always with her.
Updated Date: Dec 28, 2016 14:07:30 IST