Red Sparrow review round-up: Jennifer Lawrence's new thriller is a 'violent, mixed-bag spy flick'
Jennifer Lawrence plays a Russian ballerina turned seductive spy in the espionage thriller, Red Sparrow.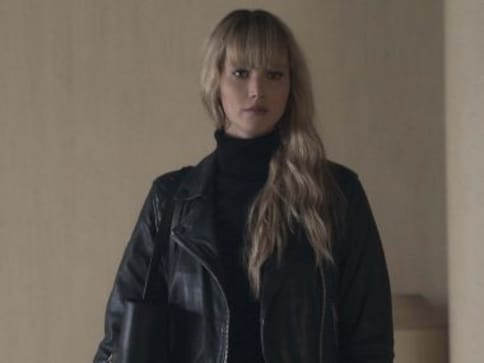 The embargo for the Red Sparrow has lifted, and the first reviews — following early screenings for critics and journalists — are in. And they are mixed for the highly-anticipated spy thriller starring Jennifer Lawrence and Joel Edgerton.
Red Sparrow reunites The Hunger Games director Francis Lawrence with its star, Jennifer Lawrence - who plays a Russian ballerina turned seductive spy. Based on a book by former CIA agent Jason Matthews, Lawrence plays Dominika, a prima ballerina who has to rethink her career choices after a devastating injury. So she goes to a spy school where the students are taught by headmistress Charlotte Rampling to use seduction as their main weapon. Her target? Joel Edgerton.
So, here's what the critics had to say:
Variety's Owen Gleiberman gave out one of the more positive reviews saying, "The double-crossing hugger-mugger isn't movieish and abstract — it's scruffy, rooted in desperation and appetite. Edgerton makes Nash a down-to-earth operative, noble in his impulses but far from a superman. And Lawrence's Dominika is gripping, because she has to keep improvising. She's been trained to survive, and does, wriggling out of everything from extreme torture to gross come-ons from her boss."
The Hollywood Reporter's John DeFore was not as receptive to it, remarking, "a pervy premise and top-flight cast yield a mixed-bag spy flick."
Indiewire's Eric Kohn praised the technical aspects of the film, saying "The elegance of Francis Lawrence's direction, cinematographer Jo Willems' measured camerawork, and James Newton Howard's ominous score adheres to a familiar set of beats, but it's the rare big Hollywood mood piece and mostly satisfying on those terms."
The AV Club's Jesse Hassenger said: "It's about halfway between Atomic Blonde and a Focus Features late-summer thriller, which more or less fits the Francis Lawrence aesthetic. He brings to this material what he brought to "The Hunger Games": a sense of style that feels constrained by obligations to hit a certain number of plot points."
The Guardian's Benjamin Lee wasn't particularly happy with the casting choices and the bad accents. "It's commercially understandable why Jennifer Lawrence would be cast in the lead role, and despite a struggle with her accent, she perfects the compellingly self-possessed stare that makes her endlessly fascinating to watch. But the decision to cast so many British and Irish actors in small roles (Charlotte Rampling, Jeremy Irons, Joely Richardson, Ciaran Hinds, Douglas Hodge, etc) that could have been played with more conviction by Russians is one that remains distracting until the end."
Screen International's Tim Grierson said: "Trying to split the difference between trashy and classy, Red Sparrow is a sleek, juiced-up espionage thriller that overdoes everything: its brutal violence, its dramatic flourishes, its hairpin plot twists, and most certainly its sexpot shamelessness."
The Wrap's Alonso Duralde said: "Neither intelligent enough to be involving nor fun enough to be trashy, this is a movie that would only work if it were a little worse or a lot better."
Red Sparrow releases in theatres on 2 March.
Watch the trailer below:
Entertainment
R Madhavan, Khushalii Kumar and Aparshakti Khurana's Dhokha Round D Corner keeps you at the edge of your seat with its solid twists and turns.
Entertainment
With every plot uptick, first in the form of nationwide media attention, then a CBI enquiry, comes a greater fall. When Siya refuses to be guilted into marrying one of her rapists and pursues justice, her father is tied to a tree and publicly lynched to death.
Entertainment
But seriously... Ottu has Arvind Swamy, Kunchacko Boban and a couple of solid twists going for it, but none of these can save the drab, over-stretched narrative.