Real versus Reel: When you're no Amitabh Bachchan, and your Holi party isn't a Coldplay video
What are the first images to pop into your head when you think of Holi portrayed on the big screen?
Amitabh Bachchan downing a glass of bhaang, singing 'Rang Barse' or AB again in the Holi song in Baghban (let's save Bachchan's obsession with Holi for another day); Deepika Padukone and Ranbir Kapoor's happy, colourful chemistry in Balam Pichkari from Yeh Jawani Hai Deewani; big melas, happy faces and lots of flash-mob type dancing, courtesy 'Holi ke din dil khil jaate hai' from Sholay; among other things.
In real life though, there are some typical key words/phrases you have probably heard around the festival: consent, water scarcity, "I'm flying brooo", "rain dance karte hai", "bura na mano holi hai!". Add this to unlimited gujiya, listicles on how to save your hair/skin from harmful chemicals, hashtags like #dryholi and 'Do me a favour let's play holi' on loop -- and your ultimate Holi experience is complete.
But cliches apart, how could we justify our job if we didn't deconstruct (with humour) the messiest, most colourful and most playful festival of the year?
And so, with a little help from our friends on screen, here's a breakdown of what one expects on Holi day, but what actually ends up happening:
Bhaang'd out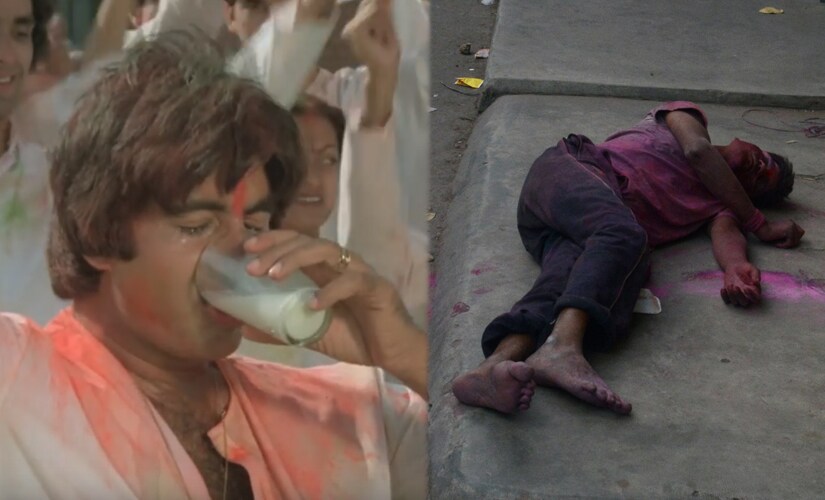 Everything looks cooler on screen, and a primary example of that is Amitabh Bachchan being able to sing a song as epic as 'Rang Barse' after downing glasses of Bhaang. Don't be fooled. For the uninitiated, Bhaang is not a merely glass of thandaai. Remember that one time when your uncle just locked himself in the loo and insisted he had to pee for 4 hours straight? Yes, that's Bhaang. 
The Coldplay syndrome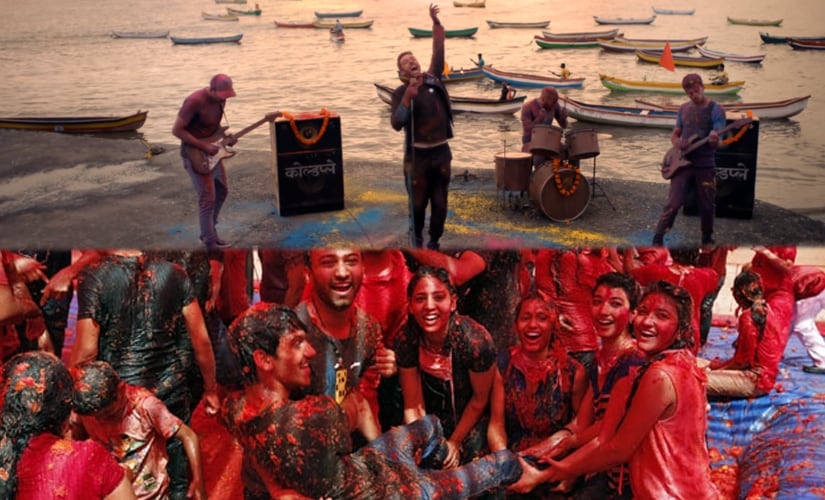 For those of you who never really understood why such a huge hue and cry was being made about cultural appropriation in Coldplay's latest video 'Hymm For A Weekend', perhaps Holi is the best time to put it straight. Your life is not a Coldplay video, guys; Sonam Kapoor will certainly not make a 2 minute appearance. Similarly, instead of beautiful colours being thrown at you in slo-mo, you're more likely to have an annoying kid aim and throw water balloons on your back. Also, don't expect to look like Chris Martin.
White is passé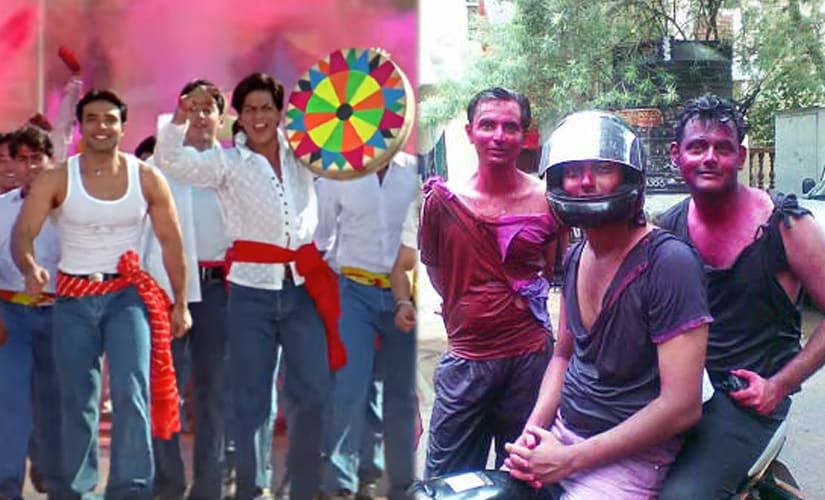 Have you noticed how the unanimous uniform for Holi on screen is white? Men stick to white vests and/or white kurta pyjamas while women wear white sarees or suits. It's almost as if they all sat down together and thought, "how can we make the colour and water look more prominent?". In real life, we're probably raiding through our cupboard to find the oldest, dirtiest clothes to wear on Holi, because who wants to look glamourous?
Balam will Pichkaari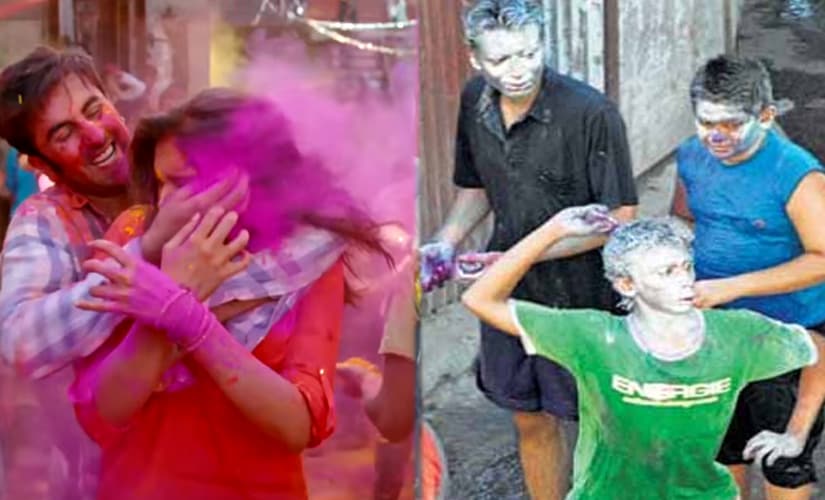 If you're expecting a Ranbir Kapoor type character to spray you with water playfully, while you sing songs and dance around in a haze of many organic colours, you're wrong, my friend. That's the video of Balam Pichkari and not your life. Expect all kinds of things to be flung at you, including eggs, silver/copper permanent colours, yesterday's leftover daal and those heinous water balloons that sometimes, isn't even filled with water (the horror!)
The after effect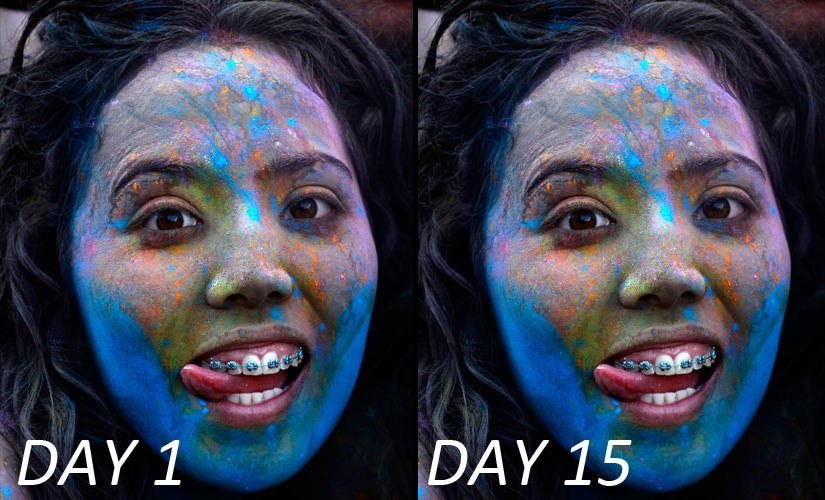 You may think a face full of colours with no sign of disappearing is cute and selfie-worthy on Holi day. The good news is, you're right. The bad news is, you're probably going to look like that for a while and your bath products are going to get over sooner than you can say 'holi hai!'
Happy Holi guys!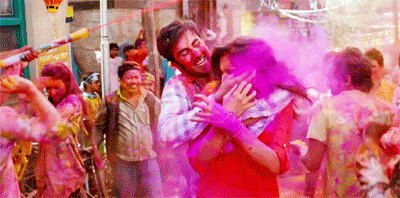 Updated Date: Mar 25, 2016 09:05:40 IST