Ravi Teja on Amar Akbar Anthony: It's intense and entertaining at the same time
Ravi Teja talks about reuniting with director Sreenu Vaitla and actress Ileana D'Cruz, and if he has plans to foray into Bollywood.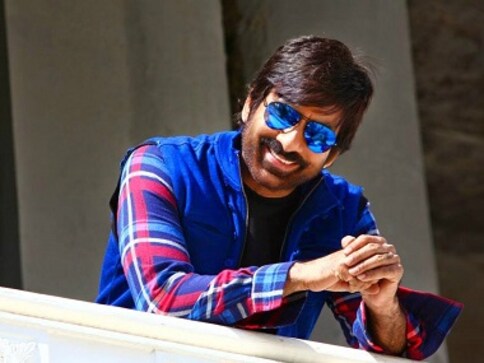 Ravi Teja is a man of few words. But when he talks, he brings the house down with his sense of humour. For instance, when he is asked if he prepares well in advance before he starts shooting a film, he says, "I don't do any homework. I only believe in class work."
Another time, when he is asked if he would ever take a cue from his peers and join politics, Ravi bursts out laughing and says, "I'm more than happy being an actor. Forget about joining politics, I don't even read about it in the newspapers. For that matter, I don't think I've it in me to direct or produce a film. It's too much of a responsibility." The truth is, he is a bundle of energy and it does not look like he is going to slow down anytime soon.
His career might have been through a lot of ups and downs, but Ravi Teja has not changed much as a person over the years. "I'm like water. I'll just go with the flow. The moment you start thinking too much, you'll be left with a lot of conflicting thoughts about what you should and shouldn't do doing. I can't take so much stress. I wish everyone was like me," he laughs.
It is quite evident that he has absolutely no regrets about his career. "I've no complaints about what I've done so far. Success or failure is not in your hands. You just do your best and hope that it works. No one wants to make a bad film when they start a project. We might make a lot of mistakes, but once a film is out, there is no way you can rectify them. You might not repeat the same mistakes, but that doesn't stop you from making new ones," Ravi Teja avers, adding, "That's also one of the reasons why I don't think too much about my past. There's no point. What's done is done. You just have to move on."
The actor has collaborated with filmmaker Sreenu Vaitla for the fourth time in his career. He confesses that he liked how their latest film, Amar Akbar Anthony, is both intense and entertaining at the same time. "It's a challenge to do any role that has more than two shades. Personally, I liked the characterisation of Amar because it's quite intense and there's an emotional undercurrent, whereas both Akbar and Anthony are entertaining in their own way. The script was quite different compared to the other three films - Nee Kosam, Venky, Dubai Seenu - that I've done with Sreenu Vaitla. Nee Kosam was an intense love story and there was no humour in it. Later, both Venky and Dubai Seenu had plenty of laugh-out-loud moments. The good part about working with Sreenu Vaitla is that he brings his sense of humour out through every character he creates. You'll find a bit of him in every character in a film. Amar Akbar Anthony is no different. It was an interesting experience," Ravi Teja explains.
On the other hand, prior to this film, Sreenu had not delivered a hit in a long time. However, Ravi Teja says that he did not think much about it when he came onboard. "You never know how a film is going to do at the box office until it releases. I don't really care much about hits and flops. There is nothing in our hands and it's only people will decide a movie's fate," the actor says. In a recent interview, the filmmaker had stated that Ravi Teja has always been a troubleshooter in his career. Ask Ravi Teja about his reaction to being called a troubleshooter, he smiles saying, "I think he got a little too emotional while saying that. I'll take it as a compliment, although I'm not sure what exactly I've done to earn that tag (laughs)."
Amar Akbar Anthony also brings together Ravi Teja and Ileana D'Cruz once again after Kick and Devudu Chesina Manushulu. The actor is all praise for Ileana. "She suited the character really well. In fact, she was the first choice to play the role and I'm glad that we worked together once again. Ileana is quite expressive and a good actress."
Over the years, the actor has pretty much stuck to doing action comedies. He says it is not a deliberate decision. "Every time I tried to do something different, those films bombed at box office. As much as I want to play different roles, I'm also waiting for appropriate scripts to explore my potential further. Someone asked me if I would be open to doing negative roles. I don't have any inhibitions. I wouldn't mind doing them, but I haven't thought about my future yet. Truth is, I don't like talking much about myself. I know what my weak areas are, but only the audience can tell me what am I good at," Ravi Teja admits. He is aware of his popularity in North India and the Hindi dubbed versions of his films are immensely popular. However, at the moment, he has no plans to make his foray into Bollywood. "I did get few offers in the past, but somehow things didn't fall into place. I'm happy doing Telugu films for now."
Until recently, there were rumours that he is going to reprise Vijay's role in the Telugu remake of Theri. However, the project has been shelved. He is going to team up with filmmaker VI Anand for his next project, which is likely to take off soon. "We've been working on the film for quite sometime now. I'm eagerly looking forward to join the team," Ravi Teja signs off.
also read
Entertainment
Creed III is the third installment in the successful franchise and is Michael B. Jordan's directorial debut.
Entertainment
Embrace the vibrant spectrum of love, acceptance, and authenticity this Pride Month as Netflix India proudly presents a captivating collection of LGBTQIA+ films and series.
Entertainment
Scoop is the adaptation of journalist Jigna Vora's biographical book Behind The Bars In Byculla: My Days in Prison