Ranveer Singh on Simmba: Didn't want to do a masala film if it was not for Rohit Shetty
Simmba star Ranveer Singh on his first masala entertainer and creating a distinct new cop character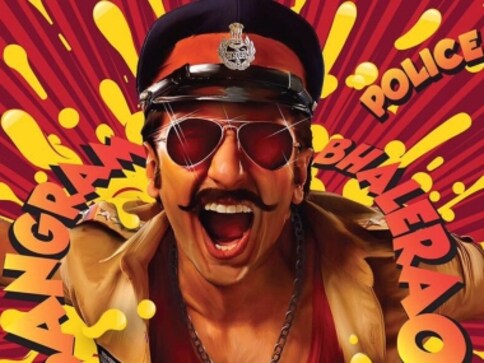 Simmba can be called an acid test for Ranveer Singh. So far, all the three big hits in his eight-year-old career have been with the same director-heroine team of that of Sanjay Leela Bhansali and Deepika Padukone. In his last blockbuster outing Padmaavat, he even had another hero, Shahid Kapoor to share credit with. The fact is that the solos (except for his debut Band Baaja Baaraat), that he attempted without this team have not been very successful be it Ladies vs. Ricky Bahl, Kill Dil, Lootera or Befikre, though he often walked away with accolades for his performances. However, Simmba, his first masala entertainer that hits the screens on 28 December, is the golden opportunity for Ranveer to prove his mettle at the box office, and if the Rohit Shetty film works, it will be a Ranveer Singh show all the way and he can be called a star-actor doing 'in and as' roles.
"Being Rohit Shetty's leading man is a big deal for me. This film was offered to me post Bajirao Mastani, I wanted to do a masala film. But I didn't want to do a masala film if it was not for Rohit because to me there is nobody else who gets it right. I wanted to do this genre only with him because to me he is the king of this genre. I waited and finally earned my stripes. One has to have a certain amount of equity that qualifies you to be the leading man of a masala film," says the 33-year-old actor all charged up at around 11 pm after doing several back-to-back interviews the entire day. He enters grooving to the peppy,'Aankh Maare', touted to be the best party anthem of the year.
Ranveer as ACP Sangram Bhalerao, is shown a crooked and corrupt cop in Simmba. He is fun and charismatic, but has a skewed sense of morality. Commenting on the marked shift in the portrayal of the cop in Bollywood, Ranveer says, "It has been around for a while. My first memory of a lovable role in the mould of a police officer was Amitabh Bachchan in Shahenshah. Then I remember 'Lakhan', there is 'Chulbul Pandey' and even 'Singham'. All of them have some similarities and dissimilarities but the fundamental trapping of playing a cop in mainstream Hindi film is that your predecessors have already played some really cult characters. So the onus comes on the actor playing the part and the responsibility is partly of the filmmaker and writer as well. You try your level best to create distinctly different characters. If it feels like something you have seen before then, we fail and the endeavour is to create so many distinctions that the character can have his own identity. Rohit and I would definitely want to take this character forward. Hope it is loved and we can make Simmba 1,2,3,4,5…"
Calling Simmba amongst his best work, Ranveer says that he has done all the genres in one film and he's hoping that he will celebrate the film's success as well as the New Year's in single screen theatres in Mumbai. "There's romance, comedy, action and drama and the drama is intense. Not too many people understand how painstaking it is to make masala films. Not enough credit is given to the makers of the genre. I think come Friday, Saturday, Sunday, I will definitely be there in single screen theatres like Chandan, Gaiety-Galaxy, celebrating because there is no greater trip when you watch with the live audience and Simmba is that film. Even during Padmaavat I would sneak into theatres and watch the film with the audience and I would be amazed to see them cheering for Khilji, the villain. I live for it. All things aside, I will have that experience. When you are in the hall and when you see the audience clapping, whistling, dancing in the aisles, roaring with laughter, going up on the screen and dancing, I am that audience, I have done it time and again. I did it in Paris for Salman Khan's Sultan. I am 100 per cent going to do it," he says.
But much greater reason for Ranveer to celebrate is his marriage to fellow actor Deepika Padukone last month. "I have been in showbiz for eight years of which six years I have been dating Deepika. So she is a large part of my growth and evolution. It is large part of the reason that I am able to achieve all the things in past six years because she kept me grounded, centred and she was my support especially throughout the 'Khilji' phase because that was a very difficult year for me; it was a very difficult character to play. I was really struggling through that. For her to witness that and then to witness this (their marriage) was a pretty emotional experience," says Ranveer.
Coming back to his movies, Ranveer dismisses the notion that he is playing anti-hero back to back, with Padmaavat and Simmba. He says, "After Padmaavat, I shot Gully Boy (directed by Zoya Akhtar) and then I got into Simmba. If there was versatility to my repertoire and diversity in my body of work, then it can't get better than going from a Rohit Shetty film to a Zoya Akhtar film, it is like two opposites end of the spectrum. My character is a lovable kameena in Simmba unlike 'Khilji' and it was quite a transition because I play this really quiet, introverted character in Zoya's film, whereas my character was the driving force in Rohit's film. It was doing versus being. After Padmaavat finished, I had enough time before I started Gully Boy but the switch between Gully Boy and Simmba was quick and to switch into that mode of transition was tricky," said Ranveer, who is quite thrilled about walking the red carpet at Gully Boy's premiere at the Berlin International Film Festival within six weeks of Simmba's release.
"I had not seen a single scene on the monitor while shooting for Gully Boy. I play a quiet character and I remained in that zone. It is only very recently when I went to dub a line for the film's teaser, and what I saw was amazing. If there was any other actor in this teaser and wasn't me, I would have been burnt to a crisp. I would be so jealous. This year has been so wonderful for me. It started with Padmaavat which was a creatively enriching and fulfilling experience, and then Gully Boy, my first film with Alia Bhatt and second time with Zoya, which was so special," says Ranveer.
Simmba's success will definitely mean a lot to Ranveer. And he has lots to look forward to in 2019 as well with the interesting line-up of Kabir Khan's 1983, a biopic based on India's historic victory at the 1983 World Cup, and Karan Johar's Takht. "Again in January, creatively I am very excited because I go and start training to play Kapil Dev and then I have Takht with an amazing ensemble cast," says Ranveer as he starts tapping his feet to 'Aankh Maare' and alongside gets busy taking selfie pictures with his fans making sure that not a single person leaves disappointed.
Entertainment
Shah Rukh Khan's Pathaan is set to hit the screens on 25th January.
Photos
Spanning versatile genres, offering meaty roles and some of the most anticipated movies in the near future, here's taking a look at the leading ladies with the most exciting line-up!
Entertainment
Pathaan has become the biggest grosser since pandemic