Rangbaaz: Saqib Saleem, Bhav Dhulia, Aahana Kumra on developing ZEE5's new crime web-series
Rangbaaz director Bhav Dhulia on creating a 90's setting in 2018: 'Creating the time, not only with the art direction but also with people, characters, motivation...was very tough. Characteristics of people were very different at that time and to replicate that was a huge challenge for every department."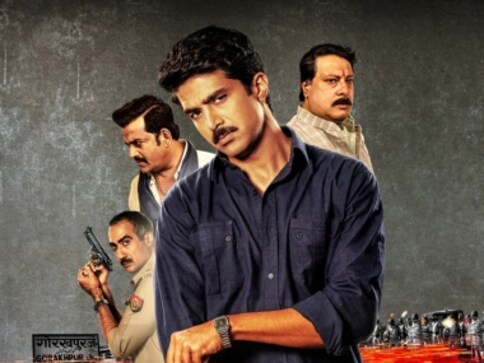 Having grown up on a dose of commercial cinema, Saqib Saleem never shied away from experimenting with his choice of roles, and he grabbed the opportunity of playing a gangster in Rangbaaz, a ZEE5 original series set in the '90s. He portrays Shiv Prakash Shukla, a real life person, a hardened criminal and mafia figure from Gorakhpur, Eastern Uttar Pradesh, who came into prominence in the 90's. It's said that Shukla is someone who committed more than 20 murders even before he hit the age of 25, but always managed to escape from police. The series also shows the human side of one of the most feared gangsters of the region.
Based on true events, the nine-episode series has joined the league of gangster dramas like Sacred Games and Mirzapur, which have become quite a rage among the digital audiences. Rangbaaz started streaming on the digital platform globally across more than 190 countries on Saturday (22 December), and apparently, it has got a thunderous response from the viewers who can't stop praising the lead actor's performance. The stellar cast also includes Ranvir Shorey, Tigmanshu Dhulia, Ravi Kishan and Aahana Kumra.
Saqib says his biggest fear was to look menacing and he wondered if people would accept him in that space. "But I didn't want to let go of the role. There are different phases in this man's life and I have to crack every bit of it. After a long time, I have really got a good script and a good team so I felt that I should work with them and I jumped on the bandwagon. Web series is not like a feature film wherein the box-office report card will come on the weekend. Only the reach will decide how the show fares, so I am very curious to know how people on social media will react to the show," said Saqib, who was slammed for his performance in his previous release, Salman Khan's Race 3.
"I got my first ever negative review with Race 3. Before that, in all my films, whether it was Bombay Talkies or Mujhse Fraaandship Karoge, people always said that I am a good actor. But I would still say that Race 3 was one of the best experiences of my life. I am a middle-class Delhi boy and to work with Salman, Anil Kapoor, Bobby Deol is a huge thing for me. Yes, maybe as a performer, I failed but the reactions I got made me realise that there is a certain kind of expectation from me. People who like my work were hurt because I didn't do my job well," said Saqib.
"But," he further said, "the total box office collection of all my films put together was not even close to the collection of Race 3. Everything has its pros and cons. Probably, Rangbaaz also happened because somebody saw me holding a gun in Race 3. I was in a very tricky phase; so far, I have got appreciation from people and critics and for the first time, I was panned by the critics which was also important so that I don't get complacent. It was a good wake up call for me to realise that there is a lot of expectation from me."
If the challenge for Saqib was to pull off a hardened criminal convincingly in Rangbaaz, it was equally tough for its debutant director, Bhav Dhulia, to replicate the 90's in 2018. "Creating the time, not only with the art direction but also with people, characters, motivation...was very tough. Characteristics of people were very different at that time and to replicate that was a huge challenge for every department," said Dhulia, who has assisted directors Nishikant Kamat and Tigmanshu Dhulia in their films like Drishyam, Paan Singh Tomar, Madaari and Rocky Handsome.
The director revealed that the series is a combination of 60 per cent fact and 40 per cent fiction. "You have to connect the dots, sometimes facts can be stranger than fiction. We had to make a coercive story, the backdrop, the major events, the time period, the investigation..is all very authentic. It is based on true events but we have dramatised a lot. It was the first time that the Special Task Force (STF) was formed in India and they used unprecedented surveillance techniques, the depiction of which is authentic," said Dhulia. "Just that we couldn't give a conclusive take on what Shiv Prakash's life was because there are all kinds of stories around him. Since he's a huge identity in UP and Bihar, he almost became part of folklore. Journalists, cops, rival gangs, political parties, the people all have a different perspective about him, so we have taken the majority opinion. We also spoke to a few investigators and journalists," Dhulia further said.
Obviously, the challenge for Saqib was to understand the psyche of the criminal, "Because the character is not close to me at all. He will do things that a normal person will never understand. The sense of right or wrong is completely different and you start judging the character while playing him. I had to keep convincing myself when I was doing things that I would never do in life," said Saqib, further adding, "We did a lot of prep but it flowed seamlessly when it went on floors. The research material included stories, newspaper clippings; then there was a trainer to perfect me in the dialect. We also had workshops for the body language. I am a city-bred boy and getting under the skin of the menacing man was quite difficult. Earlier, I didn't even know where was Gorakhpur."
"Playing a character with grey shades was unprecedented for Saqib, and then playing a Gorakhpuria, a lower middle class Brahmin boy, it is a big achievement that Saqib, who is urban bred, could incorporate all of that. Initially, I was a bit sceptical but when I narrated the entire story to him, he was ready to put in the efforts. On the first day on the sets, he came prepared with his lines, body language, he was more prepared than me," said the director.
For Aahana Kumra, Saqib's love interest, who hails from Lucknow, it was a bit easier as she was quite familiar with the dialect and also the events that rocked UP as she comes from the police force background. "It was exciting for me as I belong to that belt and for the first time, I was playing a girl from UP because quite often actors get typecast depending upon their physicality, complexion…and I want to stay away from getting stereotyped. But the casting director felt I would fit the part," said Aahana.
"Secondly," she continues, "the relationship between Shiv Prakash and my character is quite interesting. Most of our scenes are on phone. We rarely meet in the show. Saqib was never there when I was shooting; our shoots happened separately. We had to imagine the responses of the other actor and that was the biggest reason why I got interested in doing the show. What do the lovers talk if they don't meet and only converse on phone? I have seen my cousins talk on phone with their boyfriends in Meerut-Muzaffarnagar for hours and I took some tips from there. That was the fun part," said Aahana.
"Aahana knew that world inside out as her mother is in the police force. She is a confident girl and could take control of her conversation with Saqib's character. These conversations over the phone play a very pivotal part in the story. I don't want to reveal much," adds the director
Entertainment
While it began with Getty Images tagging the Deepika's photo from the Oscars with the caption "Camila Alves attends the 95th Annual Academy Awards on March 12, 2023, in Hollywood, California," a similar error was repeated by Vogue.
Entertainment
RRR's Naatu Naatu, which became a global sensation soon after its release, won the Oscar for Best Original Song on 12 March.
Entertainment
Also starring Chitrangda Singh, the film is all set to premiere on Disney Hotstar on March 31. It's a thriller about a girl who's searching for her father who has gone missing under mysterious circumstances.