Ranbir Kapoor opens up on Katrina Kaif: 'There's no awkwardness; we have great creative energy'
Ranbir Kapoor, who next stars in Karan Johar's Ae Dil Hai Mushkil, spoke frankly about failure, heartbreak and the future in an interview with Rajeev Masand.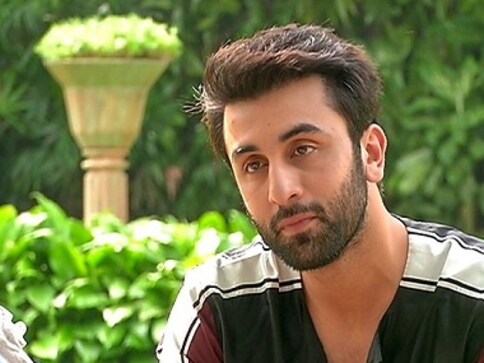 Ranbir Kapoor is at a tricky place in his career.
The star of hits such as Barfi, Rockstar and Yeh Jawaani Hai Deewani has been hailed as one of the best – if not the best – actor of his generation. His ability to transform himself is unique. He pours himself into a character, any character, by mining the most complex emotions. It's difficult to take your eyes off him, even for a moment, when he's on screen.
And yet, curiously he's had a cold streak at the box-office lately. Is this a result of bad choices? Of the personal upheaval he's been through? Or a sense of complacency born out of his overnight stardom? And does he need career intervention? The 33-year-old actor who next stars in Karan Johar's Ae Dil Hai Mushkil, spoke frankly about failure, heartbreak and the future in an interview with CNN News18's Entertainment Editor Rajeev Masand.
Ranbir, we are at your grandmother's house in Chembur. It's where your grandfather Raj Kapoor lived. Do you have memories of visiting him as a kid? I know he was very fond of you, you were his first grandson.
Yeah, I was six years old when he passed away, but yes being his first grandson, he showered a little extra love on me. There are few moments that I remember, but also having been told by my family members what he used to think of me, how he used to be towards me.
So yeah, there are a couple of moments I remember. It was actually in this garden, that we were playing. I think it was a film function and I was playing barefoot. All red ants kind of got into my feet. In the middle of the party, he took me to his bedroom. I was crying, you know I was in lot of pain. He washed my feet, he was singing a song to me.  I have this faint memory of a song that he was singing to me.
He had this thing with all his grandchildren. He used to call us to his room, which was somewhere downstairs and make us stand in a line and say, "Salaam karo." We all use to do salaam; then we had to give him a kiss on either of his cheeks; then he use to give us all these caramel toffees that he used to get from abroad. So you know small incidents like that. I don't really remember him as the star or filmmaker. I remember him as a fat, loving grandfather. Then beyond that, whatever I'm today is because of his films. I know him more now through his films then actually as a grandson.
What's it like living with your grandmother?
It's amazing! My grandmother, by far, is the most like-minded person I've ever met. She is, by god's grace, 87 years old. Just spending time with her, talking about my life, her life, movies, people, food... it's just been an incredible couple of months. I was very close to her while growing up, but now living with her, really hanging out with her has been the most enriching time for me in these last 33 years.
Ranbir, what's your current state of mind? What's the head space that you are in right now?
I'm just going through little bit of metamorphosis, a little bit of a change. Trying to understand where I'm at in life. Am I at a pause? Sometimes I'm stuck in between 'what if and fuck it'.
But it's a good time actually to not get bitter about things. Not to turn negative, anxious, nervous or insecure that my films are not working. There's an enormous negative spotlight on my personal life. You have to take all that in your stride. You have to really understand it and then, free yourself from it. You have to understand yourself as a person.
See, my purpose is an actor, so I'm in that phase where my films have to change, my expressions, the tricks in my magic bag have to change. I've to unlearn. I've to go back to being a nobody and there is absolute bliss in that. To be a nobody, completely strip yourself from all the trappings that you have. The star that I was meant to be or I didn't become, cancel all of that. I have some great opportunities with filmmakers coming up. I have to be new in those and so the search is for that. Whatever happened in my life in these last couple of years is instrumental in making me that person that I'm going to become in these films. So I'm accepting this phase and nurturing myself.
Your films haven't worked lately. The tendency is for the trade is to write off the actor. Unfortunately an actor is known by the hits he gives. The performances have never been questioned, your talent isn't being questioned but the films haven't made a lot of money lately. Is that worrying? Does that make the parents anxious?
No! You know my parents have seen it (all). My mother has seen my father going through this for 30 years.  My father is very expressive so he used to express it to my mother. He used to be crying, be excited — that's the person he is. I'm not an expressive person so forget people, my own family doesn't know what I'm feeling. Whether I'm happy, sad, going through a bad phase. I bottle it up and like to deal with it on my own.
I don't like to put my pressures on other people. Silly thing because people really help you tide through bad times or you share good times with them and that's what matters. So it's also a learning factor for me. But yeah, I'm sure they're worried, but don't show it me.
There is also immense faith in my talent, my work ethic. I'm here for the long run, to do good movies. I'm not here to make a quick buck or to impress people temporarily.
Ranbir, when choices go wrong as they did in the case of Bombay Velvet and Besharam, does your confidence take a beating? Because you are the guy who chose Rocket Singh: Salesman of the Year so early in your career, you are the guy who saw the potential in Rajneeti, in Wake up Sid, in Barfi. These are great choices. So when your choices don't work, does that rattle you?
To be honest Rajeev, my choices aren't being tested right now because I'm working with filmmakers like Anurag Basu, Ayan Mukherjee, Rajkumar Hirani, Karan Johar — these are all the best in the business. I can't really take credit for these choices if they work because they are filmmakers any actor would love to work with. But yes, I'd be lying if I said my confidence is not affected. When films don't do well, actors are insecure. They think, "Is the shine on my star fading? Was that it? Do I have anything else to offer?" All those thoughts come in, but then you have to fight it. I'm filled with these worrying thoughts.
I hope you don't mean that it's your confidence in your talent that's taken a beating. Because the talent has never been questioned — you are a bloody good actor.
Yeah, I know that, of course. I'm not sitting in my room and saying, 'khatam ho gaya, abhi kya hoga.' I'm not going crazy because I've immense faith in my own talent. I know my job. The real struggle was how do I become new, more of a surprise, more engaging? I'm getting bored seeing myself. So I believe that I'm very talented. I'm not questioning that.
But Ranbir, it's not just the career that came apart, is it? You had this very public break-up with Katrina earlier this year.  Somehow the perceptions stuck that you came away from it unaffected. That you are emotionally distant.
This is a little bit of a trick question. Whatever I say on any platform, it's grossly misconstrued. Over the years, I've realised my personal life is very dear to me, especially what my relationship with Katrina is.
After my parents, she's been the most influential, most motivational entity in my life and I hold that very dear. So, I don't want to speak anything about it. There's no negativity, there is no sense of bitterness, so there's nothing to talk about.
Surely you've read this perception that you're not affected?
Of course I've read it and it's fine. You don't need to know if I'm affected or not.
You've made no effort to change that perception.
Yeah, I don't need you to know that. It's my life and the less you know about me, the better. It'll only make you believe me more when I act. I don't want you to know me as a person. I can't sit in every interview and explain my heart (out). Especially where my relationship is concerned because it was really punctured by a lot of things, by absolutely baseless rumours, reports, perceptions and point of views. It hurt but I don't want to clarify them. I just feel it isn't required.
Let me ask you pointedly Ranbir, was the break-up hard for you? This was obviously not just dating. You guys had moved in together.
I haven't even said I've broken up. I haven't said anything. It's too dear to me. I don't want to talk about it.
Was it hard going to work knowing that everyone was looking to see how you were dealing with it?
Not at all. Katrina and I have amazing creative energy. Working with her is always so much of fun. The kind of passion and work ethic that she has I haven't seen. We shot in Morocco and back in Bombay.
And there was no awkwardness because you went back to shoot Jagga Jasoos soon after?
There's no awkwardness. It's amazing working with her.
Do you think you've reached that place as you have with Deepika (Padukone) where you have gone back to being friends and colleagues who can make even romantic movies together?
Absolutely. We are actors. We are not here to bring our personal lives and emotions when we come on the set. We bring the character's emotions. However hard it is, it's our job. Katrina, she just makes it easy. It's not awkward or weird. She just brings her A-game every day on set. We have a great creative partnership.
There's obviously so much grace here, and affection. But don't you feel that your silence has been misinterpreted by the media? As a result, there's the reputation that Ranbir has revolving doors in his bedroom or that Ranbir is a cad.
Yeah but what do I say? If I'm hurting, I'll say it to that person, right? Why do I need the world to understand? In my previous relationships, a lot of things were spoken. You lose dignity because it becomes a news item. It just becomes fodder for gossip. So at the risk of sounding pseudo and philosophical, right now I'm just finding bliss at being nothing.
Your father Rishi Kapoor's authorised biography is going to come out later this year and he is known to be brutally honest. I've heard that there is a whole chapter devoted to you. Does that make you little bit nervous knowing that secrets will be spilt?
It does. But you know however fierce he is about things, he's a little protective about me. He gets a little soft. So I don't think he's going to be that open. Even if he has an opinion, he keeps it to himself. He feels that I'm easily breakable. So he takes a step back and cushions it through my mother. But it'll be fun to read what his perception of me is.
Ranbir, social media today is such an intrinsic part of our life. You are 33 and are on virtually no platform. Your mum works Instagram so well, your dad is Twitter star... no interest at all?
See it's not my personality. I don't like telling the world — see where I'm travelling, look at my great body, look at the food I eat, look how happy I am.
I can just tell you that my personal point of view is that there is a lot of self-complimenting, you know trying you put yourself on a pedestal.
The good part is that you have direct connect with your fans. But as an actor, you need to step back, you need that mystery. If they know where I pee and how much salt I put on my food, it's all stupid information.
Isn't it a great tool to know what the fans are thinking? Are you secretly on Twitter?
No, not on Twitter but on Instagram. See it's a double-edged sword. The honest truth is my personality is of somebody who's very shy; a bit an introvert.
You're soon going to start shooting the Sanjay Duttbiopic with Rajkumar Hirani. You've known Sanjay Dutt since you were a kid, your families have a long history together. Do you feel like you've an insight that will help the film?
Of course, but then when you approach a film and specially a biopic, and especially on the life of Sanjay Dutt with Rajkumar Hirani making it, you can't really depend on what you know of him. Now I've the responsibility to portray him onscreen in the best way possible because that life is bloody interesting. It's not trying to paint him grey, white or black. Sanju sir was so giving and graceful. He was so honest about it, he didn't hide anything.
Seeing Priyanka (Chopra) and Deepika (Padukone) trying to make a career in Hollywood; does that interest you?
No. I was asked to audition as the second lead in Star Wars a couple of years back. I have a fear of auditioning.
Does that come from arrogance?
Must be, but also insecurity that what if I get rejected? It's more a fear from not having that much faith in my talent. But it doesn't interest me. What Ayan Mukherjee is making interests me more than Star Wars. Let's make our own Star Wars. Let's not chase what's there. That's great but I have an opportunity here and I don't think Ayan is less than a JJ Abrams or a George Lucas. Let me work with him and make our own Star Wars.
Tell me about meeting with Quentin Tarantino in London. Did you get that autograph?
You know this happens to me a lot. It's not just Quentin Tarantino. I am star struck. I've run behind Natalie Portman at Tribeca. She was on the phone and she was crying. I went quickly behind her and said, "I love your…" Before I could say "work", she turned and said, "Get lost!" So I've had my heart broken but I would still chase them.
So with Quentin Tarantino recently, he was promoting The Hateful Eight and we were shooting Ae Dil Hai Mushkil in London. I was shooting in a basement and he was in the building. I heard that he was doing an interview so I went running up. I told Karan, "Listen, I have to meet him." Not that I'm going to say that I'm an actor from India. I just wanted to meet him, take a picture, an autograph.
So I was waiting at the car for like half an hour. I saw him coming and from far I'm saying, "Quentin, Quentin." He walks, looks at me, goes and sits in his car. When the door opens, I'm like, "Sir, picture picture?"and they have it on video. It was really funny and I got teased by the entire crew of Ae Dil, but just to see Quentin Tarantino.
Man, this guy really affected my life. His movies — Reservoir Dogs, Kill Bill, Pulp Fiction — are instrumental to the work I am doing. Subconsciously I've taken so much from those films so it was a big star struck moment. I don't feel bad about it. I don't feel like he is such an ass or a rude guy. I understand that it happens because he is in his own world and he is an artist. Artists are supposed to be weird.
Ranbir, we know about your professional ambitions, but not so much about your personal ambitions. A few years ago, you said you'd like to have three kids. Are these still your plans? Does marriage/relationships hold the same place in your life as they did?
Of course. Time frames change, because I remember when I started out, I said, "I'm going to get married at 28 and have kids by 30." So that changes but the ambition and the desire are the same. I do want to get married, I want to have children and I'll do it in the right way. I'll meet a like-minded person, fall madly, deeply, truly in love and take it from there.  Everything should be natural and organic.
Rajeev Masand's interview with Ranbir Kapoor airs on Friday, August 18 at 10 pm on CNN News 18
Entertainment
The high-octane battle sequences, Ranbir Kapoor's rugged look and the brilliant cinematography will surely appeal to fans. Shamshera has been directed by Karan Malhotra of Agneepath fame
Entertainment
Brahmāstra looks like something Steven Spielberg would create if he was Raj Kapoor.
Entertainment
Like much of what is coming out of Bollywood these days, Ranbir Kapoor's Shamshera looks dated.