Ranbir Kapoor, Alia Bhatt and the circus of speculation: Differentiating between click-bait headlines and publicity stunts
A 'romance' between Ranbir Kapoor and Alia Bhatt has been imagined, built upon, discussed, debated, interpreted and also warned against. How much of it is true?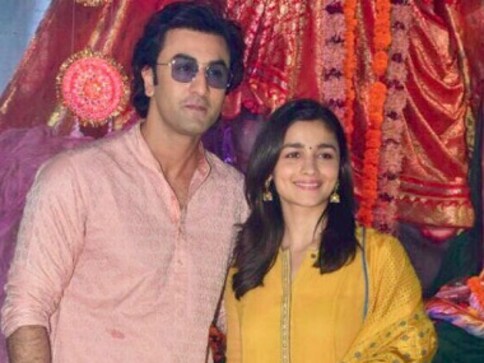 Ranbir Kapoor doesn't have a publicist. What one finds out about whom he might or might not be dating is based on hearsay.
In the past, he had expressed relief at having to close promotions for Jagga Jasoos, his flop maiden production that paired him with his ex-girlfriend Katrina Kaif. Not one to mince words, he stated clearly that he had had just about enough of Katrina's grumpiness. That both had daggers drawn was obvious to anyone who watched them closely during these promotions, with icy glances, rehearsed replies and hostile body language. No clarifications ensued, and neither gave the media a reply, or the satisfaction of getting a hint of their mutual disgruntlement. Katrina doesn't speak much about her private life either.
Since then, Ranbir took a smoke break with Pakistani actor Mahira Khan and out came their 'close relationship'. Drama followed.
Now, ever since he has made a trip to Tel Aviv with co star Alia Bhatt for their forthcoming Brahmastra, a mega flick with a massive budget, their 'romance' has been imagined, built upon, discussed, debated, interpreted and also warned against. That Alia is the biggest female star amongst the contemporary crop, and Ranbir the most eligible bachelor, hasn't helped matters.
It's a disturbing affair- Not the one Ranbir and Alia might have (or are having); but the one that a large section of the media is having with their hypothetical relationship.
Consider this- Manish Malhotra, on a chat show, gave a tongue in cheek reply when asked about the next couple in Bollywood that should be dating. He answered- Ranbir Kapoor and Alia Bhatt. On the same show,  Sonakshi Sinha, outed a juicy detail when she inadvertently confirmed Alia Bhatt's relationship with Sidharth Malhotra, which is now apparently, over.
It's a merry go round of break ups and hook ups, stories and headlines. And these aren't on relatively insignificant news websites; many in the mainstream with sizeable readership are steadily delivering a story a day on this romance-to-be — a bit like Sleeping Beauty who needs to be kissed by a renegade prince on horseback and love would blossom all over.
One story has a 'friend' stating that Ranbir will hurt Alia badly; another imagines Alia moving on after she feels his commitment phobia. One states that Alia and Ranbir are equally commitment phobic and happy to play the field.  Yet another, gives you an insider's point of view that one will only know if they are indeed, together, once they return from the first, long schedule of Brahmastra in Bulgaria. Yet another mentions that Alia is actually dating Kavin Mittal, the billionaire kid of Airtel owner Sunil Bharti Mittal. One sagely suggests that Alia will be in 'big trouble' if she dates Ranbir (a bit like rubbing Dawood Ibrahim the wrong way, from the sound of it). And the one that takes the cake on a leading Bollywood website features a sun kissed photograph of Ranbir Kapoor in a Tel Aviv café, does the math with a similar photo that Alia had posted on her Instagram about two weeks ago, and concludes that Alia is the reason behind Ranbir's sun kissed smile.
In the media's FMCG (fast moving consumer goods) approach to romantic relationships, an on set hook up is often not worth mentioning. Besides, producers and filmmakers feed the gristmills to drive desperately needed interest around a film.
Alia Bhatt and Varun Dhawan were supposed to be 'close' before the release of Badrinath Ki Dulhania. Those reports promptly died down once Alia got linked to Sidharth Malhotra, and Varun was clicked with his real girlfriend, Natasha Dalal. By then, the film had become a super hit.  Kriti Sanon and Sushant Singh Rajput were spoken about as a 'couple' during the making of Raabta. By its release, the film tanked but the two kind of stuck together. Arjun Kapoor and Sonakshi Sinha were supposed to be dating around the release of Tevar, but didn't work for the film.
Yet, at times, it can mislead and hurt people. In a recent statement Sonam Kapoor, whose pre release link ups remain minimal, had defended her decision to not speak about her relationship (with businessman Anand Ahuja) with simple logic: feelings, emotions and the standing of another person is involved in this. Anything she says, also impacts him.
One couldn't have put it more accurately. Assuming, Alia Bhatt and Ranbir Kapoor were indeed dating; in the end, it's their life. It really comes down to their choice. As single individuals, who aren't engaged to anyone, they have the freedom to do as they please. To build castles of imagination around this possible romance puts those doing so in a dumb space and indicates a dangerous trend.
A section of the Indian media seems to be completely playing into the hands of poor publicity stunts as well as a race for numbers. It's no secret that analytics indicate consumption trends of news online, as do TAM ratings on TV. Stories that are read more are also fed more. But being completely bereft of logic isn't an ideal form of setting standards. Fact and fiction must remain separate.
What if they are both dating other people? What happens to them, and what does that do to their working relationship as co stars on a major project?
But then, I begin to speculate here too.
Ranbir and Alia are being subjected to a similar kind of intrusion - one that assumes to know and understand their mind space and feelings. Neither has spoken about the matter so assumptions of all kinds are being made to ensure that readership and consumption are sustained. But in the end, this entire 'hook up' could fall flat on its face. In which case, to gain eyeballs, I suppose there's always Taimur Ali Khan.
Entertainment
Singh, speaking at FICCI Frames 2022, added, "I truly appreciate the efforts of my friends and putting that out there."
Entertainment
Ranbir Kapoor and Alia Bhatt starrer Brahmastra: Part 1 Shiva witnessed solid growth on its 3rd Friday due to National Cinema Day.
Entertainment
After selling 4.15 lakh tickets for Friday, Brahmastra has collected more than Rs. 3.55 crores for September 23, which happens to be National Cinema Day.