Rana Daggubati: From CM Arjun to MLA Jogendra, the power and hamartia of his political characters
Rana Daggubati portrayed two very different type of characters in Sekhar Kammula's Leader and Teja's Nene Raju Nene Mantri.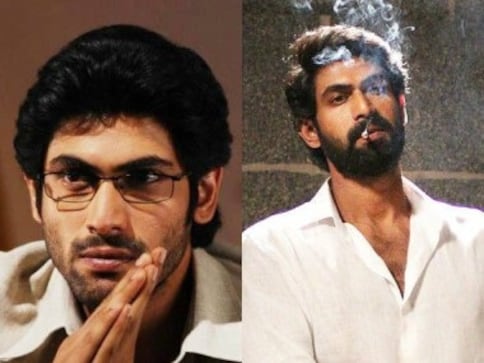 The very name of Rana Daggubati is synonymous with his giant frame and the muscles he flexes in the Baahubali series.
In seven years since his first release, Leader, he's appeared in about a dozen and a half films in various lengths – from hogging every scene in his debut to a blink-and-miss appearance in Ayan Mukerji's Yeh Jawaani Hai Deewani.
Other than his giraffe-like height (which he can't do anything about), he has worked on all the visible aspects there are to climb the acting ladder.
The depth and power of his voice weren't mined by Sekhar Kammula in Leader to the extent that Krish did in Krishnam Vande Jagadgurum.
Of course, Sekhar's school of cinema doesn't allow much room for heavy-duty action, or melodrama. Beyond what these filmmakers offered the actor, it has to be noted that Rana's acting skills were limited in 2010. Rana played his character, Arjun Prasad, sincerely, but people who have seen the film will tell you that they went tsk-tsk whenever they saw him shed tears. He may have been intimidated by the presence of seniors (such as Suhasini, Kota Srinivasa Rao, Ahuti Prasad, and Subbaraju). Or, it may have been plainly the jitters of making a debut that left him hanging at the altar of just-a-decent-enough performance.
If Rana Daggubati is given the same script today, the re-energised Arjun Prasad would be more interesting – his smiles would be freer, his anger would be redder, and his dialogues would be punctuated by fewer pauses.
When Leader failed to shatter the box office, Rana tried his hand at giving popular Telugu cinema a shot for a while. However, this didn't help skyrocket his career. His experiments in Hindi and Tamil cinema continued, nevertheless, unflinchingly.
In 2012, Krish gave Rana something different to chew on in the form of Krishnam Vande Jagadgurum. Rana had, by then, lost the skin of restraint. His tears felt more real in Krish's film. Subsequently, Rajamouli used all of the actor's newly-earned-and-learned plusses to heighten the factor of meanness for the beastly character of Bhallaladeva in the Baahubali films.
Rana's penchant for essaying varied roles, over the years, has given him a position that none of his contemporaries can stake a claim to.
The Birth of Teja's Nene Raju Nene Mantri and Sekhar's Leader
Dramas revolving around politics aren't being made regularly in Telugu cinema. Deva Katta's Prasthanam, Sekhar's Leader, and Teja's Nene Raju Nene Mantri are just some of the 21st century films that have given us memorable characters, even though the films themselves are a bit flawed and hackneyed.
Rana has been a part of two of these three films. His characters, Jogendra and Arjun Prasad, are like cousins from the same family who can't stand each other. Their philosophies don't match, yet their spirits burn for the cause of the betterment of the nation.
Teja mentioned in an interview that he wanted to make a film that presented the relationship between a husband and wife and how the husband gets into politics because of it. Indeed, Jogendra, who calls himself Radha Jogendra (Radha is a prefix borrowed from his wife's name), from Nene Raju Nene Mantri gets into the game of politics to grab the sarpanch's seat, and aspires to rise to the top, by hook or by crook.
Sekhar's idea, on the other hand, was simpler in terms of the thought that fueled his story. His Leader was born amidst the cacophony of corruption, dynastic and caste-based politics. He expected his film to catch the system by its horns and shake it so hard that corruption would lose its space in the pages of the dictionary of Indian politics.
Whenever Sekhar opens up about Leader, one can notice a sense of disappointment and pride in his statements. It doesn't matter to him that they are two dissimilar sentiments.
The filmmaker is disappointed that the film didn't do extraordinarily at the box office, and, more importantly, he's affected by the fact that it didn't bring about a change in the voters and people's representatives, as he believed it would. Additionally, his pride stems from the lack of competition that Leader faces. He has been quite vocal about how there isn't another film like Leader in all these years.
Rana's CM Arjun Prasad and MLA Jogendra 
Both Chief Minister Arjun Prasad and MLA Jogendra use women (Archana, played by Richa Gangopadhyay, and, Devika Rani, played by Catherine Tresa, respectively), as pawns to hold on to their powerful positions – Arjun makes Archana fall in love with him, whereas, Jogendra seduces Devika.
Early on in Leader, Arjun's mother (Rajeswari, played by Suhasini) pushes him to become the CM. She believes that her son is capable of getting rid of the dirt in her state. Likewise, Jogendra's wife initially supports all the decisions he takes. Later, when the women realize that Arjun and Jogendra have gone astray (Arjun lets a rape-and-murder-accused walk out freely. In Jogendra's case, his wrongdoings keep multiplying. They include cheating on his wife, killing his aide, and stashing black money which invites an IT raid), they call them out for the monsters they have turned into.
The ending of Leader and Nene Raju Nene Mantri operate outside the realms of reality. Leader closes with scenes of Arjun sending scores of officers from the Anti-Corruption Bureau to the offices and residences of all the political bigwigs. He also resigns from his post and starts campaigning from scratch, thereby gaining the trust of his voters. The citizens of his state believe in his leadership qualities and make him the Chief Minister without batting an eyelid.
Conversely, the pompous Jogendra does the unthinkable. He kills everybody who double-crosses him by bombing them and kills himself in the final moment.
By the way, these are things that can happen only on the big-screen.
Are directors, Sekhar and Teja, telling us that the one with the kind-nature (Arjun Prasad) will be loved by the masses, and the one with the immoral ideas (Jogendra) perish? This is a question that warrants a discussion; not an answer.
PS: The raised arm logo of Arjun Prasad's political party has found a real life partner in Pawan Kalyan's Jana Sena.
Politics
Kharge tendered his resignation as the Leader of Opposition (LoP) in the Rajya Sabha on Saturday as he filed nomination papers to contest the post of president of his party a day before
World
"In my personal opinion, more drastic measures should be taken, up to the declaration of martial law in the border areas and use of low-yield nuclear weapons," Kadyrov said
India
Enforcement Directorate (ED) on Friday while seeking remand for three office bearers of the Delhi Unit of Popular Front of India (PFI) stated that Perwez Ahmad, President, Delhi PFI since 2018, was part of a criminal conspiracy