Rami Malek on playing Freddie Mercury in Bohemian Rhapsody: It's arduous to depict someone's life in just two hours
In an exclusive email interview to Firstpost, Rami Malek opens up about playing a character like Freddie Mercury, his favourite Queen tracks and how it's difficult to pack in someone's entire life into a 2-hour long film.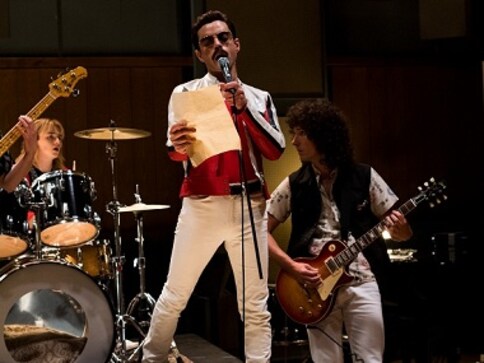 There was a perplexing moment while I was putting together images to go with this interview. At one point, I couldn't tell which image was a still from the upcoming Freddie Mercury biopic Bohemian Rhapsody, where Rami Malek plays the titular role, and which image was of the singer himself.
Rami Malek has transformed himself, uncannily, into Freddie Mercury — he has the swaying demeanour, the playful look, the mischevious eyes and performative postures.
When the first look of the film Bohemian Rhapsody came out, it was tough to digest that this is the same actor who played a hacker who has social anxiety disorder and depression in the American thriller series Mr Robot, or a Corporal in the Emmy Award-winning HBO World War II mini-series The Pacific. 
The film portrays Mercury's life, from his early days with Queen in the 1970s, through its rise to worldwide fame with anthems such as 'We Will Rock You,' to a rousing performance at the Live Aid benefit concert in July 1985 at London's Wembley Stadium. The film also documents Mercury's personal battles, including his struggle with his sexuality, and drug and alcohol use.
There's no doubt that playing Freddie Mercury is a role of a lifetime for any actor.
And yet, as the film released in the UK and the US on 24 October — it releases in India on 16 November — reviews started to pour in about how Bohemian Rhapsody couldn't manage to capture the details of Mercury's tumultuous life, how it tried to whitewash his sexuality and death. This didn't deter the box office collections of the film though. Telegraph reports that Bohemian Rhapsody is on its way to become the "biggest music biopic of all time" with a $50 million opening in the US and £6.9 million opening in the UK. Clearly even the bad reviews have worked in the film's favour. Suffice it to say Rami Malek is having the last laugh.
In an exclusive email interview to Firstpost, Malek opens up about playing a character like Mercury, his favourite Queen tracks and how it's difficult to pack in someone's entire life into a 2-hour long film. Excerpts:
From the Night at the Museum films, to 24, to The Pacific, to Mr Robot and now Bohemian Rhapsody. How does it feel?
At first it was pure shock. As an actor, I don't think there's ever this law of depreciating excitement when things like this happen in your career, especially when you are being asked to play Freddie Mercury. It's a moment that halts you in your tracks and it is at once euphoric and thrilling. Then there's a hit of the magnitude and of the weight you have to take on with this legendary man who lives in the hearts of so many people and is revered as being one of the most talented artists of any generation.
Kind of the gun-to-the-head moment, what do you do? And I like to think if it's a fight or flight situation, I'm going to fight. The scariest endeavours that I've chosen to take in my life have been the most fulfilling and rewarding. And this has proven to defend that equation.
How did the Freddie Mercury biopic — what many consider a role of a lifetime — fall into your lap?
I didn't quite believe the producers' enthusiasm around the audition tape for the starring role in Bohemian Rhapsody. I earlier thought someone was playing a joke on me when I was told I had gotten the lead in the long-gestating Queen film. But after speaking with producer Graham King and officially signing on, I was on board.
What's the exact thought that went through your head when you found out you were going to play Freddie? We know you've been a Queen fan...
So you can imagine the immense weight of that! Now there's also some ambitious part of me that gets wildly excited and starts thinking about how to begin to inhabit this unique and magnificent creature. I don't think there's anyone who doesn't know at least one Queen song.
It's one thing to impersonate Freddie Mercury, but to get into the skin of the character is a whole other. What was the process like? 
I had put all of myself into preparing for this and trying to do this person justice, that getting that acceptance was inspiring and propelling. It gives me chills just thinking about it because he is exactly that, he transforms. It's always Freddie, but there are different versions of him, which I think is beautiful. It's not like he's hiding anything, it's not Jekyll and Hyde, they are all him. It's who he wants to be in the given moment and the given situation, which I find so endearing.
I saw one interview where he said 'on stage I can be the macho man that everybody wants me to be.' And I think you see that in the '80s: this performer who throws his fists in the air and holds the crowd with the raising of one arm. Whereas in his younger days he was very fluid and erratic when he was trying to find himself and there was more of a whispy-ness to him. So I started to identify that and worked on the progression of the character in that way. What was incredibly useful was when I started to find a team of people who were going to help me assemble him, essentially.
There's nothing about him that's choreographed. The word 'choreographed' just doesn't even belong close to the name 'Freddie Mercury.' I wanted to find someone who could essentially understand the way he moved and why he moved the way he did. So I found a movement coach. Eddie Redmayne in The Theory of Everything was a big inspiration for me and I studied how he played Stephen Hawking and I said to myself 'that's not choreographed and I believe Eddie was working with a movement coach.
I met a few people and then did some work with Polly Bennett, a movement coach. The way Polly worked was fantastic. She understood how to approach this and we began just talking about Freddie's heritage and his youth and how his shyness would be articulated.
Bohemian Rhapsody has been given a PG-13 certificate in the US, a 12A in the UK. Is it safe to assume that the film won't delve into the more controversial aspects of Freddie's life?
It's an arduous thing to depict someone's life in just two hours. What's the nature of celebrating a life? Definitely not avoiding his death in any way, or what caused his death, which is the Aids virus. But I think if you don't celebrate his life, and his struggles, and how complicated he was, and how transformative he was – and wallow instead in the sadness of what he endured and his ultimate death – then that could be a disservice to the profound, vibrant, radiant nature of such an indelible human being.
What do you have to say to those who claim the film doesn't delve into Freddie's sexuality and that it dodges his life's more grittier details?
The most extraordinary thing about his sexuality and that aspect of his life is that he never spoke about it. He transcends all these stringent labels and boxes that we try to impose on people. He never confined himself in that way. He just was. And I think that's what will make him an even greater icon, if that's even possible. That's why he is so accessible to everyone.
What I know about Freddie is that he was not deliberate about what he was going to do on the stage the night before he went on. He didn't think about what his moves would be throughout the course of the next evening when he would be on stage – things happened in the moment depending on the feeling and it was always inspired.
What are some of your favourite Queen tracks? And has that changed since you worked on the film?
They're timeless. They defy Queen's music is a global phenomenon that transcends generational and cultural boundaries.. You know it's too difficult to pick a favorite, but I do really love Brian's Hammer to Fall (from Queen's album The Works). That's a great song. But for me it would be like picking a favorite child (laughs). They are all going to last for a long, long time.
Especially those two songs – 'We Are The Champions' and 'We Will Rock You' – are really audience participation songs and there's no band that has accomplished that in the same way. They perform a song like 'We Will Rock You' or 'We Are The Champions' and everyone out there, in those massive arenas and stadiums, is collectively singing and moving in unison. Those songs unite people.
Can you share a story about Freddie Mercury/Queen that stood out for you, that's not public knowledge? Something you found out maybe when you were filming or researching for the film?
Without a doubt it's love; the search and desperate need to find love and how that has escaped him. Here's a man who throughout his life was constantly searching for love.
I tried to build from the ground up, so I looked at his childhood. Here's a boy who was born in Zanzibar and shipped off to St. Peter's boarding school in Bombay at a very young age. He returns home to Zanzibar and there's a revolution going on and his family is forced to seek refuge  in England. So there he is with the name Farrokh Bulsara. He refers to his childhood as an 'upheaval of an upbringing' so I just started to somehow appropriate that to my own life in a way, being a first generation American.
There was the man on stage versus this young man who was trying to use any of his God given talent and the tenacity he had to just make a home for himself in this new land. And then, given the opportunity, rise to be who he inevitably was.
Is Bohemian Rhapsody a film about Freddie Mercury or about Queen?
Bohemian Rhapsody is about Freddie Mercury, very coy, very flirtatious. There's always something going on behind those eyes, and there's something incredibly magnetic about him. He exudes fun and sex and intelligence.
also read
Entertainment
Embrace the vibrant spectrum of love, acceptance, and authenticity this Pride Month as Netflix India proudly presents a captivating collection of LGBTQIA+ films and series.
Entertainment
Creed III is the third installment in the successful franchise and is Michael B. Jordan's directorial debut.
Entertainment
Scoop is the adaptation of journalist Jigna Vora's biographical book Behind The Bars In Byculla: My Days in Prison