'Raman Raghav 2.0' to Lisa Haydon: Ten epic quotes by Anurag Kashyap on films and feminism
Hail or storm, censors or box office failures, Anurag Kashyap just wants to make films.
Raman Raghav 2.0 is Anurag Kashyap's 13th film, and yet there's something consistent about him, as a filmmaker.
Hail or storm, censors or box office failures, Anurag just wants to make films. This earnestness with which he approaches cinema is hard to find. It's easy to shut yourself from the world outside and be consumed by your art, but this is not something Anurag believes in. It is for this reason that conversations with him are easy-flowing, informative and unconventional.
In a candid conversation with him at the Phantom Films office in Mumbai, one realises where Kashyap's consistency comes from: being himself.  And since being unconventionally yourself is the flavour of this piece, here are ten quotes by Anurag Kashyap, posing as excerpts of an eye-opening interview:
1.Raman Raghav 2.0
"It was earlier envisioned as a period biopic, was later revised as a modern take on the morality of crime. We shot the film in 21 days in a budget of 3.5 crores. Raman Raghav 2.0 is a love story."
"We shot the film in discreet parts of Mumbai — abandoned colonies in the Port Trust, in the middle of slums, random railway tracks. We adapted with what we had."
2. On being accused of glamourising violence in his films 
"Violence is glamourised when people emulate it. The violence I show in my films, like Ugly or Gangs of Wasseypur is not cool, it's scary as shit. Cool violence is what you see in superhero films, or larger-than-life characters played by our commercial heroes."
"What disturbs you doesn't necessarily mean its bad. Raman Raghav 2.0 makes you think."
3. The Indie-film community
"I don't categorise films, but indie films are essentially those movies that have had difficulty being made. The problem is that the indie community doesn't support each other."
"They're all fighting for that pedestal; for the tag of being most intellectual and visionary. I find mainstream films more put together."
4. 'Bombay Velvet was the biggest failure of my life'
"I need to make films that slowly add to the texture and revenue of the sum I lost with Bombay Velvet. It feels like I have to give back to the industry. I plan on sticking to making films that give me the creative freedom and I don't have to think of things like marketing and opening weekend."
"Dibakar Banerjee made Byomkesh Bakshy! in 20 crores and still recreated a period. I often wonder if I should have made Bombay Velvet in a similar approach. Nobody ended up seeing my film because I wasn't making a Yeh Jawani Hai Deewani with my stars."
5. Feminism and equality
"I've been a feminist before I knew what it means. I understand the need for a fight, and understand the need to push equality, and the cause of the woman. But sometimes it comes across as misandry, it comes across as anti-men. Somewhere the communication is wrong."
"Yes there is a need for feminism. But why always defend? I know so many people who don't know of the word feminism, or what is stands for but are feminist in practice. So do you really need the word, or do you need the emotion?"
6. 'Mansplaining'
"There's this term called 'Mansplaining' — which makes sure there's no healthy debate. Why is there no term like womansplaining? People who are feminists, right now their entire energy is going into defending the word, and not into empowering via the movement."
"When this piece comes out, you see how many tweets will appear saying, 'Look at Anurag Kashyap mansplaining feminism, talking on behalf of women.' However, these discussions are needed. A dialogue is needed."
7. 'Why can't Lisa Haydon have her own opinion?'
"Get into an argument or discussion with her so she can see the problem. The moment you attack her, you are proving her right."
"The ones who are attacking are hurting the cause more than Lisa Haydon. So ultimately you have to decide, are you bigger than the cause or is the cause bigger than you?"
8. His journey with Nawazuddin Siddiqui
'He is the most giving, trusting actor I have worked with. Nawaz is like clay; very malleable. You can shape him anyway, you can make him into anyone. I would not have been able to do Raman Raghav 2.0 without Nawazuddin.
"He's a great actor, but he's an even better impersonator. His off screen personality is not so dominating that he can't change. A lot of actors can't do that because they are such strong personalities"
9. On being accepted on a global platform
"There's a lot I'm doing now on a global level and a lot of credit goes to my exposure at Cannes [International Film Festival]. They think of me as a genre filmmaker, not an art house filmmaker."
10. 'Freedom of Expression comes with responsibility'
"Nobody is going to just allow you to say anything. That only happens in the ideal world, and I'm a realist. I would prefer no censoring, but we have to fight our own battles. For me, my film is important and I will fight for it how much ever I can within the prevailing system.
"We have always been insensitive. This whole country has been intolerant, the difference is that we have social media now. I don't know of a time when we were never intolerant. We have always been fighting something or the other."
Find latest and upcoming tech gadgets online on Tech2 Gadgets. Get technology news, gadgets reviews & ratings. Popular gadgets including laptop, tablet and mobile specifications, features, prices, comparison.
Entertainment
The news of the film was announced by Mary Kom, who was the subject of Omung Kumar's 2014 biopic.
Entertainment
In October, Sana Khan, who has played supporting roles in several Bollywood films, announced her exit from the entertainment industry.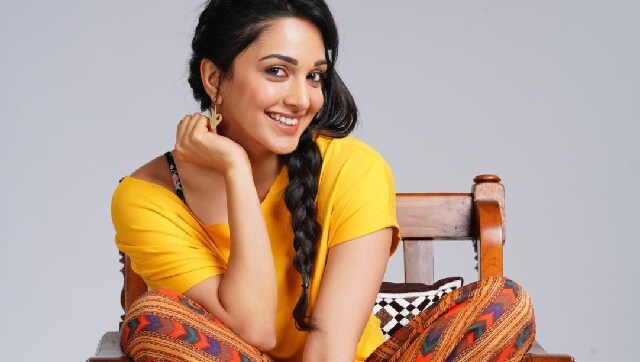 Entertainment
Directed by Abir Sengupta, Indoo Ki Jawani also stars Student of the Year 2 breakout star Aditya Seal and Mallika Dua.