Ramachandra Guha's new book on Gandhi to release in September; chronicles his role in freedom movement
The book will reveal Mahatma Gandhi to the readers just as he was understood by his contemporaries
New Delhi: Renowned historian and author of several bestselling books, including the highly acclaimed India After Gandhi and India Before Gandhi, Ramachandra Guha has penned a new book on the father of the nation, which has just gone to the press and will be out in September.
Billed as the most definitive new biography of Gandhi, the upcoming book is titled Gandhi: the years that changed the world (1914-1948) and will be published by Penguin Random House India.
"This magnificent book," sources said, "will not only tell the story of Gandhi's life, from his departure from South Africa to his dramatic assassination in 1948, but also the history of our freedom movement and its many strands".
It is said to be a book with "a Tolstoyan sweep", revealing Gandhi to the readers just as he was understood by his contemporaries. The book will also include new readings of his arguments with B.R. Ambedkar, Mohammad Ali Jinnah and Subhas Chandra Bose, among others.
Drawing on never-before-seen sources and animated by its author's unparalleled sense of drama and politics, Guha's latest work will be marketed as the "most ambitious and integral book" on Bapu.
The book will be relevant, particularly in the context of religious tensions and communal disharmony engulfing the country in contemporary times. At the same time, the 60-year-old historian is known for his profound research and objective portrayal of his subjects, and readers can look forward to drawing lessons from Gandhi's life in current times.
It is a follow up to Gandhi Before India (2013). Further details on the book and a formal announcement is awaited from the publisher.
Guha's large body of work, covering a range of fields and yielding a number of rational insights has made him a significant figure in Indian historical studies. He is valued as one of the major historians of the late twentieth and early twenty-first centuries.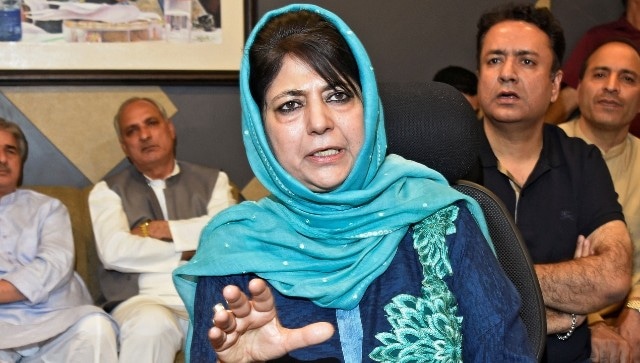 Politics
Addressing a public rally at Neel village of Banihal, the PDP chief said they want 'Mahatma Gandhi's India' and their identity and honour which was given to them by the Indian Constitution
India
Ranaut mocked Mahatma Gandhi's mantra of ahimsa by saying that offering another cheek gets you "bheek" and not freedom