Ram Gopal Varma unleashes Twitter rant on Tiger Shroff; says he doesn't have dad Jackie's machismo
Filmmaker Ram Gopal Varma is known for being brutally straightforward, particularly towards his close ones. He has often used Twitter to just blurt out unwarranted comments about film celebrities including his long-time collaborator Amitabh Bachchan.
The most recent target of his venomous comments is actor Tiger Shroff. Varma posted a picture of Tiger coming out of the sea and flaunting his ripped six-pack abs. Though Varma lauded his impeccable physique, he pointed out how his eyes and body language are no match to those of his father, veteran actor Jackie Shroff.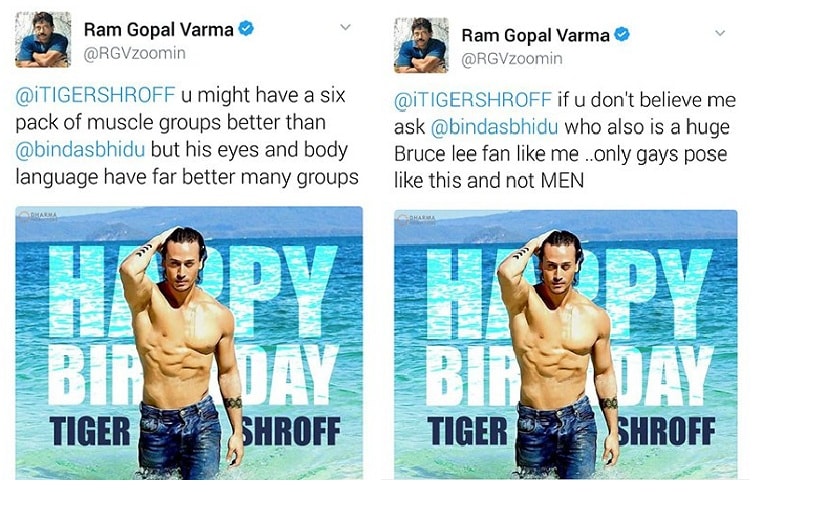 Varma advised Tiger to learn "machoism" from his father and suggested that the definition of macho is not limited to doing martial arts, an area that Tiger excels in. Varma drew a parallel between real men and Bruce Lee, stating that both Varma and Jackie are ardent fans of the martial arts legend. He dubbed Tiger as a 'gay' for his 'Urmila-ish' pose, taking a petty potshot at his former collaborator Urmila Matondkar.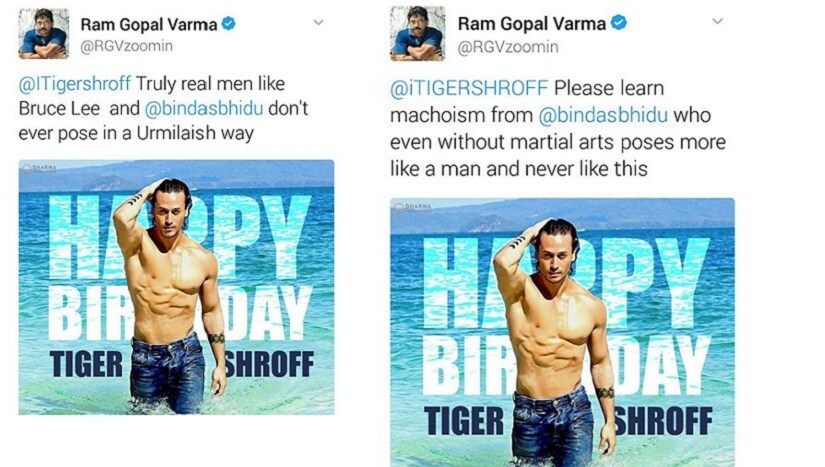 Varma has collaborated with Jackie in films like the 1995 romantic comedy Rangeela and the upcoming political drama Sarkar 3. Varma also inserted a disclaimer tweet in his series of tweets when he asked Jackie to explain to Tiger and his mother Ayesha Shroff that Varma's rather stingy comments were in good humour.
Hey @bindasbhidu all my tweets on @iTIGERSHROFF are purely as ur fan and not otherwise ..please tell this to @AyeshaShroff and him pic.twitter.com/9a53ogH4b9

— Ram Gopal Varma (@RGVzoomin) March 2, 2017
Varma eventually deleted all the tweets, barring the disclaimer, probably out of the possible backlash it could cause between Jackie and him. However, since the tweets now stand widely reported and documented, it seems like the damage has been done and the Shroff family is a couple of clicks away from unearthing the filth Varma splat all over social media on Tiger's birthday.
Sarkar 3 also stars Amitabh, Yami Gautam, Ronit Roy, Supriya Pathak, Amit Sadh and Manoj Bajpayee. It is the third installment in the Sarkar franchise and is slated to release on Varma's birthday on 7 April.
Updated Date: Mar 03, 2017 17:12:13 IST