Rakhi Sawant responds to Tanushree Dutta's Rs 10 cr defamation case: It's a publicity stunt
Rakhi Sawant had claimed that Tanushree Dutta was busy 'getting doped' on the sets of 2008 movie Horn 'OK' Pleassss
Actress Tanushree Dutta has filed a defamation complaint worth Rs 10 crore against Rakhi Sawant, reports the Economic Times. Sawant had claimed that Dutta was busy "getting doped" on the sets of 2008 movie Horn 'OK' Pleassss. Sawant's claim came after Dutta accused Nana Patekar of being aggressive and sexually harassing her by touching her inappropriately on the same set.
In her response, Rakhi claimed that Dutta was lying about the course of events, adding that Tanushree was a drug user and leveling allegations for attention and publicity. She further said that Dutta took her to rave parties on three different occasions and offered her drugs which she was 'forced' to take. She also went on to say that she was thankful of breaking ties with Dutta later on in life.
Uploading a series of reaction videos on her Instagram account, Sawant added that she would give Dutta a befitting reply in court.
View this post on Instagram
Part 3 #meetoo #rakhisawant reaction on #tanushree defamation case ..... @waahiidakhan
View this post on Instagram
Part 5 #meetoo #rakhisawant reaction on #tanushree defamation case ..... @waahiidakhan
Sawant was called in to replace Dutta on the song after the latter walked out of the project due to Patekar's alleged harassment. Dutta had expressed her displeasure at being replaced by Sawant in a later interview.
In a recent report, Nitin Satpute, Tanushree's advocate claimed that they had filed a criminal and civil complaint against Sawant adding that if Rakhi failed to respond within a stipulated time period, she would be subject to a fine or two years in jail or both. Sawant had alleged that Dutta had no proof regarding her claims.
Patekar denied all of Dutta's claims and filed a defamation case against the actress. He has also stepped down from being part of upcoming comedy Housefull 4.
Network 18, of which Firstpost is a part, has received complaints of sexual harassment as well. The complaints which are within the purview of the workplace have been forwarded to our PoSH committee for appropriate action.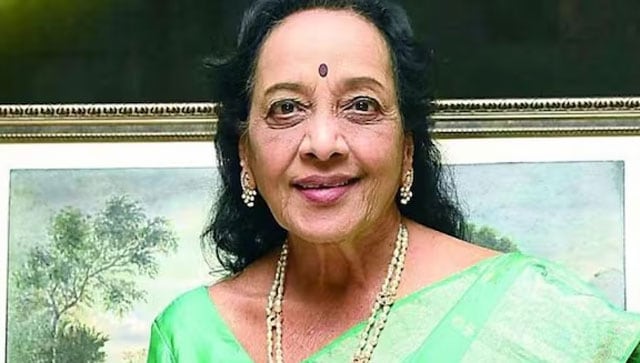 Entertainment
She had won the Filmfare award for Hindi Film 'Milan'. Some of her iconic films include 'Missamma', 'Gundamma Katha' and 'Sri Krishna Tulabharam'.
Entertainment
Spacey received a lifetime achievement award from the museum, discussed key roles during a master class and then introduced the 1999 film American Beauty, for which he won his second acting Oscar, to a sold-out crowd