Rajinikanth's 2.0: Interesting trivia about this Shankar directed film
What does one expect, in a country like India, if there's a Rajinikanth release? That too with Akshay Kumar as a lead, and top it all, this film is Robot/Enthiran sequel, or simply, 2.0! The answer is quite obvious — mass frenzy, a social media deluge and trivia and speculations at their peak.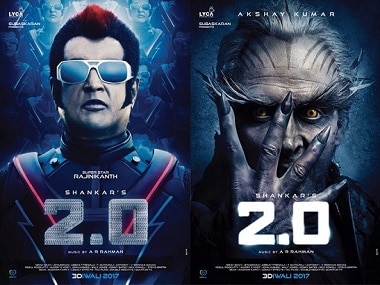 Ever since the first look of Rajinikanth-Akshay Kumar-starrer 2.0 was released in November 2016, the film has been at the receiving end of a lot of attention. The makers of the film revealed many facts about the film and the stars.
According to a report by International Business Times, this movie features Akshay Kumar in an antagonist's role. More than Rajinikanth, who is reprising his previous avatar of 'Chitti' the robot, it is Kumar's character which has been creating buzz. The actor will be seen with long nails, hairy and fuzzy eyebrows, and fiery eyes.
Although it was a grand event with Karan Johar being the host of the show and Salman Khan and other Kollywood superstars attending it, the real perk was knowing about the unknown facts related to the film which were revealed at the show.
When asked whether more sequels are in pipeline, director Shankar said that since the genre is sci-fi, many parts to the film can be made.
It is one of the most expensive films of all time, surpassing Baahubali which was reportedly made in a budget of Rs 150 crore. 2.0 is touted to be being made at a massive budget of Rs 350 crore. According to a report by Indian Express, it was one of the toughest films to compose music for music maestro AR Rahman. He said that with 2.0's music he is "trying to create something unique for India and the world".
Hollywood costume designer Ror Rodriguez, who has designed signature costumes on Supergirl and Daredevil, has been reportedly roped in for this film. 2.0 will have a lot of VFX animation throughout the film that will match up to Hollywood standards. Times of India reports, there were plans of shooting an entire song in Ukraine. But owing to the condition of Rajinikanth's health, they had to plan an en-route. So, the makers of the film decided to recreate an Ukraine-themed set here in India completely using VFX. This will be one of the first time that an attempt of this kind is being made in India.
It was also revealed that Akshay Kumar was not the first choice. There were many actors — national and international — who were considered for the role. Apparently Kamal Haasan, Aamir Khan, Vikram, Hrithik Roshan, Neil Nitin Mukesh and even Arnold Schwarzenegger were approached for the role. But somehow, things didn't work out with any of them and Akshay gave a nod without any wait.
Sean Foot of the Avatar fame has been roped in for make-up in 2.0. Kenny Bates, who did the action sequences for Transformers is also a part of the project. The VFX is being done by a team which has likes of John Hughes and Walt, who have done the VFX for films like Life of Pi, 300 and Percy Jackson.
Film editor Anthony said that it was really challenging to work on 2.0, in fact 10 times more challenging that Enthiran; he even had to wear 3D glasses while editing.
To know more about the film, we'll have to wait for it to release to experience magic on screen when Chitti (Rajinikanth) takes down Dr Richard (Akshay Kumar).
Updated Date: Jun 11, 2017 18:26 PM