Rajinikanth's 2.0, following Enthiran, could have been India's Transformers; sadly, it's more Sharknado
A list of every grouse I had with Shankar, Rajinikanth and Akshay Kumar's 2.0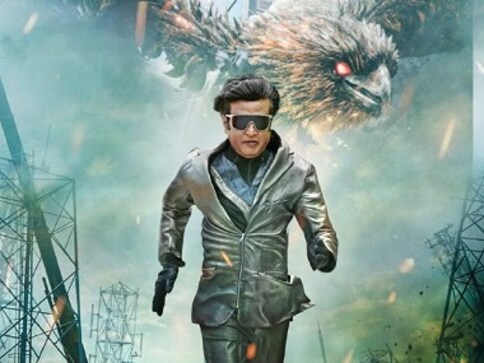 2.0 is being promoted as a visual spectacle that has to be witnessed in person at a theater near you. As "India's biggest VFX-filled Superstar festival". As India's answer to Hollywood. In a recent interview, Resul Pookutty spoke about Hollywood films stealing a share of the Indian theatre-going audience, and how this film would mark the first step in the Resistance — a Shankar-esque "Hollywood, Go Back!" movement.
Unfortunately, all this talk of state-of-the-art graphics and amazing visuals only works if you've got on tricolour-tinted glasses and not your standard issue, polarised 3D glasses.
You ask why? Here's a list of all the grouses I had with 2.0:
The graphics clearly don't look real. Except for the title cards and the giant Birdman graphics, the rest look like a badly animated Rajini-version of Chota Bheem. When one is watching a VFX-ridden film, you don't look for logic or adherence to Newtonian physics, but a suspension of disbelief. When I am taking such a huge leap of faith with the director, I expect the VFX parachute to carry me safely into make-believe. The parachute never opens. And you can't even blame it on the budget anymore.
Vadivelu once famously said: "Building strong-u, basement weaku-u". Shankar's 2.0 has scale, stars, the best technicians, a most accommodating producer to foot all the (big) bills. Sadly, what Shankar doesn't seem to have had, are writers.
The story isn't big enough. The film addresses a huge concern, then limits its reach to Chennai! I know I'm going to get a "Hollywood films only have New York or Washington DC where stuff happens" argument. But imagine: what if Pakshiraj has control over all the cell phones across India. He has control over all the communication satellites orbiting space! Instead of one mobile phone shop owner and one telecom operator, you now have the world's cellphone giants and telcos crippled. Instead of one truck with mobile phones being stolen, imagine a fleet of cargo ships carrying phones from China. Imagine the Americans pleading with Chitti and 2.0 to save not just Chennai, but the whole world! Multiple Chittis and 2.0s coordinating a worldwide
operation to tackle Pakshiraj! Now *that* is a sequel I'd watch. *That* would be the perfect reply to Resul's valid point of Hollywood stealing away Indian audiences. Small villains for a Superstar? That's simply no fun.
If the villain's name is Pakshiraja, why does he have power only over mobile phones, and not over birds? Imagine a huge Birds versus Humans sequence: Every leading nation's air force battling kamikaze pigeons who fly into jet turbines, making them explode. Armies struggling against an onslaught of vultures, eagles and other scary birds. Carpet-bombing by bird poop! The possibilities would've been endless!
FP View — 2.0 movie review: Shankar's story is pedestrian; but VFX, Rajinikanth and Akshay Kumar carry the day
Then, there are so many unanswered questions and wasted opportunities. I would have loved to see smarter ways in which the phones had messed up people. Shankar has done this in the past, with elaborate set-ups to kill people like in Anniyan. I missed that Shankar. A SIM card flying through the air and slicing someone's throat, flying spy phones eavesdropping on Vaseegaran's plans, phones that would lure a smartphone-addicted populace into a trap a la the Pied Piper. I could go on.
Other questions: Why hasn't Chitti's battery been upgraded? Why is he still — like an iPhone — looking for plug points? Why is the same "Battery Over" twist used twice? If Chitti can run out of
charge shouldn't the million phones he collected run out of charge sometime too? What's with the fight in the stadium? Why are people even at the stadium? Isn't everyone under threat? Also why are they are at a football match? I could believe nearly everything on screen but that — thousands of people watching a football match at a stadium in India. Sunil Chettri, I'm sure, would have things to say about that.
I am not even going to ask why Amy Jackson doesn't join in during the final fight sequence. Or why that stupid joke — where a mobile phone is compared to a wife — even exists in the film. Or why that creepy lecherous boy is at Rangathan Street, complaining about the lack of women.
2.0 has a gem of an idea and premise, but refuses to explore it. It could truly have been a film that competed with the best of Hollywood's VFX action genre films. What could have been India's Transformers however, is sadly reduced to a Sharknado.
FP Counter-view — 2.0 movie review (3D): Rajinikanth and Akshay Kumar barely face off in a lukewarm, politically bizarre sequel to Enthiran
Entertainment
Indian cinema has generally taken upon itself to treat its working-class protagonists as victims, and physical labour as drudgery. This is essentially because the films take up social conflict as their subject and conflict produces victims.
Entertainment
While Cinema Bandi releases on Netflix India on 14 May, Ramyug will begin streaming on MX Player from 6 May.
Entertainment
As his birth centenary coincides with the counting day of West Bengal polls, Satyajit Ray would surely like to know whether the people of his home state have voted or not for the lofty ideals for which he had lived and toiled all his life.