Rajinikanth's 2.0 beats Baahubali: The Conclusion to secure the widest Indian film theatrical release
Director Shankar had recently confirmed that the production cost of 2.0 is Rs 450 Cr. Including the print and publicity costs, the final budget of the film is estimated in the range of Rs 550 Cr.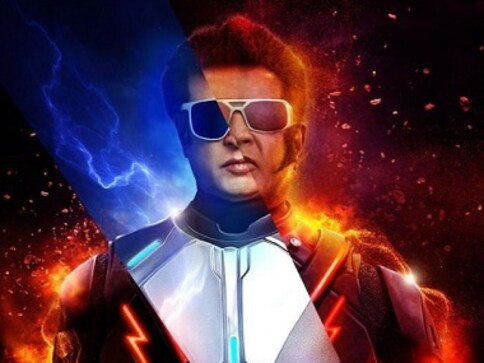 Superstar Rajinikanth's highly-anticipated sci-fi magnum-opus 2.0 has uncrowned SS Rajamouli's globe-trotting blockbuster Baahubali: The Conclusion to secure the widest Indian film release ever. While Baahubali 2 burst onto 9000+ screens worldwide last year, 2.0 is gearing up for release on 29 November in more than 10,500 screens, as per initial estimates.
In India, the Shankar-directed film is set for release in nearly 7850+ screens, with North India contributing approximately 5000 screens. As per the current estimate, the overseas release for 2.0 is expected to be the biggest for any Indian film with close to 2,500 screens.
Tentative Screen Count
North India: 5000 screens
Andhra Pradesh/Telangana: 1100 screens
Tamil Nadu: 850-900 screens
Kerala: 450+ screens
Karnataka: 400 screens
Total in India: 7800-7850 screens
Talking to Firstpost, Sathesh Kumar from Qube Technologies said, "We are issuing close to 65,000 KDMs for the film in a minimum of 13,000 screens as per the current estimate. That means 13,000+ screens are suitable to play the film and it's up to the theater owners to showcase it as per the demand. For example, we may issue KDMs to all the 11 screens in Luxe Cinemas. But, they may choose to showcase the film in 7 or 8 screens as per demand. The total number of theaters worldwide is 2,200 in 65-70 countries. The film is releasing in three languages in India in 36 versions totally including two subtitled versions, three video formats, two audio formats etc. They may add more sound formats too later. All the numbers are tentative now. We will get the final count by tonight or tomorrow morning."
In the USA, which is considered a Superstar Rajinikanth citadel, the film is releasing in 800 screens (Tamil - 307, Telugu - 270, Hindi - 223) and the number is likely to increase based on the bookings.
Rajinikanth is the only Tamil actor to score four million dollar films in the US including Enthiran, Lingaa, Kabali, and Kaala. It must also be noted that Kabali's premiere gross of $1.95 million is only behind Baahubali 2's $2.45 million and is still the second-best premiere total for any Indian movie in the USA. Also, the all-time top-grossing Tamil films in the USA list is dominated by Rajinikanth-starrers with Kabali, Enthiran, Kaala, and Lingaa at the first four spots. In Canada, 50 theaters have been allocated for the film for all three languages (Tamil, Telugu, and Hindi) combined.
The film, which stars Akshay Kumar as the antagonist, is releasing in close to 140 cinemas in Malaysia, which is another solid offshore collection center for Rajinikanth. The lifetime gross of Superstar's Kabali at MYR 12.58 million still remains unrivaled although Mersal came close with MYR 11.8 million total last year. In the UK, where Rajinikanth's Enthiran lifetime revenue of GBP 756.8K remains unbeaten, 2.0 will release in nearly 297 theaters.
The UAE-GCC, which traditionally brings in substantial revenue from overseas for Tamil films, will contribute significantly to 2.0 as well with 300-350 screens.
We have learned that the movie will have close to 700+ shows on day one in the UAE alone, which is a record for any Indian title in the region beating Aamir Khan's Thugs of Hindostan. The Oceania region, which mainly comprises of Australia and New Zealand, will have nearly 155 theaters (Tamil - 63, Hindi - 57, Telugu - 35) for the film. Baahubali 2 currently holds the record for the top-grossing Tamil film in Australia with A$939K followed by Kabali at A$526K.
The film, which has been certified U/A by the censor board, has a runtime of 2 hours and 28 minutes. The 148-minute runtime makes 2.0 the shortest film of director Shankar in his 25-year-old career. While the first half of the film is said to be 69 minutes, the second half runs at 79 minutes. While the Singapore censor board has passed the film with PG13 certification (suitable for persons aged 13 and above but parental guidance is advised for children below 13), BBFC (British Board of Film Classification) has provided 12A (suitable for persons aged 12 and above) certification in the UK.
"The worldwide pre-release rights of the film is valued at over Rs 500-520 crores for Lyca Productions. This includes all the ancillary revenues like satellite, digital, music rights and brand associations. While North India is estimated at Rs 85 Cr on an advance basis, the Karnataka and Kerala rights have been sold for Rs 25 Cr and Rs 15 Cr respectively. Since Lyca is releasing the film on its own in a lot of overseas regions, and in Tamil Nadu, where it has an agreement with local distributors on commission/advance basis, they are bound to earn more as the film's official run begins," a trade source, on the condition of anonymity, told FirstPost.
Now, Baahubali: The Conclusion's Rs 150 Cr gross and Rs 121 Cr Nett (North 41 Cr, Rest of India 80 Cr) is the biggest opener for any Indian film. In Tamil Nadu, Vijay's Sarkar holds the record for the top opener in the state with its day one total of Rs 30.5 Cr gross. So, 2.0 has its targets already set and trade pundits estimate the film's day one Nett from North to be in the range of Rs 30-35 Cr.
Entertainment
The Deverakonda craze is growing by the day. Suddenly the A-list brigade in Bollywood has begun to look jaded.
Entertainment
It was most clearly a conversation of cumulative curiosity among the R-named highflyers-- Rajamouli, Joe Russo, Anthony Russo, Rajeev Masand-- discussing RRR, ideating and resonating with one another, and also exchanging views on why the digital platform can at times be preferable to big screen.
Entertainment
With every year Mahesh Babu looks younger. He says there is no secret formula for looking young.