Rajasthan High Court acquits Salman Khan: 'Bhai' has a script for beating the law
It is apparent that Salman Khan, like a cat, has nine lives.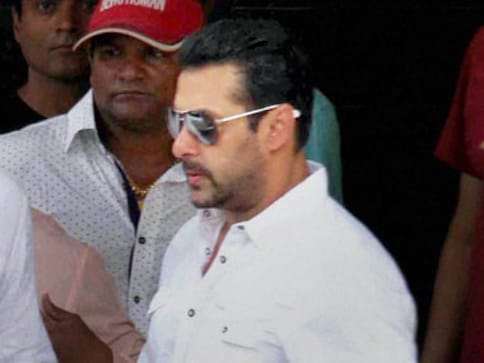 On April 10, 2006, Salman Khan appeared in a Jodhpur wearing an unbranded tee-shirt (Being Human was not in vogue then) embossed with an image of two flying eagles.
On that fateful day, Khan first got an earful from the court for being irresponsible, a poor role model and a poacher. A few minutes later, Khan's jaw fell when the court sentenced him to five years in jail for killing endangered animals. Unlike the eagles, Khan was caged.
While pronouncing the 2006 judgment, the court observed its decision would send out two signals: One, influential people can't get away with such acts. Two, the law does not discriminate.
Memories of that judgment and its spirit sound like a cruel joke today with the High Court overturning the 2006 verdict and allowing Khan to soar into freedom, like the eagles he wore that day.
The Jodhpur case dates back to 1997-1998, to the days Khan was the troubled child of Bollywood, from where he grew up to be its even more troubled man and unrepentant old man. During the shooting of Sooraj Barjatya's Hum Saath Saath Hain, Khan and his co-stars allegedly went saath-saath on an hunting expedition in the jungles of Jodhpur, shooting blackbucks and chinkaras, both endangered animals.
By the time Khan's escapades became public in Jodhpur, he had already established himself as an enfant terrible about town. Tales of his night-time revelry, boisterous parties, allegations of a drunken Khan routinely pissing from the terrace of the five-star heritage hotel his team was occupying had become part of the lore.
Eight years later, Khan was punished by a Jodhpur court in an 108-page judgment for his irresponsible and unwarranted act of poaching a chinkara deer. The court examined 38 witnesses, eight of whom had turned hostile, FSL reports on 78 bloodstains of the poached chinkara, six knives and five casts of gypsy tyres picked from the shooting sight.
The court was told how Khan would lead the late-night expeditions, cheered on by his co-stars, chase an animal in a Gypsy till the deer's heart would almost explode and then, ripping out a knife that simmered under the white moonlight, slit its throat.
Perhaps the witnesses and their statements that formed the basis of his earlier conviction were just figments of fantasy.
With his impeccable record on the box-office and in criminal cases, two things can now be said safely about Khan. One, his films would be released on Eid to a bumper response. Two, whatever be the nature of the crime, he would always get released by a higher court.
It is apparent that Khan, like a cat, has nine lives. Unfortunately, the same can't be said about the animals and humans that have the misfortune to cross his path. While his alleged victims do not get a second chance to life, Khan keeps on getting generous lifelines.
Both these outcomes are a result of a formula Khan and his lawyers have perfected.
In his courtroom dramas, the usual script is like this: Delay the trail for as long as possible, ensure that key witnesses either disappear or turn hostile, pump in money to influence key records, ensure key reports either disappear or become disputed, and, finally, make some other guy own up to his crimes.
In Rajasthan's case, Khan made ample use of his Bollywood clout to gain access to influential people related to the trial. He befriended the then minister of tourism and wildlife Bina Kak, got her cameos in Bollywood, helped her daughter sing a few filmy songs and went even to the extent of dancing on the streets of Jaipur when the minister's children got married.
As the saying goes, jab saiyyan bhaye kotwal to darr kahe ka.
Khan is an inspiration to millions of youth, both men and women. Like lemmings heading towards the sea, his fans get drawn to the formulaic films he rolls out every year, turn them into mammoth hits. It says a lot about a country when a misogynist accused of ill-treating women becomes a heartthrob of women; it is a reflection of a society when a man accused of driving vehicles over pavement dwellers in a drunken state, killing endangered species for fun becomes a national rage.
But, much more than shining light on how India chooses its role models, Khan's perfect record with the law shows how it works in India.
When Khan was let off by the court in the Mumbai drunk-driving case, Firstpost had argued that it was futile to blame him. An accused, after all, tries his best to evade the deserved punishment of his crime.
Nobody should grudge Khan or his acquittal by the High Court. Did you expect Khan and his lawyers to turn up before the judge, present evidence of the actor's guilt and seek strict punishment? This wasn't a film based on Salim-Javed script where the conscientious hero, torn apart by guilty conscience, seeks atonement through strict punishment.
No, this wasn't Dostoyevsky's Crime and Punishment or Rajesh Khanna's Dushman; this was just another remake of Andhaa Kanoon where the cops and investigating agencies turned a blind eye to a crime.
This is India. Being rich and famous here is a lifelong insurance against conviction.
No wonder, Khan would be celebrating tonight, wriggling his bottom, singing: Baby ko base pasand hai, Bhai ko case pasand hai!
Bring them on.
India
The PIL sought appropriate action against the rebel leaders for the 'omission of duties and moral wrongs committed, leading to disrespect towards the public rights and good governance'
Sports
Delhi High Court urged IOA to accommodate Tejaswin Shankar and four other athletes in the 2022 Commonwealth Games squad
Politics
Though the tweet does not name Sharad Pawar, the Maharashtra Police have claimed that it is "defamatory" and "that it promotes enmity between different groups on the basis of religion or race"