Raghu Ram's ex-wife Sugandha Garg congratulates the newlyweds: 'Going to be epic from the looks of it'
Raghu Ram had said that his ex-wife Sugandha Garg was the first to know of his plans to marry singer Natalie Di Luccio.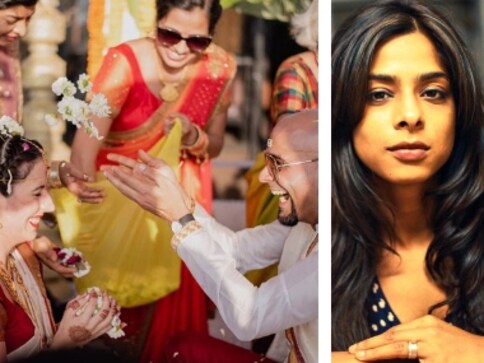 MTV Roadies creator Raghu Ram, who was formerly married to actress Sugandha Garg, has always been open about how the two still remain close friends. Sugandha dedicated a post to her ex-husband on the occasion of Raghu's marriage to singer Natalie Di Luccio.
Raghu had said in an interview to Mumbai Mirror that Sugandha was the first person he had informed about Natalie. "She said that if she had to pick a girl for me it would be her (Natalie)/ They've had many conversations behind my back. I am sure Sugandha has given some advice on the dos and don'ts with me. She also told me about the mistakes I should avoid making this time," said Raghu to Mirror.
Raghu got married to Natalie in a traditional intimate ceremony on Thursday. The couple celebrated the affair with South Indian rituals. Both Raghu and Natalie wore red and white ensemble. Raghu went for a traditional red dhoti and white kurta while Natalie sported a red and white sari with gold ornaments. Raghu posted a few pictures of the ceremony which also saw his MTV Roadies colleague and friend Rannvijay Singh Singha in attendance.
Entertainment
Chhorii wants to be an eye-opening montage of patriarchal horrors but there is little that is spooky or spunky about this film.
Entertainment
YG Entertainment shared that while other BLACKPINK members were not classified as close contacts, they immediately received PCR tests after hearing of Lisa's positive COVID-19 results.
Entertainment
Sting's new release The Bridge has a strong pop-rock vibe that defined his #ThePolice and early solo years, but some of its best songs have Celtic and jazz influences