Radha Mohan on Kaatrin Mozhi: Loved Tumhari Sulu and had no second thoughts about remaking it for Tamil audiences
Kaatrin Mozhi director Radha Mohan: I never knew the comic side of Jyothika till now and the way she changed her body language was quite a surprise for me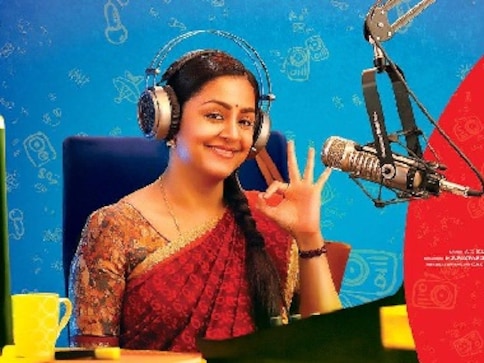 Director Radha Mohan is long-known for making poignant, family-friendly and feel-good dramas throughout his career. If his 2007 hit Mozhi was one of the significant turning points in Jyothika's filmography as a performer, his Abhiyum Naanum showcased Trisha's acting prowess in 2008. Now, for Kaatrin Mozhi, the official Tamil remake of Vidya Balan's Hindi superhit Tumhari Sulu, Radha Mohan has reunited with Jyothika after a decade. The film has hit theaters worldwide today and has received good response from critics from the premiere show.
"I was shooting for my other film with Vikram Prabhu when Jyothika called me and told about the remake plan. I told her that I would get back after I watch the movie. I loved Tumhari Sulu, and I had no second thoughts in remaking it for our Tamil audiences," Radha Mohan told FirstPost. 
"Right from the day Jyothika gave a comeback with 36 Vayathinile after her wedding, everyone was eager about our collaboration, and I too was looking forward to making a film with her. The story of Kaatrin Mozhi had the perfect pitch for it, and I just jumped on the opportunity," he added.
The team had completed the entire shooting schedule in a single stretch with great advanced planning and pre-production. "It took around ten days to erect the sets for the radio station, and Jo (Jyothika) had to train a little to get familiar with the pieces of equipment. During our Mozhi days which we did a decade back, her involvement quite impressed me. She would see the rush after performing and would ask for a second take even if I have okayed it. The drive and responsibility she takes to deliver her best have not reduced a bit from then. She also provided a lot of inputs in Kaatrin Mozhi which enhanced the sequences to a different level than I expected. I never knew the comic side of Jo till now, and the way she cracked wits and changed her body language was quite a surprise for me," revealed Radha Mohan.
Paired opposite Jyothika in the film is Viddarth, who is known for his uncanny selection of scripts. "Kaatrin Mozhi is a women-centric film, and the husband character is equally important though. He is a father, and he has to give much screen presence to Jyothika. I don't know if the leading stars would agree to do such a role. To decide on the casting was quite a task and it was producer Dhananjayan's idea to cast Viddarth," he said.
Radha Mohan further added: "Viddarth is known for choosing unconventional and unique scripts in his career. So I thought he would be an apt choice for Vijayalakshmi's (Jyothika) husband character. Also, Viddarth had no hesitation, and we didn't even have to convince him to do the role. All he was concerned about was doing justice for his character. This attitude and spirit make a big difference while doing any part. He was also a little intimidated by Jo since she was a senior. But, they got along really well once the shooting started."
Actress Lakshmi Manchu takes over the role played by Neha Dhupia as station head in the film. "Lakshmi Manchu was our first choice for Neha Dhupia's role. She had the authority and swag in Tumhari Sulu which I was sure Lakshmi Manchu could pull off easily. She was a cut above our expectations. She never shied away in expressing her admiration for Jyothika and her performance. The shooting spot was lit with positive vibes having all these actors around," stated Radha Mohan.
The team pulled off a coup by roping in Simbu to play a special cameo in the film. In fact, his blink-and-you-miss shot in the trailer fetched good response on social media platforms. "The cameo needed a young celebrity whom the youngsters celebrated, and it was Simbu who came to our mind first. When we approached him for the guest appearance, he readily agreed. Simbu is an ardent fan of Jyothika, and he respects her a lot. Lakshmi Manchu and Simbu are friends from their childhood, and it was more like a reunion for them. It just took half a day for us to shoot his portions; he effortlessly pulled off the role, and in no time we wrapped the sequence. If Suriya or Karthi had done the cameo, it would look like a convenient arrangement, and it will be very usual. That's why we wanted someone the audience would have least expected," he explained.
On a concluding note, Radha Mohan said, "Tamil and Hindi film industries are poles apart considering the audience, culture and the censor board. So, we had to change the script to suit the sensibilities of our audiences. There are additional characters and some new sequences in the Tamil version."
also read
Entertainment
When asked about the recent controversy surrounding Ryan Gosling being too old to plan Ken, she completely disagreed. Priyanka said, "Ryan Gosling will eternally be one of those guys who are hot!"
Entertainment
The incident took place on Monday and the 30-year-old accused was arrested the next day from neighbouring Thane district, he said
Entertainment
This year, Esha Gupta shall walk the red carpet in a specially curated designation led by Union Minister of State Dr. L Murugan.