Race 3: Salman Khan and Bobby Deol make this film a funny, kitschy, audacious ride
Race 3 begins with Salman Khan — aka Sikander — having to rescue his uncle (Anil Kapoor) and cousins (Daisy Shah and Saquib Saleem) from danger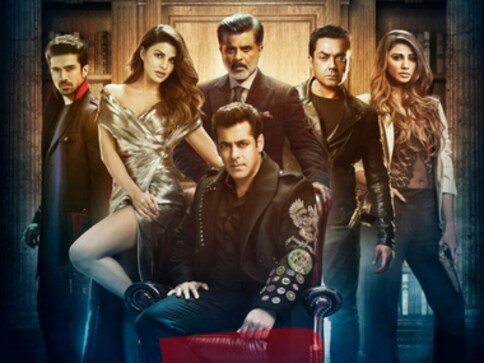 Race 3 begins with Salman Khan — aka Sikander — standing atop a building. The entry shot is replete with cars being blown up, motorcycles being run down and drone shots of the skyline. Sikander is the saviour/bodyguard of the Singh family: patriarch Shamsher (Anil Kapoor), who is also Sikander's uncle; and Shamsher's children Suraj (Saqib Saleem) and Sanjana (Daisy Shah). Shamsher's life is in danger, and as Suraj and Sanjana fight off miscreants who want to kill their father, Sikander makes his entrance — jumping off a building, dapper in a suit with guns in tow.
The level of action escalates with every passing minute while the characters say no more than a word or two: the tone of Race 3 is set right in the beginning — a loop of bhai-action-bhai-action
Bobby Deol (who plays Yash — a friend of the Singhs) gets a spectacular entry of his own, thrusting into the frame mid-air on a bike. He has the required swag to pull off this mysterious person. Bobby, Salman, Daisy and Saqib save Anil from being killed. And so, the Race begins.
After this high-speed opening, we are given the backstory of the Singh family: Shamsher and his older brother (whose son Sikander is) used to supply weapons to the army in the 1970s. They have a falling-out, leading to the brother's death. As a result, Shamsher is ousted from the village. Shamsher tries to convince his children to be nice to Sikander, because of the bonds of blood, but Suraj and Sanjana (who only address each other as "bro" to show their millennial cred) aren't buying this family drama.
With so many characters demanding screen time, Race 3 spends a large part of its initial 30 minutes establishing these individuals. After an introduction to the Singh family dynamics, we are shown how Sikander and Jessica (Jacqueline Fernandez) meet (yay! another flashback) a couple of years ago in Beijing. Salman has a so-fake-it's-funny French beard, to denote that we've gone back in time.
Jessica and Sikander's love story unfolds over a heavily produced song and just so we're not confused, it is called 'I Found Love'.  It has Salman dancing in the snow in a ganji and his turquoise bracelet, while Jacqueline uses the opportunity to rock a plain red sari. This is Race 3's version of 'Pehli Nazar Mein'. So far, so predictably good.
Meanwhile, in the present, Shamsher meets an old friend from India who tells him about the existence of a hard disk which contains information that could bring several corrupt politicians to book — and also absolve Shamsher of the old allegations against him. This disk is currently in Cambodia, so the Singh family sets out to retrieve it, with the "mission" being led (obviously) by Sikander.
The film is heavily infused with the stock Race series tropes: action, cringe-inducing dialogues, clothes that look like they belong in a very expensive mall, and wide landscape shots. What's missing, however, is the songs that would have served as a distraction amid the succession of things Race 3 wants to show off — Salman and Bobby's swag, Jacqueline's dancing skills, high-octane action sequences. As a result, the film ends up losing the plot, and we are left with a medley of poorly written filler scenes, a story we're still trying to figure out, and twists that pale in comparison to the earlier two films.
The only saving grace is Bobby Deol as Yash, who brings the earnestness required to this film, reminding us of why we loved watching him on screen in the so-bad-they're-good thrillers of the '90s.
Where's the campiness of the Abbas-Mustan thrillers? Where's the tackiness of their family politics? (Remember Deepika Padukone and John Abraham's one-upmanship in Race 2? Or Akshaye Khanna and Saif Ali Khan's verbal duels in the original Race?)
What we get instead, is too much drama to catch up with. Give us a shirtless fight between Bobby and Salman instead!
By the mid-point of Race 3, the battle lines are drawn. Will the family be successful in retrieving the hard disk without killing each other?
The action picks up in the second half of the film, tying the loose ends together. Daisy and Saqib try hard to fit into the mould of Race (which is bad acting and delivering tacky dialogues with utmost confidence) but all our attention goes to the seasoned players — Bobby and Salman: the kings of distracting audiences with their biceps when faced with a less-than-cohesive plot.
The big moment of the film is when Salman and Jacqueline fly over the blue waters of Cambodia with the help of a cape, after jumping off a cliff. A good 30 seconds are dedicated to this science-defying phenomenon. And like most Bollywood thrillers, the good stuff is saved for the last song before the climax. In Race 3, that song is 'Allah Duhai Hai'. It's the only point in the film that makes you nostalgic about the previous installments. It's when you realise the big, gaping hole in the film now that Saif is no longer part of this series — and no amount of Salman and Bobby can fix that. Good acting cannot be replaced.
Race 3 is a funny, kitschy and audacious film. In between the action shots (clearly where most of the money has been spent, after bhai), the film tends to make you go "what the hell just happened" more times than you can count.
Entertainment
Pathaan is not only about the return of King Khan to the big screen, it is also about Bollywood giving the true entertainment that we waited for so long. It's a mediocre spy movie spiced up with patriotism
Entertainment
The makers have planned a unique approach for the unit launch which is "theatres first", the motion units will be first launched on big screens in the theatres followed by digital
Entertainment
Jacqueline Fernandez makes shocking allegations against Sukesh Chandrasekhar. According to an India Today report, Jacqueline, while speaking in the court, claimed that Sukesh Chandrashekhar "played with her emotions and made her life hell".