Race 3 director Remo D'Souza on Salman Khan: I still can't believe that I have worked with the country's biggest superstar
Remo D'Souza says directing Salman Khan in Race 3 was like a breeze as he was very quick with his scenes.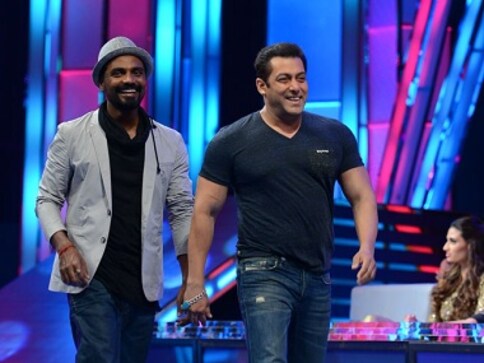 Remo D'Souza, director of the upcoming action flick Race 3, cannot believe his luck. He has given a couple of hit films, including a Rs 100 crore grosser with Varun Dhawan (2015, ABCD 2) and yet working with Salman Khan had remained a dream. And as Race 3 inches towards its release date that coincides with Eid on 15 June, Remo's going through a mixed bag of emotions — anxiety, happiness and pride. "I still can't believe that I have worked with the biggest superstar of the country. It's only when I saw the trailer that I realised how massive it is," said Remo excitedly.
Incidentally, Race 3 came as a huge surprise to Remo. His dream of working with Salman seemed almost on the verge of being fulfilled, then appeared to have been snatched away but then again came to realisation — all within the course of a single meeting. "I got a call from Salman sometime in October last, he called me home where Tauraniji (Ramesh Taurani, Race 3 producer) was also present. Salman said let's do our film later (Remo had already announced his dance flick with Salman, a father-daughter story in which the superstar was supposed to play father to a nine-year old girl. Tentatively titled Dancing Dad, they were planning to go on floor in November last year) and that he wanted to do Race 3 first. I felt they wanted to do Race 3 with another director and my film with Salman had been shifted. I was fine and told Salman that now he will get more time to practice as he was playing a dancer and he also required to lose weight. But what came as a surprise was when he offered me to direct Race 3! I was happy that they were showing so much confidence in me," said Remo.
After taking to bit parts and dancing in films to sustain his career, Remo, whose ultimate goal was to get into direction, is living his dream and how. "I was a dancer in Ramesh Taurani's first production, Auzaar, in which I had danced behind Salman, and to become the director of the same producer and actor, I consider it to be a big achievement," said Remo, who made India's first 3D dance movie, ABCD - Anybody Can Dance (2013). A huge poster of Race 3 in his tastefully done office in the western suburbs stares in your eyes and one remembers him saying soon after he turned director with F.A.L.T.U in 2011: "Seedhi chahiye thi mujhe (I needed a ladder), the first step was dancer, the second choreographer, the third reality show judge and after that, I became a director."
But Race 3 was definitely a big challenge for Remo particularly since the franchise's first two installments were helmed by Abbas-Mustan, who are considered to be the masters in directing suspense and romantic action thrillers. "They are like legends and I have worked with them as choreographers. There was also pressure on me because, obviously, third installment has to be bigger and better. Then, there is Salman Khan followed by such a big star cast. To pull it off was a (big) task but at the same time I was very happy," said Remo looking relaxed in T-Shirt, shorts and a cap carelessly tucked on his head. He prefers a casual and informal touch in his work surroundings as his office suggests. "I tell my team to come to office in whatever clothes they are most comfortable in. My simple mantra is that creative minds should be set free and only then they can think freely."
"So far I have made films on education, dance, superhero (A Flying Jatt starring Tiger Shroff) but thriller-suspense is the first time for me though I have always liked watching films in this genre and also wanted to work on it. I was the last person to hear the Race 3 script and first tried to understand it as it has lot of twists and turns. But when I understood the story and the whole concept, I was blown away. But I didn't get much time to prep because after saying yes, I had just one month to go on floors and then I had to assemble such a big cast. Both, Salman and Tauraniji were very supportive, they were like the two pillars standing right behind me saying that I should just jump into the project," said Remo, who had to do a bit of chasing to get Anil Kapoor on board. Kapoor's the only actor who is part of all three installments of the franchise.
"After Salman's, it's Anil Kapoor's character, Shamsher, which is very important. When we approached Anil Sir, he had no dates as he was doing three films simultaneously. We made him hear the story and script and he agreed. Casting Bobby Deol was Salman's idea. Bobby and I have a long association, we are like friends. I have danced behind him and choreographed him in many films as well. I was a dancer in Dillagi (1999 release starring Sunny and Bobby Deol) when I was assisting Ahmed Khan," said Remo.
"People ask me whether I was intimidated with Salman but actually directing him is like a breeze. He is very quick with his scenes," said Remo, who further revealed that most of the high-octane action stunts in Race 3 has been done by Salman himself and not by his body double. "Since he is a biker, we have shown a bike chase in Thailand, and he rode all the bikes himself though we usually keep a body double. He has done flips during hand fights which is amazing. Then, he did all the jumps from the building, but, of course, we had kept boxes on the floor. There is bike ride, bike slide, actual cars were blown and there is not a single VFX in the film," said Remo, who feels that his huge experience in choreography comes in handy when he is directing. "I know my angles and lenses so there is no discussion before a scene and therefore I can concentrate on the acting and performance part. This might be Salman's fastest film as he wrapped up such a big project in record time," he added.
Since there's a lot of ambiguity over his dance and father-daughter film with Salman, Remo clarified that the film has been shifted and not shelved. "Salman is excited about that film as well. Probably he doesn't want to do it now because, as he himself said, he has worked with kids in two films back to back -- Bajrangi Bhaijaan and Tubelight," said Remo, further adding, "And in the meantime I have to finish my film with Varun (Dhawan) and Katrina (Kaif). Everything is in place and we will roll soon. It is an out and out dance film something that is up my sleeve." When further prodded on the casting and theme, the director said, "The story demanded this cast. I wanted two strong characters. Also, I wanted a stronger female actor to give competition to Varun."
Meanwhile, Remo is quite kicked about how Daisy Shah's dialogue from Race 3 has caught on among public. He narrated his experience in a restaurant, recently, where he questioned their concept of hand wash instead of giving fish bowl, the waiter coolly reverted with the line: 'Our concept is our concept, none of your concept' (sic). "When the waiter used the witty line on me, I almost died. I am really surprised with the way the dialogue has gone viral. Undoubtedly, it's very good for the film," concluded Remo.
Well, your optimism is also our optimism!
Entertainment
Soha Ali khan on Tuesday took to Instagram and shared a heartwarming video of her Holi celebrations as she spent the day with her daughter Inaaya and husband Kunal Kemmu.
Entertainment
Ram Gopal Varma did his graduation from Acharya Nagarjuna University in Andhra Pradesh. 
Entertainment
While Holi is all about playing with bright colours, people also take care of their clothes to look their best and also be comfortable throughout the day. Check out some Bollywood-inspired Holi outfits for this year.