Ra.One director, Vashu Bhagnani caught in black money expose
'We will share the profit you make. This way your money gets white and you get its perfect value,' Vashu Bhagnani told an undercover reporter posing as in investor.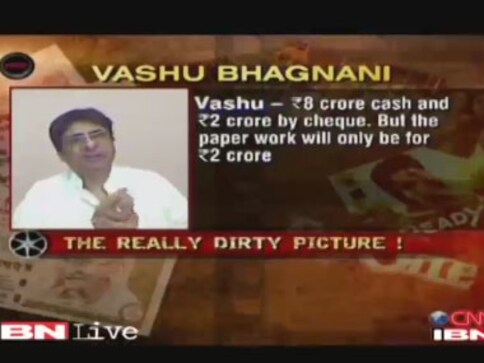 Sab ganda hai par dhandha hai yeh! This Bollywood song somehow has become the rationalisation of the Mumbai film industry. It was thought that a growing corporatisation of the film industry would help to get rid of its black money, which was major source of finance till the 90s, but a CNN-IBN & Cobrapost expose tell a different story — Bollywood hasn't changed one bit.
A Cobrapost undercover reporter met Anubhav Sinha, director of one of the most expensive Indian films Ra.One, in his office in Mumbai posing as an investor who wants to launder his black money. Anubhav Sinha is caught explaining on camera how one can become a ghost producer for his films.
"There are some instances where investors put their money but don't put their name anywhere," Sinha said. He also suggested to the undercover reporter to invest in the film in similar fashion.
The deal with Sinha was finalised in 75 percent black.
Also caught on camera was well known producer Vashu Bhagnani, producer of films like Coolie No.1 and Bade Miyan Chote Miyan.
"Eight crore in cash and two crore cheque. But the paper work will be only for 2 crore," Bhagnani said to the undercover reporter. He also explained how the black money can be made into white through distribution rights.
"We will share the profit you make. This way your money gets white and you get its perfect value," Bhagnani said.
Entertainment
Keanu Reeves' John Wick: Chapter 4 has garnered amazing response in its advance booking across the country.
Entertainment
Rajkummar Rao's Bheed is more than just a film portraying the chaos of the COVID 19 lockdown.
Entertainment
Bheed is written and directed and produced by Anubhav Sinha set during the events of the 2020 COVID-19 lockdown in India.