Quantico row: Dubai hotel cuts ties with chef Atul Kochhar after Islamophobic tweet against Priyanka Chopra
The JW Marriott Marquis Hotel in Dubai  has cut ties with celebrity chef Atul Kochhar, amid a furore over his recent tweet against the Priyanka Chopra-starring TV show Quantico.
The Quantico episode, which depicted a group of Hindu nationalists hatching a terror plot, met with strident criticism from Indians. Both Priyanka Chopra and ABC (the network that airs Quantico) had issued separate apologies in wake of the backlash.
Among Priyanka's critics was chef Atul Kochhar, who tweeted: "It is sad to see that you have not respected the sentiments of Hindus who have been terrorised by Islam over 2000 years. Shame on you." He later deleted his tweet.
Kochhar — who runs the Michelin-starred Benares restaurant in the swish Mayfair area of London as well as the Rang Mahal restaurant in the JW Marriott Marquis Hotel, Dubai — was swiftly schooled on Twitter, both for getting his facts wrong, and for the display of bigotry.
He issued an apology on Twitter that read: "There is no justification for my tweet, a major error made in the heat of the moment on Sunday. I fully recognise my inaccuracies that Islam was founded around 1,400 years ago and I sincerely apologise. I am not Islamophobic, I deeply regret my comments that have offended many."
Also read — Priyanka Chopra defended by Pooja Bhatt on Twitter, after Quantico 'Hindu terror' episode backlash
Kochhar followed it up with a second, more detailed apology, in which he expressed regret over hurting his Muslim friends and the Islamic community, as well as for letting his colleagues down. Here's the full text of his statement: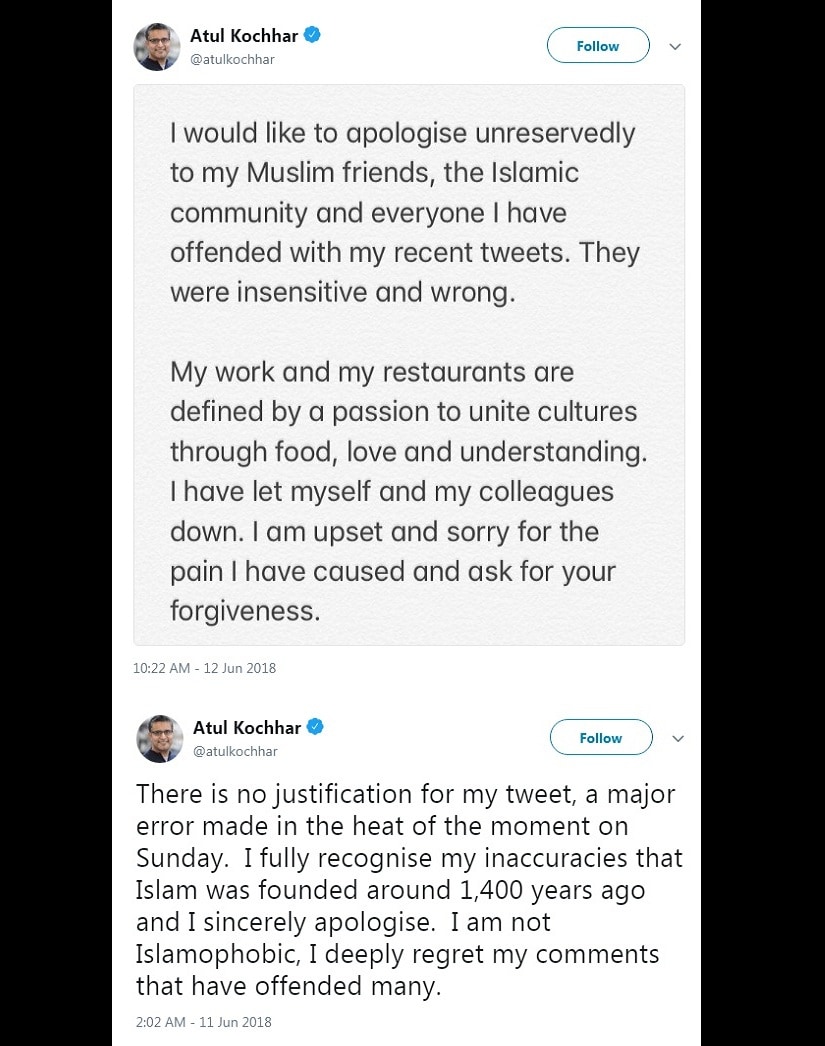 In light of his comments, the JW Marriott Marquis Hotel in Dubai issued a statement that said it was ending its association with Kochhar's Rang Mahal.
"Following the recent comments made by chef Atul Kochhar, we have taken the decision to end our agreement with him for Rang Mahal. With the termination of our agreement, chef Atul will no longer be associated with the restaurant," Bill Keffer, general manager of JW Marriott Marquis Hotel Dubai, was quoted by Gulf News as saying.
"At the JW Marriott Marquis Hotel Dubai we pride ourselves on creating a culture of diversity and inclusion for our guests and associates across the hotel and our restaurants. We also remain committed to delivering the traditional culinary experience and high service standards that Rang Mahal is renowned for," Keffer further said.
Updated Date: Jun 13, 2018 14:52:13 IST