Pushpavalli review: Sumukhi Suresh creates a show you cannot turn your head away from
Pushpavalli, Sumukhi Suresh's latest web series might have familiar tropes but it is a show which you will not be able to turn your heads away from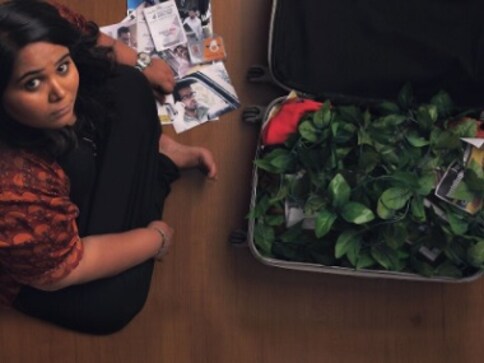 When Biswa Kalyan Rath came out with Laakhon Mein Ek two months ago, I was flummoxed. "Is this the same guy from Biswa Mast Aadmi?" I asked myself. Then I began to put the pieces together. Many comedians, all over the world, have showed great flair for tragedy. They walk on the cobblestoned path of tragicomedy flamboyantly. They mix three parts of humor and two parts of unblemished sadness in their stories.
BoJack Horseman, an animated show that discusses suicidal thoughts with sarcastic remarks; Togetherness, a series about a couple who cheat on each other and find the silver-lining in forgiving and sticking together somehow; You're the Worst, a show featuring four damaged individuals climbing the ladder of friendship and romance and falling off every now and then, are all bathed in the light of everyday lessons. And these lessons are funny and gut-wrenching.
Sumukhi Suresh, likewise, throws her hat into the ring with Pushpavalli. Though, her latest venture doesn't touch any of the extremes I mentioned above, it creates something similar in terms of the parts of humor and sadness. Unlike many other recent web series targeted at the youth with relatable content that scratch the surface of relationship dramas, this show is a relationship mismatch. It's a mismatch simply because Sumukhi's character, Pushpavalli, lives in her own empty bubble.
The eight-episode series follows Pushpavalli's journey from Bhopal to Bangalore to stalk the man of her dreams; a man who once thanked her for giving him company. His advances, she feels, are amorous, and, hence, she packs her bags to move to the city he lives in. If this sounds like a stupid idea, it's just the beginning of the end of Pushpavalli's sanity.
Sumukhi has mostly played the role of an angry woman in her YouTube outings. In many of her collaborations with the show's co-writer, Naveen Richard, she exchanges the mask of the tantrum-thrower. If Naveen is the angry bird in one sketch, then Sumukhi is, obviously, the red-faced one in the next.
In Pushpavalli, Naveen Richard gets rid of the naïve boy-next-door character he played in Better Life Foundation, and goes back to his loudmouth avatar where he orders everybody around. He stars as Pankaj, the head of the children's library Pushpavalli works at, who brings a certain amount of quirky wit and acid-tongued honesty. He doesn't care a damn about pushing the buttons on the F-word despite being amidst kids all day.
The scenes that bring Sumukhi and Naveen together are cleverly written, and they sometimes burned the roof with the sounds of my laughter. With a runtime of around twenty minutes per episode, Pushpavalli deals with some other people including the paying guest accommodation owner Vasu (Shraddha). The writing centering on the way Vasu behaves is extremely hilarious. Her broken English is peppered with meaty words from Kannada, and she does a wonderful job in sticking to a stereotype of a nighty-wearing woman who's in complete control of her actions and words. However, the same doesn't hold true when it comes to Pushpavalli's mother (Latha Sathyamurthy).
There are about a handful of scenes featuring Pushpavalli and her mother, and they are usually having a phone conversation since both of them live in different cities. But, this is where the stereotype doesn't work. The mother — like in every goddamn Indian soap opera — is pestering her daughter to get married by blackmailing her, and asking her to meet the boys she's arranged for. Isn't this particular vignette one of the reasons for shunning television serials in favor of web shows? Why does this trope have to make a snarky comeback then? I'm not saying it doesn't have to be there, but the way it is presented is definitely an irritable factor. And, also, the mother seems to frequent the balcony while she's on the phone (Did the production team shoot all of her portions in one day? There could have at least been a room/garden for her to move around).
The entire show revolves around one focal point — Pushpavalli stalking Nikhil Rao (Manish Anand). Nikhil is a handsome gentleman who keeps giving friendly semi-hugs to Pushpavalli. If this seemingly harmless act is enough to give her romantic dreams, what kind of a jerk is she?
Most of the Indian films and series show a man following a woman (or women). Hell, that's how 90% of the romance films are made in our country. The hero falls in love with the heroine and shows his large-heartedness in a song or two; a couple of misunderstandings later, the heroine and hero are dancing under a moonlit tree.
Thankfully, Pushpavalli doesn't go that far. It stops at the idea of a woman who's hopelessly stumbled into love with a man who appreciates her for who she is (not the stalking quality; he doesn't know that yet) without ever talking about her "chubbiness".
Even her mother looks for grooms who are okay with her body weight. There isn't any conversation regarding her job, or intelligence. It's just an "aayah velai" (maid's job), she declares. When this kind of a line comes from a mother, it's pretty devastating. And, this is exactly why she finds Nikhil endearing. He looks beyond her body, and into her soul, thereby making her feel comfortable in her own skin.
Sumukhi, in the season finale, delivers a monologue which answers all the questions viewers would have conjured up while watching the show. It's a poignant tearjerker. Nevertheless, we wouldn't be able to sympathize with her state of mind as we know her intentions (and the means to achieve them) aren't right.
Pushpavalli, in the end, becomes a show about a creepy woman whose name means a creeper. It isn't a laugh-riot like Sumukhi's other sketches. It flounders a bit (example: the bit about two women who act like Siamese twins) and dances around the themes of morality and obsessiveness. Still, Sumukhi creates a show you cannot turn your head away from.
Entertainment
Night Sky works best when it's not trying too hard to link the physical mysteries of the alien planet with the metaphysical dilemmas of Franklin and Irene's ageing.
Entertainment
One of Panchayat's great strengths is its ability to create humour out of what are essentially studies in scarcity.
Entertainment
Keerthy Suresh's portrayal of Ponni in Saani Kaayidham is being touted as yet another award-winning performance by the actress.