Anil Kapoor's train stunt for '24' promos gets actor into trouble with railways
Anil Kapoor's publicity stunt on Mumbai's local trains seems to have got him into trouble for travelling on the footboard.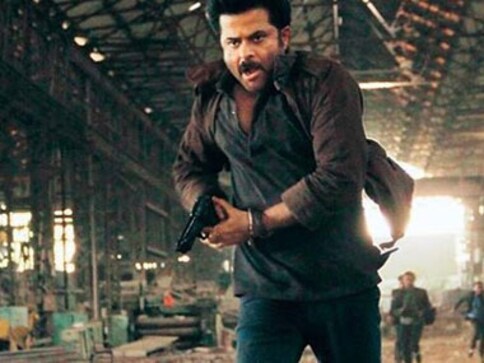 Anil Kapoor made news recently when he travelled in a suburban local train to promote his upcoming television show 24: Season 2. But the publicity stunt seems to have got the actor into trouble after Western Railway (WR) sent a notice to the event management company behind the shoot seeking an explanation as to why he was he was travelling on the footboard.
During the promo shoot Anil Kapoor was seen hanging from the train with his co- commuters, a criminal offence under the Railway Act. In light of this the Western Railway Publicity Department sent a notice to the event management company, Market Men Consumers & Events Pvt Ltd.
"In spite of the terms and conditions to adhere strictly to safety and security during shoot, Anil Kapoor allegedly seems to be leaning from the footboard of a local train during a promo shoot on 14 July," said an official of the Western Railway.
The Western Railway official explained that by leaning out of the running train from the footboard, the actor could inspire youngsters to perform similar stunts.
Beset with many such instances in the past when youngsters performing daredevil stunts have been killed or permanently maimed, the railway authorities have regularly campaigned for safety and security during train commutes.
Reports suggest that the Railway Protection Force (RPF) had conducted a special drive against footboard travelling and had prosecuted 2,809 passengers for the offence between 1 July to 14 July. In 2015, thirteen commuters died and 89 were injured after dashing into poles while travelling on footboards of local trains.
Speaking to DNA, Dipesh Tank, the founder of War Against Railway Rowdies (WARR), said, "We all know the following Anil Kapoor has as a star and just by sending a notice to the event organiser, nothing would be achieved. Instead, the railways should ask Kapoor to volunteer and spread awareness to discourage people, especially the youth, from performing such stunts."
The 59- year- old actor, who took a Borivali-bound slow local from Churchgate station on Thursday, shared the event's pictures on his Twitter account with the caption, "I think I made a lot of people late for work today!"
With inputs from IANS
also read
Entertainment
The leading man's Red Chillies Entertainment has filed new application owing to content leaks of the film on social media
Entertainment
In the first look poster, Ali Fazal can be seen sporting a rather rugged look in front of a dirt bike in the middle of the desert.
Photos
Known to have a penchant for classic tailoring, minimalism and glamor, Anushka's overall sense of style is the confidence and authenticity that she exudes naturally. One brand that has been a constant in her wardrobe over the years is Dior. Let's take a look at some of her most stunning Dior outfits