Priyanka Chopra's first Assamese production Bhoga Khirikee to release on 26 October
Directed by Jahnu Barua, Bhoga Khirikee has been produced by Priyanka Chopra's Purple Pebble Pictures and Shahnaab Alam's Easterly Entertainment.
Jahnu Barua directorial Bhoga Khirikee, the first Assamese movie to be produced by Priyanka Chopra's banner, will release on 26 October.
Produced by Priyanka's Purple Pebble Pictures and Shahnaab Alam's Easterly Entertainment, the movie will also open the second edition of the Guwahati International Film Festival (GIFF) at the Srimanta Sankaradeva Kalakshetra on 25 October.
The announcement was made at a conference here on 19 September in the presence of Pabitra Margherita, the Chairman of Jyoti Chitraban, GIFF Festival Director Monita Borgohain, producers Madhu Chopra and Alam, Barua, lead actor Zerifa Wahid, composer Ibson Lal Baruah, singer Anindita Paul, art director Phatik Baruah and executive producer Sartaj Alam.
Bhoga Khirikee also stars stellar performers like Seema Biswas, Joy Kashyap, Sanjay Khargharia, Kasvi Sharma, Mohommed Ali Shah and Bishnu Khargharia.
In an earlier interview, Barua had told IANS that the film is about a young village woman who has experiences in a situation that is socio-politically volatile.
While he was happy that a well-known name like Priyanka had come forward to support Assamese cinema, Barua said that ultimately a film is accepted based on the subject and issue one deals with, and how that is represented.
"Each and every social problem has a side of universality. Certain things are universal, and it can happen anywhere, so it is identified everywhere... In my films, the main graph is humanity... the cause of humanity, and that is same everywhere. So, I feel like earlier films also, this will also be accepted everywhere," Barua had told IANS.
Entertainment
Priyanka added that because her daughter was born a full trimester too early, what they witnessed nurses doing in the intensive care was nothing less than god's work.
Entertainment
While calling her husband a 'thoughtful' person, Priyanka also went on to say that her daughter makes her feel special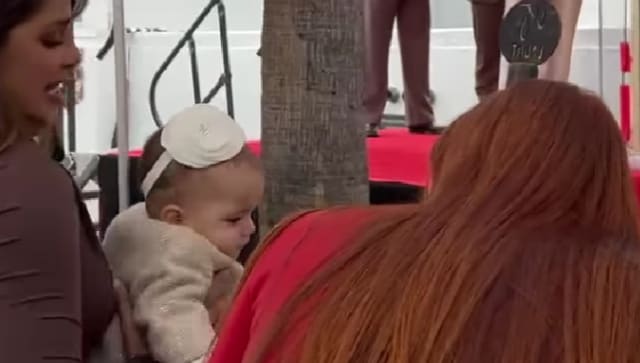 Entertainment
Priyanka Chopra and Nick Jonas welcomed their daughter last year via surrogacy and had kept the baby face's hidden since then.