Watch: Priyanka Chopra performs tribute to late pop legend Prince
Priyanka Chopra ended her performance at ABC's Upfront event with a tribute to late pop icon Prince
ABC (the American Broadcasting Company) endorsed Priyanka Chopra as its biggest star when it chose the Quantico actress to headline their 'Upfront' presentation for 2016 on 17 May.
The actress opened the event — where ABC announces what's in store for viewers over the coming season, and looks back over its performance for the previous one — with a spoof scene as her Quantico character Alex Parrish. Priyanka and her Quantico co-stars pretended to interrogate all of ABC's leading performers about a clue that read "It all begins with…"
The actors finally reveal that the complete statements reads "It all begins with ABC" — a new tagline for the broadcasting network.
The action them moved away from the giant screen on which the spoof was telecast to the auditorium itself, where Priyanka entered along with a troupe of dancers, in a waistcoat worn over a thigh-length white shirt, dancing to a modified version of the Mark Ronson-Bruno Mars hit Uptown Funk.
The costume was stripped away by Priyanka's back-up dancers to reveal a shimmery red outfit underneath.
The actress finished up her performance with a tribute to late pop icon Prince.
Priyanka's performance garnered mostly positive feedback, although a few social media users felt that the Prince tribute felt like it had been "shoehorned" into the act.
Watch a video of Priyanka's performance for ABC, and her Prince tribute, here:
Entertainment
The six-part docuseries is as much for musicians as it is for music lovers. Without taking any strong sides, it explores the symbiotic relationship between a raw creative process and the digital prism through which it emerges.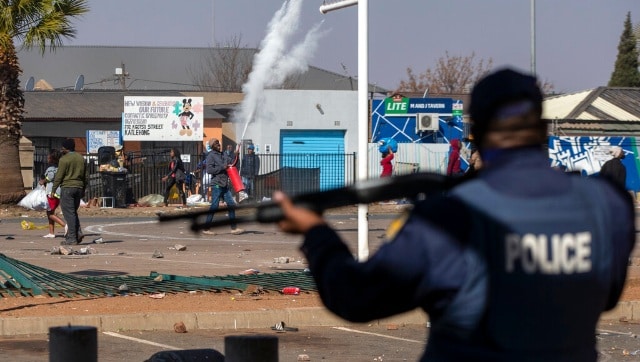 World
The tensions have been particularly high in the sprawling Indian township of Phoenix, north of Durban, and residents of three surrounding Black areas following the deaths of 22 people in Phoenix during the riots and looting last week by vigilante groups
Entertainment
Welcome 2 America arrives on 30 July as the Prince estate continues to open up Prince's vault of unreleased music since his death in 2016.