Priyadarshan's Netflix film Sila Samayangalil, Aruvi have helped bring out the conversation around AIDS/HIV
In a way, Arun Prabu Purushothaman's debut feature Aruvi can be called as a sequel to Priyadarshan's recently released Netflix film Sila Samayangalil.
Filmmaker Priyadarshan has varied tastes. He has made some great comedies in Malayalam and Hindi, and has also directed many average films in his three-and-a-half-decade career. His success ratio can be compared to Ram Gopal Varma. Though, their paths are different, their career graphs look similar.
Varma and Priyadarshan draw crisscross patterns with the stories they choose to tell. While Varma alternates between crime dramas and ghost thrillers usually, Priyadarshan makes his movies under two large umbrellas: popular and parallel cinemas.
This year, two Priyadarshan films have released already. Nimir – the remake of the highly successful and revered Malayalam drama Maheshinte Prathikaaram – hit theatres in January; and Sila Samayangalil has just popped up on Netflix.
Netflix is picking niche films for the purpose of bypassing theatrical runs. The Indian content on Netflix is a mix of blockbusters and independent dramas. You can find Shah Rukh Khan's recent films on the streaming site along with titles like Nila and Radiopetti that many would not have even heard of.
Sila Samayangalil falls into the parallel cinema category. This kind of cinema is not celebratory – there are no choreographed songs, action sequences that put Marvel's Avengers to shame, or punch dialogues that will make the frontbenchers cheer. The emotions are displayed in realistic terms here.
Prakash Raj, who is generally loud as a villain in Tamil films, tones down his eye movements to make us understand his state of dilemma in Sila Samayangalil. He is joined by an ensemble cast – Sriya Reddy, Nassar, Ashok Selvan, Varun, MS Bhaskar, Shanmugarajan, Anjali Rao and Pandian. You can count all of them as principal actors since they have lines to grab your attention and tragic tales to narrate.
Sriya and Prakash have previously collaborated with Priyadarshan on the National Award-winning Kanchivaram. This latest film, too, is batting for awards as its central theme revolves around the stigma that HIV/AIDS brings with it. Sila Samayangalil has extensively done the film festival run. It has won a couple of awards as well.
Are movies the right platforms to disseminate social messages? Well, that is debatable. But films have always influenced the workings of the society and that will continue to happen as long as the entertainment industry dazzles us. Recently, at a question and answer session, director Koratala Siva said that his friends helped set up WiFi centers and the like in some villages after watching his film Srimanthudu.
In Srimanthudu, Mahesh's character, Harsha, adopts a village to provide the villagers with basic necessities. In real life, the actor adopted his father's birth-town Burripalem.
Do you see how films and the society are inter-connected? They go hand-in-hand.
Now, coming back to Sila Samayangalil, I wish the movie had been named Sila Samayangalil Sila Manidhargal (Sometimes, Some People) as that is what it is mainly about.
Krishnamurthy (Prakash Raj) cheats on his wife in a drunken stupor; Bala Murugan (Ashok Selvan) is afraid that he might have HIV since his ex is said to have died of the same cause. Likewise, the characters played by MS Bhaskar, Varun, Anjali Rao and Pandian, have their own accounts of misery to share. The film is mostly shot in the lobby of a hospital where seven people are made to wait for their HIV-test results. The suffocating environment the characters are placed in is an indication of their dreadful moods. 
You can see Krishnamurthy clutching a figurine of Lord Krishna and Sheila George (Anjali Rao) with her prayer beads. All of them are praying and whispering to their favorite gods. Their faces are tensed and dull. They would give an arm, a leg and even money to not be there. 
Few early scenes show us how ACP Karunakaran (Shanmugarajan) feigns ignorance when he is recognised by Raghavan (MS Bhaskar). However, when he introduces himself later, it is clear that he does not fear anybody anymore.
The journey from "Don't look at me," to "Listen to me, I've got something to say to you," is fascinating in the movie. When they finally loosen up and reveal their secrets in a group discussion, you can sense the emotional weight leaving their bodies.
Just a couple of months ago, Arun Prabu Purushothaman's debut feature, Aruvi, which deals with the same theme released in theatres. The movie, which is currently streaming on Netflix's rival site, Amazon Prime Video India, talks about the life of a free-spirited woman who is ostracised by her family for getting infected by HIV.   
If Sila Samayangalil is filled with anxious faces, Aruvi has an angry-faced protagonist (Aditi Balan). In a way, Aruvi can be called as a sequel to Sila Samayangalil. Think about it for a second. The leads are getting tested in the Netflix movie whereas in Aruvi, the lead has AIDS. Of course, nothing else about the two movies adds up. But both of them spread awareness about AIDS in their own ways.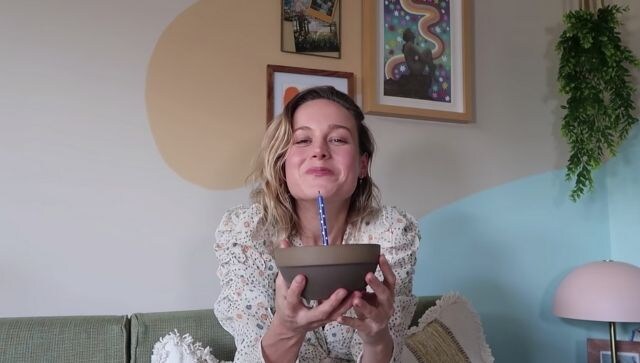 Entertainment
"It's exhausting to spend so much time nitpicking in your head every detail of what you're going to say. I needed to know that it was OK to do something that was silly or simple and wouldn't blow everything up," says Larson.
Entertainment
From Farhan Akhtar's Toofan on Amazon Prime Video, season 2 of Love, Death + Robots on Netflix, and Salman Khan's Radhe on ZeePlex, here's what you can look forward to streaming in May.
Entertainment
The Me You Can't See, debuting on Apple TV+ on 21 May, will have Winfrey and the Duke of Sussex "guide honest discussions about mental health and emotional well-being while opening up about their mental health journeys and struggles."