Priya Prakash Varrier's overnight stardom is product of new age Malayalam cinema led by the youth
Priya Prakash Varrier becoming the talk of the town is substantiated by the commercial success of recent youth-oriented films in Malayalam cinema.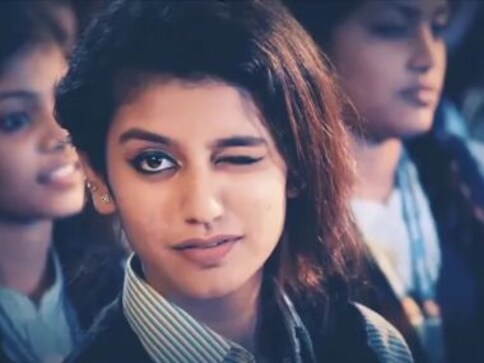 Has Malayalam cinema been taken over by young guns in all departments of filmmaking. In the last one year, there has been a shift to the youth as veteran actors, directors and technicians are feeling the heat. An unknown girl from Thrissur, Priya Prakash Warrier, becomes an overnight sensation with her cute expressions going viral with 'Manikya Malaraya Poovi' from the film Oru Adaar Love. The film has become red hot in the trade and is one of the most eagerly awaited releases.
The director of Oru Adaar Love is Omar Lulu whose last two youth oriented films, Happy Wedding and Chunkzz (released last August), have been hits. He makes youth oriented small budget films with newcomers, full of coming-of-age romance, peppy songs laced with adult humour. There have also been other small budget films which have worked as they are based on fun, frolic and friendship.
The popular site sify.com rated the movie as a lowbrow comedy and said, "Chunkzz is filled with double meaning dialogues and is sexist to the core. If your idea of comedy is on those lines, buy a ticket straight away." These kinds of films have found an audience with teeny boopers hooked to social media.

The 2017 Christmas release Jayasurya's Aaadu 2 became a big hit only because of youth audiences who loved the black humour and laid back heroism of the central character. One of the big early hits of 2018 is Queen, directed by Dijo Jose Antony, with the entire cast as newcomers. It is a campus story about a lone girl joining an engineering course full of boys and plenty of titillating moments. The critics may not have liked the film but the youth audiences lapped it up.

Last week, there were three Malayalam releases – veteran director Kamal's biopic on Kamala Das, Aami; Biju Menon's 80s style film Rosapoo; and Kaly with newcomers. Out of the three releases, Aamy and Rosapoo, which were expected to do well, did not even take an opening. The youth audiences largely preferred Kaly, about a group of young criminals living a flashy life and pretending to be rich and wooing girls.  

Vijay George, noted critic and writer, says, "Malayalam cinema is currently witnessing a phenomenal change as far as the preference of audiences are concerned. Last year, the most successful directors were young guys, who broke conventional story telling formats and did films with unknown actors. The veteran directors, who were known for storytelling and presentation, have disappeared as they have no takers. The star system in Malayalam is still there but crumbling. It is only because of satellite television channels who have their own vested interests that these star films have a market. The theatre going audiences, predominantly the youth, are looking for new thoughts and style, which has resulted in films like Chunkzz or a Queen doing good business."

George and a lot of industry veterans feel sad that meaningful films released this year, like Fahadh Faasil's Venu directed Carbon or Nivin Pauly's Shyamaprasad directed Hey Jude, have hardly any opening compared to new breed crass filmmakers.  Take the case of Mammootty and Mohanlal. Today, they prefer to work with debutant directors who will give them a new image and a hit. The veteran directors are old fashioned and refuse to experiment with new themes or ideas.    

Today, writer, director, actor and singer Vineeth Sreenivasan and music director Shaan Rahman are icons because they have been able to come out with content that caught the imagination of the youth. Jayaram is launching his son Kalidas in Malayalam with the long delayed Poomaram, a campus story releasing on 9 March. Mohanlal's son Pranav with Aadhi has become red hot. Not all films by youth are hits but they have come to stay as youth oriented films are getting preferences in Kerala theatres.
As Suresh Shenoy, one of the biggest theatre owners in Kerala, said, "Malayalam film is evolving over the last two years, with young blood ruling the roost, not only before the camera but also behind it. Fresh talent in all departments like cinematography, editing, scripting, music, background score, direction, and lead and support artists are setting new benchmarks in film making. The hits like Happy Wedding, Sunday Holiday, Angamaly Diaries, Chunkzz , Ann Maria Kalippillanu, Parava , Queen etc are testimony to it .These trendy hits are made on a reasonable budget and become profitable from theatrical collections alone. Yes, it's the youth that is driving the industry now and also the ticket window with a footfall of 70 to 75 per cent of the total audiences. The youth that provides the initial and then the family audience take over."

Entertainment
The director Hanu Raghavapudi film is a timeless classic, states Dulquer. He also believes that other film industries give him the chance to experiment with roles like Ram in 'Sita Ramam'.
Entertainment
In an exclusive conversation with Firstpost, Nivin Pauly talks about his latest release Mahaveeryar, reuniting with filmmaker Abrid Shine and more.
Entertainment
Director Vikram Kumar who delivered noteworthy films like 'Manam' and 'Ishq' disappoints with this film on gratitude